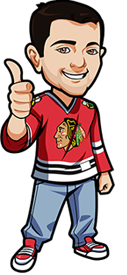 Written by Scott on Wednesday, November 23rd, 2016
Follow @BetNHL
So the Las Vegas franchise will be called the Vegas Golden Knights.  I wasn't a fan at first but after seeing the logo and having a night to think about it it's growing on me.
Only the one tip last night.   I went with the Maple Leafs to beat the Hurricanes.  The Leafs scored first but the Hurricanes answered and added another when they won 2-1.
The Sens beat the Habs and that was the first regulation loss at home for Montreal.  In his first game back in St. Louis as a member of Boston, Backes scored the 20,000th goal in Bruins history but they came away with the 4-2 loss.
A full night of action with 12 games.
Blackhawks vs Sharks Betting Tips:
The Hawks are 7-2-1 over their last 10 games.  The Sharks are 4-5-1.  Chicago is 8-2-2 against the Sharks over the last 12 games.
The Hawks will be looking to get their offense going after getting destroyed by the Oilers 5-0 on Monday. 
The Sharks got a win in their last game which was their first game at home after being on the road for 6 in a row
This should be a good close game and the odds are good for a Hawks win so I have to take them when they have had success against San Jose in the past.
Blackhawks Win
Canada: 2.25 Odds at Sports
Interaction + $20 Free Bet
USA: +120 Odds at Bovada
Everyone Else: 2.25 Odds at Bet365 (Americans: We recommend http://www.bovada.lv
Maple Leafs vs Devils Betting Tips:
Well the Leafs managed to score only 1 goal last night.  This team has shown that they can score but they can't seem to do it with consistency.
The Devils are are team thats the Leafs should beat now that they are without Hall and Cammalleri. 
But as we learned last night you just are never sure which Leafs team is going to show up.  The over/under is 5 so I'm going to go with this game being a high scoring one.  The Leafs can score but have problems stopping opposing teams from scoring.
Over 5
Canada: 2.05 Odds at Sports
Interaction + $20 Free Bet
USA: +120 Odds at BetOnline.
Everyone Else: 2.00 Odds at Bet365 (Americans: We recommend http://www.bovada.lv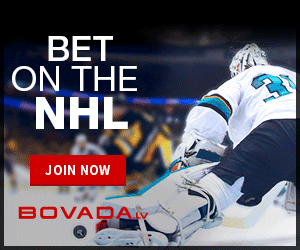 Flames vs Blue Jackets Betting Tips:
The Flames are one of the worst teams in the league.  They have injuries affecting their lineup and haven't yet figured out who their number goalie is.
The Jackets have been playing great hockey recently.  They're 7-1-2 over their last 10 and are 7-2-1 at home this season.
With the way these teams have been playing and where they seem to be headed I like the Jackets win this game.  The Flames haven't shown anything to suggest otherwise.
Jackets in regulation
Canada: 2.00 Odds at Bet365 (Americans: We recommend http://www.bovada.lv
USA: -105 Odds at BetOnline.
Everyone Else: 2.00 Odds at Bet365 (Americans: We recommend http://www.bovada.lv
Follow @BetNHL
BetNHL.ca » Tonights Tips »