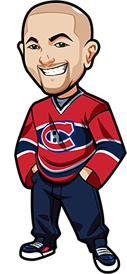 Written by Graeme on Friday, November 23rd, 2018
Follow @BetNHL
Hope all of our American friends had a great Thanksgiving.
A day of eating rich food, drinking beer and watching football. How can you not?
Of course Thanksgiving means no hockey but the NHL is back with a bang tonight with a billion games on the board.
The first game starts at 1pm EST. Honestly a combination of all the games to look through plus I have an appointment downtown soon – I figure I better get these posted ASAP and edit the tips in later. Then you guys can start posting in the comments etc.
So there are no tips for the Flyers/Rangers game.
Canadiens vs Sabres Betting Tips:
Feels like I've said this a lot this season – Habs defense and goaltending not doing much at all, offense doing the biz. You know the drill.
Sabres are a feisty team who are producing offensively but also leaking in goals at times. A lot of it depends on their opponents and how hard they fight and the Habs are a team that should be up there battling with them.
I think the Habs offense can score against the Sabres no problem – we saw that recently in the 11 goal thriller earlier this month – and the Sabres offense will be able to match them.
1u on Over 6 Goals incl OT/SO
Flames vs Knights Betting Tips:
The Flames have their issues and haven't looked too great on the road but they are coming in off the back of three excellent home performances. A 4-2 win over the Edmonton Oilers, a 7-2 win over last years Stanley Cup finalists, and a 6-3 win over one of the best teams in the NHL, the Winnipeg Jets.
Knights are one of those teams that are favoured odds wise more due to their name than anything else. Similar to say the Penguins this season a lot of the time.
There's a lot of issues in Vegas at the moment. They're really trying to find themselves again and I think this one should be more of a coinflip.
Happy with a small value bet of 0.5u on the Flames to win incl OT/SO.
Penguins vs Bruins Betting tips:
Jarry is starting in net for the Penguins tonight for his first NHL stat of the season. He's been pretty solid for the Wilkes-Barre/Scranton Penguins.
Honestly it's probably a good thing for the Penguins. Their GA/60 is a lot higher than their xGA/60 which is a strong indication that the goalie is to blame.
Bruins aren't doing anything great offensively at the moment but I think they step it up tonight. Regardless of how they are performing at the moment it IS the Pittsburgh Penguins. Bruins are solid at home too so will be up for it and thoroughly enjoy beating the Pens with a 7-1-2 record in their last 10 played against them.
Pens offense should continue to tick, Bruins should be up for it and I like a high scoring game.
1u on Over 6 Goals incl OT/SO
OHL / WHL / AHL / KHL / Czech Extraliga Betting Tips:
(All below systems are based mainly on mathematics and statistics with very little human input and are deemed experimental. )
KHL Betting Tips (6-6, -0.45u): 0.5u on AK Bars Kazan incl OT/SO at 2.20 odds.
AHL Betting Tips (7-8, -0.32u): Syracuse Crunch in reg 1.75 odds 0.5u bet. 0.5u on Rochester Americans in reg 1.70 ods.
Where To Bet the Non-NHL Leagues:
Canadians: Bodog and 888 Sports.
Americans: Bovada.
Everyone Else: 888 Sports.
Follow @BetNHL
BetNHL.ca » Tonights Tips »