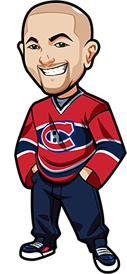 Written by Graeme on Friday, November 25th, 2016
Follow @BetNHL
It was a nice winning night last night with the Montreal Canadiens getting the victory in regulation. It was a tight one with some good saves by both goaltenders. Like I said yesterday if you bet the Canes you shouldn't be kicking yourself – those odds were easily a nice value play based on the game that transformed.
Our 1st period system said the Bruins would win the 1st period and they did so before getting soundly thrashed by Ottawa.
We also had an OHL Tip which one as Sault Ste Marie hammered the North Bay Battalion 6-1 so overall a good little betting day.
We move on to Friday, November 25th. Lot of games today.
Rangers vs Flyers Betting Tips:
There are two negatives to this one really. The last 5 games between the two have went Under 5.5 goals. Also after Lunqdvists crappy night last time out you have to worry he will be activating beast mode. The matchups between the two over the last few years have generally been tight so that's a concern. However the stats for both teams going into that this one makes it look good to go Over 5.5.
The Rangers are the top goalscoring team in the league by far – yet they concede a fair amount too while scoring. The Flyers are a very similar team with a whopping 3.33 GAA and Mason himself is at 3.04. The stats for their previous matchups suck but I think this seasons overall stats make this a play.
As for Lundqvist and "beast mode" – that's where we look back at his history of conceding goals and having bad nights from this season to the last and seeing if he bounced back strong. And you know what? Overall he really didn't. There's the odd one (concedes 4 in 19 against Hawks, shutout against the Wings 4 nights later) but nothing that suggests he'll be able to step up the play and stifle the Flyers while on the road.
Over 5.5 Goals. We got it at 1.99 at Pinnacle but it's available at most books for 1.90 which is an okay line too.
Capitals vs Sabres Betting Tips:
We're taking Capitals in regulation which is around 1.80 odds but you can get 1.89 at BetOnline.. Capitals are obviously the better team but most importantly is the way their offense is clicking at the moment – especially Kuznetsov looking good now. We like the Capitals to get some consistency going and get the win over the Sabres who just won't be able to match them due to their lack in offense.
Grubauer is in net for the Capitals. A slight concern that because it'll motivate the Sabres offense and I didn't like the way the Canes so easily got past him on the 12th. However the Sabres offense is still extremely poor and Grubauers parents are here to watch him play an NHL game for the first time ever – things like that can give someone that extra motivation and we're going to hope the Capitals can take this one.
Predators vs Jets Betting Tips:
Predators are above 1.80 odds to win in regulation with a high of 1.92 and we're taking Predators to win in regulation.
Jets are a scary bloody team at times and you can never count them out. This bad run of games on the road trip has been brutal, and with this being their last game before returning home they'll be up for it. However the Predators have just been so damn good at home this season. I'd go as far as to say they're the best home team this season, while the Jets have really struggled.
Rinne isn't confirmed yet – bet is based on that – but it looks likely that he'll be in net. I just can't argue against the Preds at home this season at the moment.
Coyotes vs Oilers:
This is not an official tip because it's only me that thinks this. Scott can't go along with it but I've put so much work into it I wanted to mention it – I'll be betting on the Coyotes to win at 2.45 odds.
I know the Oilers have got things going again and are looking great. I know that because I've got lots of friends who are Oilers fans and in the past 3 days I've received so many "We want the Cup" messages etc I'm ready to start blocking peple. And really they've only had one BAD game which was against the Sabres. They've looked solid elsewhere even in defeat.
But they've still lost a bunch on the road. And I like Mike Smith. he has really bad games(like the Canucks game) but he was practically standing on his head against the Sharks to make some saves.
Coyotes have a hell of a record against the Oilers, and while their stats this year are below average they're still hanging on there and making it tough for everyone.
Anyway like I said it's not an official pick and I haven't found one person to agree with me. Even friends who hate the Oilers couldn't get on board so maybe I'm just crazy.
Mathematical/Experimental Betting Systems:
(All below systems are based mainly on mathematics and statistics with very little human input and are deemed experimental. Previous Records: 1st Period System 30-36 (+15.99u), OHL 28-15 (+17.15u)
1st Period System (1-1, +0.7u): Out of nowhere, the system has a lot of picks today. I need to post this warning: this is a high variance system. I would not be in the least surprised to see every pick lose. So just bear that in mind as I know a lot of people can't handle big swings etc.
San Jose Sharks: 2.45.
Anaheim Ducks: 2.90.
Minnesota Wild: 3.15. B365 I don't believe you can bet them at -0.5 so have to do 888 Sports.
Washington Capitals: 2.50.
Nashville Predators: 2.50.
OHL Betting Tips(4-6, -2.05u): Niagara IceDogs to win in regulation at 1.95 odds. London Knights/Barrie Colts Over 7.5 goals at 1.75 odds. Sault Ste Marie Greyhounds in regulation at 2.00 odds.
AHL Betting Tips(6-2, +3.81u) : Syracuse Crunch to win at 1.90 odds.
WHL Betting Tips(11-7, +2.26u): Moose Jaw Warriors in regulation at 1.95 odds. Medicine Hat Tigers in regulation at 1.65 odds.
1st Period Betting:
Canadians: Sports Interaction, Bet365 (Americans: We recommend http://www.bovada.lv & 888 Sports.
Americans: BetOnline. or Bovada.
Everyone Else: Bet365 (Americans: We recommend http://www.bovada.lv or 888 Sports.
OHL, WHL & AHL Betting:
Canadians: Bodog and 888 Sports.
Americans: Bovada.
Everyone Else: 888 Sports.
Follow @BetNHL
BetNHL.ca » Tonights Tips »