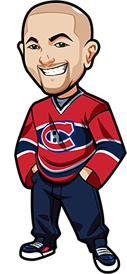 Written by Graeme on Friday, November 25th, 2022
Follow @BetNHL
Hope all our American readers had a great Thanksgiving!
I know I loved it simply due to all day NFL, plus it was nice to have a day off from the NHL. I'm watching every World Cup game and I have to say after 8 hours of football I'm a bit burnt out from sports ha.
Plus have to get up at 5am for the games so having to go to bed early and not able to watch many NHL games live which is a bit frustrating. Least there is a more balanced schedule starting Tuesday.
Right a quadrillion games today let's get to it. Excuse any short write-ups but with so many games plus still stuck on the couch on the MacBook until next week – it can be a bit of a pain in the arse.
Also want to get these done in between World Cup games. What a great and deserved result for Iran. Wales were very disappointing tactically.
Bruins vs Hurricanes:
Bruins should probably win. Canes results don't match a lot of their overall metrics. I'd have to go in regulation and despite their recent woes I'm not a big fan of betting against the Canes in regulation.
Capitals vs Flames:
Neither team seem backable and not really seeing anything on the over here.
Predators vs Avalanche:
Slight lean towards the Avs but Press been solid at home lately. Odds seem on the money here.
Blackhawks vs Canadiens:
Hawks slight favourites here. Habs have the slight edge offensively in CF & FF. Scoring more goals although over performing, while Hawks offence is underperforming.
I feel like the Habs by the metrics could pull this off but the Hawks offence has started doing well the last couple of games. Problem I find with the Hawks is they do this for a couple of games then just as you have faith, turn up a goose egg. Just no confidence in anything there.
Wild vs Leafs:
Feels crazy that you can count the Leafs regulation losses on one hand. Wild been struggling but got that big win over the Jets.
Bookies have this close to a coin flip and that seems right.
Ducks vs Senators:
Of all the games taking place today this is certainly one of them. I remember having optimism for Ottawa early in the season. Their offence these last three games – ugh.
By the advanced metrics, Senators are the better team. Unfortunately, the odds reflect that. I'm also really concerned about the Seas low SCGF/60 at the moment, although the Ducks have a 3.55 SCGA/60 so that may balance that out.
Basically I like the Sens to win, and I would price them at about 1.74 which is what the bookies have so no value there.
Flyers vs Penguins:
Penguins are trying to say "hey you can bet us on the road again" which a bunch of road wins. A couple of solid teams in there too and the Flyers are not exactly a solid team.
Both teams are actually scary close in Corsi/Fenwick. The big difference is Pens goals and xG and Flyers goals against and xGA.
I just don't think there's enough value on the Pens here. Would have to be in regulation which is only 1.74. If the advanced metrics were overwhelming for the Pens this would be different but there are a few that are a bit too close for comfort for me.
Red Wings vs Coyotes:
Detroit come in with a nice little winning streak. Coyotes come in with a big win over the Canes.
Coyotes starting Vejmelka tonight. His dad was there against the Canes when he shut them out. Wonder if I can find out if he has a ticket for the game tonight. It's like those "moms games".
But overall Detroit are just the better team. Husso has been solid. Coyotes haven't shown they can carry much momentum. Red Wings in Regulation if Husso in net
Ontario: 1.86 Odds at Bet365 (Americans: We recommend http://www.bovada.lv
Canada: 1.86 Odds at Bet365 (Americans: We recommend http://www.bovada.lv
USA: -135 Odds at Bovada
Everyone Else: 1.86 Odds at Bet365 (Americans: We recommend http://www.bovada.lv
(Odds correct as of 2022/11/25 8:06:24 AM EST but are subject to change.)
Sabres vs Devils:
I'm fine staying away from this one. No idea how the Devils react after that loss. By the metrics, Devils in regulation is fine probably. With the way they lost to the Leafs, and the disallowed goals, I think they come out with something to prove. I've just learned over the years never to mess around when it comes to a busted streak, winning or losing.
Blue Jackets vs Islanders:
One of those where I certainly don't feel the Islanders should be such big favourites, but I'm not seeing enough to convince me to bet on the Jackets.
Knights vs Kraken:
Nothing here. The Krakens issue initially was goaltending and that's been sorted out more. This could be a very competitive game.
Lightning vs Blues:
I was hoping to back the over in this one but 6.5, ugh. Tampa are the better team but not overwhelmingly so after the last little while, and have some goaltending issues. This does seem like a 4-3 type game.
Stars vs Jets:
Stars come in doing well. Jets…not so bad but very inconsistent. These two teams played on the 8th and the Jets ran out 5-1 winners.
Stars have a very open game right now both offensively and defensively. So that's a concern – Jets were able to take advantage of it once. Can they do so again? The Stars had a really off game offensively in that one with their lowest xG of the season.
Stars just never really got going in that game at all and I'm not sure if it was an anomaly or just that type of matchup.
I went back and watched the extended highlights of that game and it just looked like a really flat performance from Dallas more than anything else. I don't think anything to be worried about and Stars riding momentum here after that massive comeback.
Stars in Regulation.
Ontario: 1.95 Odds at Bet365 (Americans: We recommend http://www.bovada.lv
Canada: 1.95 Odds at Bet365 (Americans: We recommend http://www.bovada.lv
USA: -110 Odds at Bovada
Everyone Else: 1.95 Odds at Bet365 (Americans: We recommend http://www.bovada.lv
(Odds correct as of 2022/11/25 8:06:24 AM EST but are subject to change.)
Sharks vs Kings:
Nothing for this one. Real metric clash.
Follow @BetNHL
BetNHL.ca » Tonights Tips »