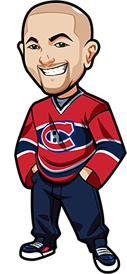 Written by Graeme on Saturday, November 26th, 2022
Follow @BetNHL
Well it was a frustrating 0-2 yesterday, even mores as my analysis for most games yesterday seemed to be pretty spot on, and I was able to avoid a few favoured picks that lost (Bruins in regulation, Knights win).
Lost with Wings in regulation. Not much we could do there. They had two penalty kills back to back to end the game and they did their best, but Coyotes were able to score with 25 seconds left with an empty net.
That was the 1st time in 6 attempts that the Coyotes were able to score with an empty net, and only the 2nd time in 10 attempts the Wings conceded against that scenario. Going into yesterdays game they had actually scored against an empty net 5 out of 9 times. That's hockey.
In hindsight, I'm not sure about that Stars pick and will have to go back and reevaluate that. It was a typical Stars game of late and I wonder if I didn't give the Jets offence enough credit to win in that type of game.
Today is Saturday with a slightly smaller slate than usual, but a lot of back to backs so let's see what we got.
Also can I just say that I am stupidly giddy over the fact that there is only 7 games. It's nice not having an insane amount two days in a row to go through.
Rangers vs Oilers:
Yeah I ain't betting this one. Oilers come in just playing terrible. Sometimes they score a bunch but concede more. Sometimes their offence is just like nah we good tonight.
Rangers still inconsistent as all hell.
Looking at the metrics – Oilers not scoring as much as they should based on chances generated. Poor goaltending affecting them. Rangers goal scoring is pretty close to being on point.
By the numbers, Rangers should win this one. Bookies have them at about 1.66 and yeah that seems about right. If the Oilers get their shit in gear offensively then this one looks to be a fairly easy over but I can't trust a cold offence.
Hurricanes vs Flames:
Flames lost to the Caps yesterday and the Canes had that tight loss to the Bruins.
No confidence in either team right now. The Canes GF/60 compared to their xGF/60 has to be one of the worst in the league for the last 10.
Very easily skippable. One of those where game going to OT probably isn't a bad bet.
Panthers vs Blues:
Blues now lost two on the trot. Conceding a lot too. Panthers been poor lately but got a big win over the Bruins.
Panthers have a ludicrously high CF/60 of 70.33 over their last 10. They are scoring 3.74 on avg but their xGF is actually in line with that. Blues as well are scoring and conceding just about expected
It's a bit of a tricky one as on paper, this one goes over. But the Blues with two losses in a row, and on a back to back – do they still have the fire?
Those are concerning so I'm going to use those as a factor in not taking the over, but instead going with Panthers in Regulation.
Ontario: 1.83 Odds at Bet365 (Americans: We recommend http://www.bovada.lv
Canada: 1.83 Odds at Bet365 (Americans: We recommend http://www.bovada.lv
USA: -140 Odds at Bovada
Everyone Else: 1.83 Odds at Bet365 (Americans: We recommend http://www.bovada.lv
(Odds correct as of 2022/11/26 9:50:01 AM EST but are subject to change.)
Devils vs Capitals:
Devils looked like they had forgot all about the Leafs result with an excellent result. I'm a bit iffy about this one due to B2B, and I dunno just lingering issues with betting against the Caps (which are probably unfounded based on their performances this season but it's hard to shake that at times).
The advanced metrics maybe give the Devils a slight edge. The real difference is actual stats – goals for and against. Devils over performing in goal. That's been a big factor.
This one is just a tad too tight for me looking at the metrics. I'd have to take the Devils in regulation and I dunno – this could be a close one.
Islanders vs Flyers:
Islanders should win, but seem a lot more heavily favoured than I'd expect from looking at the data.
Avalanche vs Stars:
These two just played a few days ago. Avs pipped them in OT. Avs had the unplanned day off yesterday.
They are favourites at about 1.66. Corsi/Fenwick is quite close.
I feel like Avs can get the win here but the Stars are so volatile both offensively and defensively it's really hard to say. I think if we had OT and the Avs were like 1.80 I'd go with them but this price is just too short for me.
Knights vs Canucks:
This one is fairly close by the metrics. Knights goaltending hasn't been great lately. Canucks over performing offensively with goals scored by a large margin.
I don't think Knights should be such big favourites here. Canucks are 2.60. They just played in Vancouver and the Knights ran out 5-4 winners.
But I look at who the Canucks have beaten and its eh.
They can score the goals though. Both conceding at a good rate although xGA/60 isn't overwhelming. Both decent scoring rate of HDGA and both good SCGF right now.
I think if this was over 6 I'd take it but over 6.5 just don't know if this game has that extra goal.
Follow @BetNHL
BetNHL.ca » Tonights Tips »