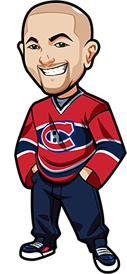 Written by Graeme on Saturday, November 27th, 2021
Follow @BetNHL
It was a 2-0 night with the NHL Tips.
The Ducks was a quite nice and easy win. They rolled out to a 4-0 victory.
The Jackets was a tad tighter. The Canucks came to play, and Elvis had to make a whopping 39 saves. That's one of those betting tips where if it lost then it's a fair loss in my books.
Just can't predict a team like the Canucks randomly showing up with a big performance like that. Thankfully the Jackets held them off, and got us a nice win at 2.18 odds.
It's a busy Saturday with a lot of back to backs. Not sure what we can rustle up but let's have a look and any tips I will move to the top:
Panthers vs Kraken
Panthers coming off that tough loss to the Capitals. Kraken got shut out by Tampa. They are looking like a team that doesn't travel well.
Panthers motivated to break the record for a home winning streak to start the season, aloning with a bounce back of course. Kraken may start Driedger which would be fun.
Not super happy about Knight likely being in net. But when you have a team who have the quality of the Panthers, and you have multiple motivation reasons for them to win? You gotta go with it.
Panthers In Regulation
Canada: 1.80 Odds at Bet365 (Americans: We recommend http://www.bovada.lv.
USA: -135 Odds at Bovada.
Everyone Else: 1.80 Odds at Bet365 (Americans: We recommend http://www.bovada.lv.
(Odds correct as of 2021/11/27 9:27:35 AM EST but are subject to change.)
Penguins vs Canadiens
Pens come in on the back of a nice little run, crushing a lot of Canadian teams in the process.
I expect DeSmith will be in net tonight for the Pens. Pens beat them 6-0 last time.
Honestly even with DeSmith in, I think Pens will likely get the win. But Jarry has been a big part of this Pens revival.
This almost feels like one of those trap spot games. Where almost everything points to the Pens and they blow it. But if Jarry is in net, I feel like it's a play we gotta make.
Pens in Regulation if Jarry in net
Canada: 1.80 Odds at Bet365 (Americans: We recommend http://www.bovada.lv.
USA: No Odds yet but Bovada will likely be best. BetOnline is like -165 which is unplayable.
Everyone Else: 1.80 Odds at Bet365 (Americans: We recommend http://www.bovada.lv.
(Odds correct as of 2021/11/27 9:27:35 AM EST but are subject to change.)
Flames vs Jets
Bad game for the Jets last night as their skid continues.
Flames meanwhile are nice and rested.
Flames actually have a bad record this season against Western Conference teams while the Jets have a good record against the West. Always interesting that.
To be honest with this game up I was expecting -1.5 to have to be the play. At the odds, happy to take the Flames in Regulation. If it's a trap play or whatever or if the Western Conference curse is real, so be it.
Canada: 1.94 Odds at Casumo
USA: Bovada probably best when they get odds up. BetOnline is -135 which isn't great.
Everyone Else: 1.94 Odds at Casumo
(Odds correct as of 2021/11/27 9:27:35 AM EST but are subject to change.)
Coyotes vs Stars
Would have to take Stars in regulation and they are yet to win on the road in regulation.
Honestly if you're looking for an underdog play to make today – I don't hate a play on the Coyotes at this price. I loved the way they fought back in the third period against the Oilers, and I think their momentum from that can carry through here.
The Coyotes coach said their players were feeling a bit tired etc. Well they did just have a nice little couple of day break while the Stars are on a B2B.
I can't believe I am doing this.
If Wedgewood in net, take Coyotes Draw No Bet.
I also must note that the advanced metrics don't really back this one up. I was hoping when I looked at them that Stars would be poor on the road. At the best, they're in the bottom half of the metrics more based on their offense than anything else.
Canada: 3.05 Odds at Casumo
USA: Can't bet Draw No Bet. Go with Coyotes or Draw at Bovada.
Everyone Else: 3.05 Odds at Casumo
(Odds correct as of 2021/11/27 9:27:35 AM EST but are subject to change.)
Knights vs Oilers
A game with both teams rested. Knights lately have a good home record. Oilers came here early in the season and beat them. Oilers a tad rocky at the moment though.
Oilers at 2.00 and above is very tempting, I must say. This is the end of their road trip and I'd hope for a good performance but who knows how Thanksgiving affected that.
Going to skip this one. If I was taking anything it would be the over. Tad concerned about the line shuffling we saw this past week in Edmonton. Against the Stars they looked like they were just meeting each other for the first time.
Kings vs Senators
Neither team really worth backing here. Based on the Kings performances lately, it's very tempting to back the Senators "just because".
It's a shame that Murray is having such a disastrous time of it lately. I like that dude.
Anyway – looking at the advanced metrics, the Kings are pretty much better than the Sens in all categories so yeah they should get back on track with a big W here. I'd pretty much have to take Kings -1.5 and yeah not going to do that. Odds just aren't good enough on it.
Red Wings vs Sabres
Wings will be looking forward to this game as it gives them a strong possibility of a win. They've been a surprisingly sleeper team at home this season with good results and performances.
Buffalo recovered from their 4 game skid with a 4-1 win against the Habs. They can be a feisty bunch on the road with a solid goal scoring record.
I feel like the Wings get the win tonight but I don't have the confidence to take them in regulation.
I was half tempted by Sabres over 2.5 team goals, but the odds for that one are only 1.86. Looking at it I think I'd need 2.00 minimum to back that. So no bet.
Blues vs Jackets
Just one of those games which for me is an easy skip, after yesterday's results. Especially seeing the odds.
Avalanche vs Predators
Avs held down by the Stars. Not a surprise – Avs and Oilers and similar teams may struggle against the way the Stars play.
I don't hate Avs in regulation here – but it's one of those weird plays where I keep looking for reasons not to back it. That's not a great sign.
Avs in regulation maybe a good play but quite a few variables putting me off.
Follow @BetNHL
BetNHL.ca » Tonights Tips »