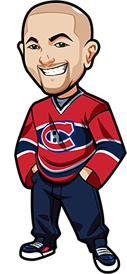 Written by Graeme on Sunday, November 27th, 2022
Follow @BetNHL
A note that we don't have any bets today. So just a quick PSA about betting, then the usual analysis.
Isn't hockey betting just the freaking best?
Panthers up 4-1 with just 12 minutes left on the clock. Against a team on a back to back who you wouldn't blame for being jaded and turtling up at that point.
Instead the Blues rack up 19 shots to the Panthers 4, and make a huge comeback.
What's really frustrating about that one is that I said that one should go over. But I was concerned about that exact situation – Panthers with a solid lead late in the 3rd and the game just fizzles out.
Anyway it is what it is. That's betting on hockey and it's not like those comebacks are extremely rare – we saw the Oilers do it earlier in the day!
Just remember – these things happen. Bad beats, variance, whatever. It's how gambling works. If you bet that one and lost don't do anything crazy or anything out of the realm of your usual betting.
If you find that result or how it went down really affected you emotionally etc – take a step back. Take a couple days off and regroup, rather than trying to chase losses etc.
And don't just be results orientated. Like yeah that bet lost – but it was still the right bet to make. And even those times where the bet in hindsight was wrong – rather than beating yourself up over it, look at it and learn for the future.
Sorry for the long PSA but I browse a lot of betting forums and subreddits and I see so many people who lose their minds over things like that. I've been betting semi-professionally for over 20 years now – things like that don't bother me in the least anymore.
I saw one guy yesterday, who generally bets sensible 1u plays on soccer, have an 0-4 day on Friday at the World Cup.
The next day, his post was all about "winning back the money I lost yesterday" and he ended up doing 10u plays on all four games at odds like 1.38 and 1.17 etc, and chasing his losses. Very silly, very dangerous. They're known as "bridgejumper bets" for a reason.
Practise proper bankroll management and all that. Make your units the size of your bankroll, have a bankroll of about 100 units, and adjust unit size accordingly. So that even if you have an 0-4 day, the worst thing is you have to bet slightly less per unit the next day.
Right let's get on with the 5 NHL games taking place today:
Wild vs Coyotes:
Wild are heavy favourites here. Coming in off that loss to the Leafs. Coyotes on the longest road trip of all time had a couple of decent results coming into this one.
Wild are generally good at covering the -1.5 when they do win but you are talking about only 6 wins in regulation. Only 1 of them they didn't cover the puck line.
Anyway the metrics don't suggest they cover the handicap at all. Looks more like the type of game that'll go to OT and will all come down to a potential empty net goal.
Not one I feel like backing.
Blackhawks vs Jets:
Yeah I have no interest in touching this one. Metrics do suggest a Jets win but not taking them on the road in regulation.
Ducks vs Kraken:
Kraken got the good win over the Knights. Come in against a struggling Ducks team.
The Krakens Corsi/Fenwick for last time is a right cause for concern. Their offence is grotesquely overperforming right now.
But they are going against a Ducks team who believe or not should be conceding more. Goaltending is actually a positive for them right now.
Some of the Krakens offensive metrics are a concern, and on the road in regulation I'm going to stay away.
Sharks vs Canucks:
Sharks coming in off that Kings loss at home. Canucks some good performances lately but on a B2B. Demko projected in net which is a concern for the Canucks.
Goal metrics suggest this go over. Offensive metrics lean that way too, although the Canucks are overperforming offensively. And despite how it worked out yesterday – bit concerned their offence can keep it going on the B2B here.
Tight one. I do lean towards the over here. I'm worried about that B2B and the last couple of Canucks B2Bs they were only able to score 2 although their offensive metrics seemed decent.
Just couldn't fully convince myself on this one. If both teams were fresh I'd take it but the B2B is putting me off.
Kings vs Senators:
Ottawa are a better team by the metrics. Looking at the goal metrics – Sens offence drastically underperforming. Goals against is on point. Kings offence slightly over performing, balanced out by conceding more than they should.
Sens are decent little underdogs. So it's a case of after that Ducks win, are the offence going to perform as they should be?
I'd love to say yes and back them but they have twice did a performance like that – Buffalo and Philly – then grossly underperformed following that.
Kings are a middling SCGA/60 team while the Sabres and Ducks are 4th and 6th worst for that right now. Yeah I can't see taking the Send here.
Follow @BetNHL
BetNHL.ca » Tonights Tips »