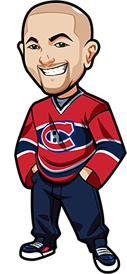 Written by Graeme on Saturday, November 28th, 2015
Follow @BetNHL
A 2-2 night last night for a slight loss of 0.21 units in the NHL. If you were on the OHL betting tip it was a winning night as that covered.
A winning or losing night would come down to the Red Wings winning in regulation against the Oilers. They blew two leads including a 2-0 lead, only to wrap it up 26 seconds into overtime. Frustrating one.
8 games in total went to overtime yesterday. Crazy stuff and made for a great day of hockey.
We had a push with the Flyers/Predators Under 5 when Mike Fisher tied it up with 20 seconds left in the game. Always annoying that when a goal like that actually means two goals in terms of Over/Under. I'm going to dive more into those and see if betting exactly 5 might have some value there on a line like that as the odds seem to be quite nice even though it's a high variance play.
I actually thought we got off to a losing start in Rangers/Bruins where we had the Bruins to win. I was at the movies and when I came out of the theatre I checked my phone. 5 minutes left and Rangers up 3-2. Crap!
So we go to do some shopping and I keep glancing at my phone for the next few minutes anxiously awaiting a notification that the Bruins scored. I never got that notification and I put my phone away sad that we'd lost.
Then about 20 minutes later I looked at my e-mail, and saw a comment mentioning we got off to a winning start. I check the Score app on my phone and sure enough – the Bruins won.
Turns out I had turned off notifications on my phone during NFL – as Gamepass is always a minute behind and on Thursday I didn't want to get spoiled. And I forgot to turn it back on so it wasn't notifying me of the Bruins goals. Oops!
Alright it's Saturday, November 28th 2015 and we've got a lot of games today. Despite that – we really had a problem with betting tips. We found it very difficult today to the point we decided there was no betting tip for Rangers/Flyers then skipped it to spend an extra couple of hours looking at things. We still didn't see much value. So feel free to ask our input in the comments as always.
Let's get to it:
Predators vs Sabres Betting Tips:
I've mentioned before my love for Buffalo this season – but it's hard to see them getting the W tonight. These two played 3 days ago and Nashville won 2-3 in Buffalo.
The Predators lost last night but their home record has been solid and they play with such confidence at home. Predators have had a lot of troubles – but I think they'll be fired up after last nights loss and come out to prove a point. They also match up well with the Sabres in historic results.
Predators to win in regulation.
Canada: 1.80 Odds at 888 Sports.
USA: -127 Odds at 5Dimes.
Everyone Else: 1.80 Odds at 888 Sports.
Man – there really isn't much else we like today. Either it's a tricky game to call or I don't like the odds. I like the Sens to win for example but I'm not happy with the odds and I'm not comfortable betting them in regulation.
Only other thing I see is a nice value bet…
Devils vs Canadiens Betting Tips:
This is a value bet. Won't win the majority of the time – but will win enough to make us money. At least that's our excuse!
These two played last night in a very tight game. It went to a shootout and the Habs won. I'll be honest – I got on this game earlier today when we had our first look through. I was able to get Devils at 2.70 which was insane odds.
The odds have quite rightly dropped more. I still think they have some value but not dripping in it anymore. I'd set the true line of this at Devils 2.20-2.25. Tough call now the value has dropped though.
Value Bet: Devils Win
Canada: 2.40 Odds at Bet365 (Americans: We recommend http://www.bovada.lv.
USA: +145 Odds at 5Dimes.
Everyone Else: 2.40 Odds at Bet365 (Americans: We recommend http://www.bovada.lv.
OHL Betting Tips:
We improved our OHL Record to 9-4 for +7.06 units profit last night.
I actually had the 67s -1.5 today over Guelph. Forgot it started early and they won 4-1 bah. Don't worry that won't be counted in the stats – but another good sign for the OHL System. And son of a – I just checked my betting slip and I didn't even bet them at Bodog. FFS.
And as if that wasn't enough I also had Everton in the EPL. Sigh. Today's not a good betting day. I'm glad we've got so few NHL tips on.
We'll take Peterborough to beat Oshawa at 1.71 odds. These two played last night in Oshawa and the Petes picked up a solid 4-2 win.
You can bet the OHL at:
Canadians: Bodog and 888 Sports.
Americans: Bovada.
Everyone Else: 888 Sports.
Follow @BetNHL
BetNHL.ca » Tonights Tips »