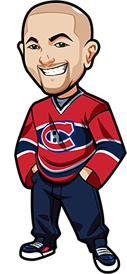 Written by Graeme on Friday, November 29th, 2019
Follow @BetNHL
Hi guys,
Welcome to the NHL Tips for November 29th, 2019!
Very sorry for the delay in posting the tips today especially with the early game. Still trying to get back in the swing of things here after my trip to Boston, and of course doing some Black Friday shopping (online) for the kids Christmas gifts was priority today.
Anyway real quick – trip to Boston was awesome. First time there and I am going back for sure. I wanted to go this year because seeing Tom Brady live was something I wanted to knock off my bucket list. Quick list of everything we did:
– Arrived late the Friday night. Hit some traditional Boston pubs. So many great pubs out there and so varied as well.
– Freedom Trail 5k the Saturday morning.
– Hit "Cheers" in the afternoon. Food sucks but neat to do it anyway.
– Bruins game at night. TD Garden is an awesome stadium.
– Sunday was the Pats game. Glad I went but first and last time.
Gillette is seriously the worst stadium I've attended. First if you are ever going and staying in downtown Boston, either leave super early or get a hotel near the stadium. We left 3.5 hours before the game and it was over a TWO HOUR uber ride. Then it was a nightmare to get in with massive crowds going through security checkpoint then tickets. We were in the 300 section and it is literally a 15 minute walk to get up there while being outside.
The stadium is so open which is cool visually but on a day like that with the horrible weather was absolutely brutal. If you do go though, get seats in the 300 section with the wall behind you. We were on the 50 yard line, row 4 and there was a big wall behind us (as there is a concourse there) which meant we were able to stand the whole game without pissing people off behind us. Couldn't be happier with the seats. Here's a picture: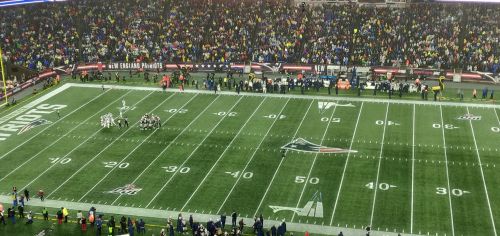 Only negative of the trip was the Friday night I slipped on black ice which I wasn't aware was going on in Boston. Was in a decent amount of pain on my arm/chest the entirety of the trip and had to self-medicate with beer (not the worst thing in the world). Tore a whole bunch of shit and lots of soft tissue damage so that's fun. Been hard to sleep so that was another reason for the delay today – not getting to sleep till about 4am.
Anyhoo enough chattering. Hope you Americans had a great Thanksgiving. It was nice having football all day plus a lively NHL game. Let's get with the games.
Flyers -1.5 was tempting with the way the Wings are right now but just not convinced enough about their goalscoring abilities. On paper Kings beating Sharks at about 2.30 is decent value but hard to really back that.
Will be interesting seeing how the Stars respond after their first regulation loss since October 26th. Blues are no pushover. Don't tip them, but that's one I'll be betting goes to OT.
Was very close to taking Wild in reg over Senators. However Sens even when they lose lately very close, Wild aren't big for blowing teams out or getting dominant wins so it could be quite the battle.
All 0.5u plays because I haven't been able to watch every game this week(or at least the extended highlights) so a tad out of the loop.
Blackhawks vs Avalanche Betting Tips:
Blackhawks have really stepped things up lately. Their offense is ticking and we've just seen solid goaltender performances too which is nice to see. They're not a team you can back with a lot of confidence or anything but I was really impressed with the Dallas performances.
They're not as free scoring as they were a couple of weeks ago but you've got to think they come out hot over the Avs. Of course Colorado aren't a team to disrespect but they've got a ton of injuries and they aren't getting Rantanen and Landeskog back today.
Just a good spot for the Hawks here.
0.5u on Hawks win incl OT/SO
Canada: 1.87 Odds at Sports Interaction (SIA) + free $20 bet.
USA: -113 Odds at BetOnline..
Everyone Else: 1.87 Odds at BetOnline..
(Odds correct as of 2019/11/29 1:44:57 PM EST but are subject to change.)
Capitals vs Lightning Betting Tips:
This isn't one of those games that is in the "obvious over" category such as the Leafs vs Sens but lately we've seen a few high scoring games between the teams.
They have two of the best offenses in the league and Capitals will want to wrap up this little homestead with a win over Tampa obviously. Tampa will want to step up their game against the Capitals.
Just one of those games where the two teams should be very hungry to win – ala the Battle of Ontario – for a lot of reasons and with the two offenses, it should go over.
0.5u on Over 6.5 Goals incl OT/SO
Canada: 1.76 Odds at BetOnline..
USA: -133 Odds at BetOnline..
Everyone Else: 1.76 Odds at BetOnline..
(Odds correct as of 2019/11/29 1:44:57 PM EST but are subject to change.)
Sabres vs Leafs Betting Tips:
Hutchinson is in net for the Leafs. He's had a terrible time so far this year and is leaking the goals like crazy. Leafs have improved post Babcock and Sabres are a bit underwhelming right now so both of those factors are an issue in the over.
However I've got to think Leafs go to town offense wise to make up for Hutchinson while the Sabres are able to get the goals past him.
A lot of games between the two haven't went over. So it's iffy. But I do think Sabres will see this as a winngable game and be motivated to beat the Leafs and end their run, while Toronto will want to protect Hutchinson by scoring as many goals as humanly possible.
0.5u on Over 6.5 Goals incl OT/SO
Canada: 1.86 Odds at BetOnline..
USA: -115 Odds at BetOnline..
Everyone Else: 1.86 Odds at BetOnline..
(Odds correct as of 2019/11/29 1:44:57 PM EST but are subject to change.)
Follow @BetNHL
BetNHL.ca » Tonights Tips » November 29th, 2019 NHL Betting Tips