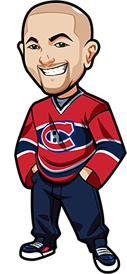 Written by Graeme on Saturday, November 2nd, 2019
Follow @BetNHL
We got off to a winning start in November with the Flyers/Devils game going over 6.5 goals.
It was a nice and tight one and it took until about halfway through the third period to hit the 3-3 mark that meant it was going over. I was a bit worried about the offences in that game, but luckily both were able to deliver against poor defenses.
Over 70% of you thought the Capitals would beat the Sabres and that was the correct call as Buffalo were given quite the reality check. A 6-1 thumping. Ouch.
Islanders continued their good run over Tampa as Tampa slowly are getting back into that "we can bet against them" range. More and more they're showing that they're just not the same team on paper as they are on the ice.
Stars got a solid 2-1 win over the Avs. I liked the Stars defensive performance that game. Jets managed to log a win and they are 7-7-0 for the season. I'm surprised they are .500 ha just doesn't feel like it.
Two early games today and alas I won't be able to watch either of them. Have to help a friend move all day long. Not sure I'll even watch much hockey tonight with UFC 244 on the go. Absolutely stacked card and I am pumped for it.
Very tempted by the Panthers -1.5 today. They've did well this season considering their schedule so far. I think they cover that but Bobrovsky is likely in net and I get a feeling that Red Wings offense is going to go off big time soon. Just don't have the confidence in Bob right now.
Had the Sabres/Islanders Over 5.5 penciled in. That's a gut play though and the numbers don't back it up. Sabres offense not performing too well at the moment and Islanders aren't putting up the goal production on the road as much yet.
Let's see what we got today. 4 plays, all of which feel a bit risky or I'm not fully behind. So we'll do 0.5u on each one because as much as 0-4 sucks, it sucks less if it's only a loss of 2u!
Oilers vs Penguins Betting Tips:
Always hate betting unders. Especially in a spot like this when it involves McDavid and Draisaitl going up against Crosby and a returning Malkin. Not to mention the other guys who are putting the puck in the back of the net. Yet that's what I'm going to do here.
Honestly I'm more concerned that the Penguins light this one up and put it over themselves than this being a huge goalfest. Hoping that Malkin takes time to adjust.
Over 6.5 just seems like a line set based on face value. In the McDavid era however, these teams have only went over 5.5 goals 2 out of 8 times I believe. "McDavid vs Crosby" is never the battle the media hype it up to be. The story of these teams is more about defense these season with some solid records – both in the top 10 for all the key stats.
If it goes over, it goes over. The metrics indicate otherwise.
0.5u on Under 6.5 Goals incl OT/SO
Canada: 1.83 Odds at Bet365 (Americans: We recommend http://www.bovada.lv.
USA: -120 Odds at Bovada.
Everyone Else: 1.83 Odds at Bet365 (Americans: We recommend http://www.bovada.lv.
(Odds correct as of 2019/11/02 8:37:05 AM EST but are subject to change.)
Senators vs Bruins Betting Tips:
Ottawa have actually seen some decent performances their last 3 games. They've got two wins in there and also had a close game against Dallas.
But they're going up against the Boston Bruins, the safest pick in hockey at the moment.
Bruins have covered the handicap in their last four games.
Sens are not a team we can write off honestly. We've seen a change in the way they play lately. They look like they're enjoying being out there. With nothing to lose, they should be up for this game as they seek out their first road win. They often are able to raise their game in spots like this. However Bruins have also beaten them in their last 8 games they have played them, covering the -1.5 5 of those times.
If Bruins can continue to do what they're doing they should take this one comfortably.
0.5u on Bruins -1.5
Canada: 1.87 Odds at BetOnline..
USA: -125 Odds at GT Bets..
Everyone Else: 1.87 Odds at BetOnline..
(Odds correct as of 2019/11/02 8:37:05 AM EST but are subject to change.)
Avs vs Coyotoes Betting Tips:
This is one of those games that I feel the bet makes sense – to take the Coyotes – but it's one I'm not super pumped about.
Avs are riding a 3 game losing streak. They're without Landeskog and Rantanen. This looks like it's affected them mentally a bit. They just had no real fire last night. Their power play looks like nothing with them out.
Coyotes have been a bit hot and cold this past couple of weeks. They look like they're still figuring everything out. That Habs game would have hurt.
Avs are a tough team to bet against at the moment. They've had a tough schedule however brought in some great results from that. But it looks like they're feeling down right now, and it's a good little spot for the Coyotes to get another notch in the win column.
Like I said though I'm really not feeling this one. Feels like I am writing one team off due to a couple of injuries, and not sure what to expect from Coyotes.
0.5u on Coyotes incl OT/SO
Canada: 1.79 Odds at Casumo
USA: -130 Odds at BetOnline..
Everyone Else: 1.79 Odds at Casumo
(Odds correct as of 2019/11/02 8:37:05 AM EST but are subject to change.)
Kings vs Blackhawks Betting Tips:
This was one I've been looking at since Wednesday or Thursday.
The Kings have lost their last 4. Their offense has been struggling however when looking at the Kings/Canucks game I had a feeling their offense was going to start coming to life. I mentioned in the comments that day I think they'll give someone a pounding soon and this was the game I was looking at.
You've got the highest xGF/60 and SCF/60 team going up against the Blackhawks with a high xGA/60 and SCA/60. HDCF vs HDCA is the same. If you go just by the advanced metrics, this should be a huge win for the Kings.
However you can't live and die by those. You do have to look at other factors. Such as the fact that the Blackhawks just destroyed the Kings 5-1 lately out of nowhere. Or that Quick is currently batting an .858. And I mean the Blackhawks have the 2nd worst Goals For Average in the league yet still put 5 past the Kings.
I'm not Rain Man, but sometimes I just look at the metrics such as this game, and everything feels like it clicks. It just feels right. Who knows – very possible I get humbled and the Hawks own them, or the Kings can't even muster a goal. Then you can call me Rain Man for the other reason. But I feel it's worth a play.
Kings -1.5
Canada: 2.97 Odds at Sports Interaction (SIA) + free $20 bet.
USA: +195 Odds at BetOnline..
Everyone Else: 2.95 Odds at Bet365 (Americans: We recommend http://www.bovada.lv.
(Odds correct as of 2019/11/02 8:37:05 AM EST but are subject to change.)
Non-NHL Betting Tips:
Written by Graeme
(All below systems are based mainly on mathematics and statistics with very little human input and are deemed experimental. Use at your own risk.)
Czech Extraliga Betting Tips (4-4, -0.05u): system likes BK Mlada Boleslav but they play today so I won't include it as a tip as most will miss it. They're 1.90 and the system even likes them in Reg at 2.45.
Finland SM Liiga Betting Tips (2-1, +0.31u): System likes Ilves today in reg 1.86. Not an official play due to it being today and most people won't see this before the game starts.
AHL Betting Tips (3-2, +0.61u): 0.5u on Grand Rapids Griffins in reg. 2.25 odds. 1u San Antonio Rampage incl OT/SO 1.83.
Where To Bet the Non-NHL Leagues:
Canadians: Bodog and 888 Sports.
Americans: Bovada.
Everyone Else: 888 Sports.
Follow @BetNHL
BetNHL.ca » Tonights Tips »