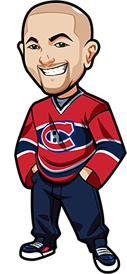 Written by Graeme on Thursday, November 2nd, 2023
Follow @BetNHL
Well it was some unfortunate luck last night. We made a goalie dependent pick in the Flyers game, and Hart unfortunately had to go off injured early on. Granted, it looked like he was having a 'mare anyway.
Despite going down, the Flyers were able to tie it up to 2-2 and racked up 40 shots in that game with 14 high danger chances. Alas they couldn't get the puck in the net, and the Sabres took advantage with the win.
If Hart is out for a prolonged length of time, that is really bad news for Philly.
Good to see the Avs get back on track. Stars and Flames had a solid game and nice to see the Flames have a bit of fight considering everything going on in Calgary right now.
Let's get right into Thursdays games:
Rangers vs Hurricanes:
The Rangerrs return home after a fairly long road trip. They host the Hurricanes are still kinda eh. At some point I really need to dive into the data for teams after a road trip of 4+ games and see how they perform on that first home game and if there is anything trending there.
Anyway I am just not seeing anything here. WIth the Hurricanes overall goaltending this season, the odds I'd come up with are pretty much exactly the same as the sportsbooks.
Red Wings vs Panthers:
Nice to see the Wings get that win over the Islanders and hopefully break them out of that slight hump. Panthers coming off that solid result against the Bruins. Not seeing anything worth betting in this one.
Senators vs Kings:
At a glance, a tempting one to back the over but this one is barely at over 6.5 and could go to 7 with more action on it. SCGA/60 is a bit low for both teams and the xGA isn't enough for me to back it at 6.5 at that price. I would lean the Kings here but it's quite close, and again the bookies have it right.
Capitals vs Islanders:
Neither team are really backworthy at the moment. Looking at the metrics, it's a bit of a minefield. This is a fairly easy pass for me.
Blue Jackets vs Lightning:
Nothing in this one. The data isn't there to back Tampa at the moment and things are actually fairly close anyway other than the Jackets goals scored. If they could actually get the puck in the net more this would be a good one for the over.
Bruins vs Leafs:
Right off the bat this is an easy pass for me. I expect the Bruins to win, but the Leafs still have that quality and can raise their game. The metrics are all pretty close, with the big difference being great goaltending from the Bruins, and a low SCGF/60 for the Leafs. There might be enough to make the Bruins mathematically an +EV play.
Wild vs Devils:
Wild come stumbling into this one. Slight dogs against the Devils who go on the road for the hitd time this season. I think there is enough to back the over in this one. Based on goals scored, Devils should be good for a bunch and their previous road games indicated they can do it on the road. Wild also should be scoring and all the xGF & xGA numbers are above 3.
Really the only negative is the Wilds SCGF/60 being below 3 at 2.96. But hopefully the Devils defensive metrics help that out. It's not as paint by the numbers as my other over wins this season, and the odds aren't the best, but I'm good with Over 6.5 Goals incl OT/SO. Boldy should be back which is helpful.
Ontario: 1.75 Odds at 888 Sports.
Canada: 1.75 Odds at 888 Sports.
USA: -131 Odds at Sports Interaction (SIA) - Non-Ontario bet $10 get $200
Everyone Else: 1.75 Odds at 888 Sports.
(Odds correct as of 2023/11/02 7:21:21 AM EST but are subject to change.)
Oilers vs Stars:
Happy to pass on anything involving the Oilers at the moment. Looking at the metrics, not too much jumps out at me. Stars slight lean but I mean they just came off a big game last night. This is a very sweet spot for the Oilers. But have you watched them this season? I can't bring myself to back that team at 1.76.
Coyotes vs Canadiens:
I mean the Coyotes should probably get the win here. Just based on the offensive metrics of them and the defensive metrics of the Habs. But it looks close, and the Habs have been fighting this year. But the odds are accurate on this one so no value.
Kraken vs Predators:
Absolutely nothing for this one. Nothing really jumps out from the metrics.
Knights vs Jets:
The Knights look to continue their unbeaten regulation time streak as they host the Winnipeg Jets. They went to Winnipeg earlier this season and won 5-3.
To back them would have to be in regulation though and after the last couple of games by both teams, I'm not loving that. The metrics don't back that up either. Knights goaltending has been saving them this season still. Jets actually have a better xGF and if their offense is working tonight, they could get that win.
Sharks vs Canucks:
Man, the Sharks GF/60 is 0.99 after 9 games. That is sad. Their xGF/60 is 2.39 too which isn't horrific. The Canucks have been pretty reliant on goaltending.
This is one of those weird games where I mean I think the Canucks in regulation is a fine play, but there are just some warning bells going off in my head. The odds are about 1.76 which just feels a tad low for me too.
It's very close, but no play for me.
Follow @BetNHL
BetNHL.ca » Tonights Tips »