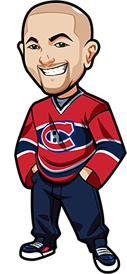 Written by Graeme on Thursday, November 30th, 2017
Follow @BetNHL
The Montreal Canadiens made it 3 for 3 with Carey Price back in net last night, with a solid 2-1 victory over the Ottawa Senators.
It's always interesting seeing how a player can affect a team like that. It's not like teams are firing in expert shots and Price is standing on his head trying to stop them or anything. It's just an example of confidence surging through a team.
It also shows what a strong team mentality they had. It's why we went with them on Saturday on Prices return against the Sabres – if they had lost that one there was no hope for this team.
It makes tonights game against the Red Wings extremely interesting with Niemi possibly in net. He looked pretty solid against the Preds I have to say. Personally I'd roll with him tonight as they've got to eventually. If he wins then great it adds to the Habs confidence. If he loses then no problem – gives them that extra confidence with Price in net. And the Habs schedule is accomodating enough that he could probably play the whole of December no problem.
Goalies always make for an interesting dynamic and can be one of the biggest factors when it comes to betting I find.
Regardless of tonights goalie, I'm skipping the Habs game tonight. Two teams surging in different directions can be a recipe for disaster(look at the Stars/Knights game). I have a bad feeling about this game and can't ride Price.
I can't officially recommend this one, but I just have a strong feeling the Knights take a thumping tonight. Knights heads will be down after that result and Subbans first loss. Either Subban or Lagace will be in – probably Lagace – but either way I'm personally betting Wild -1.5 tonight. It's hard to bet against these hard working Knights and the Wild aren't a big team for covering the puck line this season when they win. Would be huge for the Knights if they bounce back though.
Scott also likes Leafs/Oilers over 6 tonight. I can see it for sure but with the Leafs struggling a bit and the way the Oilers offense have been I can't rely on either.
Alright let's look at tonights games:
Flames vs Coyotes Betting Tips:
The Flames have a nice little home stretch of 3 games coming up – Coyotes, Oilers and Flyers.
Their homestead got off to a bad start against the Leafs but that was an unfortunate one. Leafs scored a very flukey goal and that changed the game around. I like Flames to be motivated after that one and to come out strong.
They're not too shabby on the bounce back. They always put up a fight at least and with the Coyotes they know they're facing a more confident opponent so they won't take them lightly. Wedgewood is in net again and he's not there on merit. Not that he's a bad goalie or anything he is a perfectly adequate backup. But I like the Flames to give him a bad night here.
Flames in Regulation
Canada: 1.83 Odds at BetOnline..
USA: Best Odds at Bovada.
Everyone Else: 1.83 Odds at BetOnline..
(Odds correct as of 2017/11/30 10:59:02 AM EST but are subject to change.)
Predators vs Canucks Betting Tips:
If you've been following the tips this season you'll know that I don't tip games involving the Nashville Predators. They're a team who I can NEVER bloody predict. In games where they check all the boxes that they win I'll tip them and they'll lose. In games where they check all the boxes to lose I'll tip against them and they'll win.
We just had one of these recently when they went up against the Hurricanes. Not only did they tick all the boxes but they were a crazy underdog price. They had such sick value in that one. Yet I didn't tip them due to my no Predators rule and hey look what happened – they lost.
Yet here I am tipping them tonight.
Even though I don't tip them, I still analyze their games all the same. And analyzing this one I just feel really good about the Predators tonight.
They're an excellent home team and they've been having a pretty damn solid month. They'll want to wrap it up with a win against the Canucks. You can never count the Canucks out this season but I think that's a good thing – the Predators won't take them lightly. In saying that, a lot of Canucks road results aren't as impressive at first glance – although they're still impressive.
I like the Predators to get the win tonight and move up to 2nd in the Central Division enough that I'm breaking my "no Predators" rule.
Predators in Regulation
Tips may be late tomorrow after the Canucks win or force the game to OT and I give myself a concussion banging my head against a brick wall.
Canada: 1.94 Odds at BetOnline..
USA: Best Odds at Bovada.
Everyone Else: 1.94 Odds at BetOnline..
(Odds correct as of 2017/11/30 10:59:02 AM EST but are subject to change.)
OHL / WHL / AHL / KHL Betting Tips:
(All below systems are based mainly on mathematics and statistics with very little human input and are deemed experimental. )
OHL Betting Tips (13-5, +8.37u): Niagara Ice Dogs in Regulation at 2.20 odds. Sault Ste Marie Greyhounds incl OT/SO at 1.74 odds.
OHL, WHL & AHL & KHL Betting:
Canadians: Bodog and 888 Sports.
Americans: Bovada.
Everyone Else: 888 Sports.
Follow @BetNHL
BetNHL.ca » Tonights Tips »