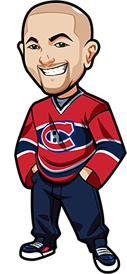 Written by Graeme on Saturday, November 30th, 2019
Follow @BetNHL
A 2-1 night last night.
We had over 6.5 goals on the Capitals vs Lightning game. I was a bit nervous about that one but it all lit up in the latter two periods thankfully and went to OT at 3-3, making it an automatic win.
We had over 6.5 in the Sabres vs Leafs game and that one was super easy which was nice. Will be interesting to see how the Leafs perform today. Watching the game last night I saw a lot of the same issues as we saw in the Babcock era. Got to think they bounce back tonight but man if they don't……not good.
We were debating them for a bet today but would have to be Leafs -1.5. What do you think? Do Leafs cover the handicap?
[poll id="52″]
We lost with the Blackhawks game as I put my faith in them and they disappointed. I should note when it came to talking with Scott we whittled that 3rd pick down to either Hawks or Wild. He liked Wild while I liked the Hawks and it's dealers choice. So that one hurt a bit extra!
Busy Saturday today with 13 games on the board. It's a tricky one due to so many teams having played yesterday so I feel like I want to approach with a lot of caution. For example I really dig the Flyers but Elliott in net and Habs have had that extra day to rest and really get their focus here.
Caps/Wings just screams "Caps lose". One of those games that just stucks out on the calendar for me. Can't advise it but something to consider.
Lightning vs Hurricanes Betting Tips:
Carolina are in a bit of a slump. I mean they lost to NASHVILLE. Ouch. Embarassing.
They also lost to the Rangers. The Canes are never a team to trifle with of course and Tampa are still iffy, but this looks like a spot for Tampa to get a win. They just lost to two potential Stanley Cup contenders in the Blues and Capitals and have to be frustrated. Stamkos came back after missing 3 games and it can take a little bit to adjust to that.
These two already played once this season. Canes won 4-3 there. That was that bizarre game where tampa couldn't get a shot in the entire 2nd period. That was just a weird anomaly though compared to previous games between the two.
I like Tampa in this spot. The over is tempting too but I lean more towards a solid Tampa victory.
0.5u on Lightning in Regulation
Canada: 2.00 Odds at 888 Sports.
USA: -110 Odds at BetOnline..
Everyone Else: 2.00 Odds at 888 Sports.
(Odds correct as of 2019/11/30 11:49:32 AM EST but are subject to change.)
Kings vs Jets Betting Tips:
Can't remember when I last had faith in the Jets but they are proving themselves at the moment especially on this insane road trip. Just one game at home since November 12th.
5 wins out of 6 on the road. Going up against the LA Kings who beat them earlier in the year in Winnipeg. It's a much different Jets team showing up today however.
Like I said – all the back to backs suck. It's possible we get Brossoit vs Campbell in net tonight. Could end up being a crapshoot. But I've liked the Jets defensive abilities lately.
The price is there to back the Jets.
0.5u on Jets incl OT/SO
Canada: 2.02 Odds at BetOnline..
USA: +102 Odds at BetOnline..
Everyone Else: 2.02 Odds at BetOnline..
(Odds correct as of 2019/11/30 11:49:32 AM EST but are subject to change.)
Follow @BetNHL
BetNHL.ca » Tonights Tips »