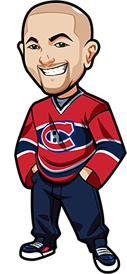 Written by Graeme on Thursday, November 3rd, 2022
Follow @BetNHL
No tips last night. We went 3-0 on Tuesday in a great start to the month.
I had two personal bets last night which came in after writing about the NHL advanced metrics for those two games on my Patreon (Made it public and pinned it to the top so you can see an example of what I write there).
As soon as I heard that Felix was in net, I was all over the Leafs covering the handicap in that one. Probably makes sense for the Flyers not to throw Hart to the wolves like that. They are a very goalie dependent team, and the Leafs have been threatening to light up for awhile now. Will be interesting to see if that continues.
Also on Sabres over 3.5 as I knew they'd get the goals. That was a sweet spot for them and they thumped the Penguins. Their ability to convert the chances they get is excellent right now.
Busy night of games today so let's get right into it.
Lightning vs Hurricanes:
Hey look Tampa are actually on a win streak. Sure it's over the Sharks, Ducks and the road Senators team but it's a start. Hurricanes slight underdogs here. Canes are a team I have concerns about just now. I'm also really concerned about the Canes offensive metric drop in 5 vs 5. Their CF/60 has dropped the last couple games in 5 vs 5. They're a bit of an easy pass.
Senators vs Knights:
Senators return home where they have been almost perfect other than the Wild loss. Haven't been blown away by the Knights this season. Odds seem probably on the money. Vegas have some solid defensive metrics. I'd lean Knights to win but yep the odds are probably exactly where I'd put them. Slight lean towards the under but there you are purely relying on the Knights to keep the Sens at bay I'd say.
Red Wings vs Capitals:
Detroit coming off that thumping Buffalo loss. Washington…I don't even know what to think of this team at the moment. Feels like you can't back them with any kind of confidence, but you can't back against them ya know? This is another one where I just feel the odds are pretty much dead on.
Rangers vs Bruins:
Rangers slight favourites here. I still am concerned about their inconsistency. Bruins – man, what a win over the Penguins that was. That was a crazy game.
Bruins are a team I am generally digging this season, but not so much here. Rangers have a better CF% and FF% by a decent amount. Both teams generally solid defensively. Rangers rack up a lot of chances but just aren't converting like they should, with a brutal 2.33 SCGF/60.
Feels like Bruins can win a tight one due to their D, but I'm concerned with the way Bruins let the Pens put so many past them. That should give Rangers confidence too. Feels like Bruins should be good for a couple of goals here, and the question is if the Rangers can start getting the goals off the chances they're generating.
Ullmark getting lit up like that was concerning too – although really Pens deserved all their goals. Not like it was on him. I don't know it's a big question mark over the Rangers offense and whether they can get past Ullmark or not. Based on the offense they have shown so far this season I'd lean no they won't.
Bruins also showed that comeback ability which can be huge for a teams confidence. This is very close to a Bruins pick if Ullmark is starting. If its Swayman I think I'd switch to Rangers. They gotta start scoring barrel loads on a consistent basis sometime.
Jets vs Canadiens:
By the advanced metrics, this game is fairly close. Like a real 50/50 game. Both teams have a high xGA/60 and goaltending has helped them somewhat this season. Both teams goals wise performing pretty much as expected.
I don't hate the Habs here. They're going to be an underdog a lot of the season, and we gotta pick our slots carefully with them. The big problem for them at the moment is the high danger chances they concede, and then how many goals they concede from it. 2nd worst HDGA/60 in the league next to Arizona, 4th worst HDCA/60.
Winnipeg aren't anything great on the HDCF front. 20th, and 18th for HDGF/60. But Hellebuyck coming off a big performance, and this just feels like too much of a gamble anyway. No bet.
Blues vs Islanders:
Blues slight favourites. On a torrid run if 5 losses. Islanders come in on a nice run with wins over some top teams.
The advanced metrics have things fairly close between them. The Islanders are scoring well and mostly deserve it. They're reliant on solid goaltending though with a brutal xGA/60 of 3.66. The Blues however just don't have the goaltending or defense it seems as Binnington is regressing.
I'm happy to take the Islanders here. If their goaltending holds up? Great. It's a walk in the park win. If it does not? Well they still have the ability to score enough goals to overcome the Blues. The Blues concede enough chances.
Islanders win incl OT/SO if Sorokin is in net
Ontario: 2.00 Odds at Bet365 (Americans: We recommend http://www.bovada.lv
Canada: 2.03 Odds at BetOnline.
USA: +103 Odds at BetOnline.
Everyone Else: 2.03 Odds at BetOnline.
(Odds correct as of 2022/11/03 9:46:00 AM EST but are subject to change.)
Wild vs Kraken:
Minnesota coming off only their third regulation win of the season, as they beat the Habs. It's been a very rough start for them although they've had a it of a tough schedule, and it's been tough with them with injuries. Now Duhaime is out too.
By the goal counts, you'd think this is an easy over but I'm not too sure. Both teams goaltending is causing them issues right now, but both xGA/60 is below 3. So it's a case of relying on them both to take the chances. TBF both have an SCGF/60 that is decent of around 2.9. Both are pretty good at scoring high danger goals and both have an HDCA/60 of just over 11 a game.
The Corsi & Fenwick stats though don't really indicate the over for me so there is not enough overwhelming evidence to back it.
Kraken have racked up two wins in a row and that Flames one in particular was impressive.
Blackhawks vs Kings:
Blackhawks are not without Stalock which isn't fun for them and they will be relying on Soderblom.
LA thumped the Blues before losing to the Stars.
I feel like the Kings should be able to take advantage of the Blackhawks goalie situation, but they are just too heavy favourites and I don't have the confidence for them in regulation on the road.
Flames vs Predators:
Flames come in on the back of two home losses to the Kraken and Oilers. Not great. Fairly heavy favourites here. Markstrom I gotta expect will be in net for a crucial game for them.
Flames are just an overwhelmingly better team. When they lost to the Oilers, a large part of that was Skinner as I talked aobut the other day. Preds don't have that level of goaltending. With Markstrom in net here, I think they right the ship. Most of the metrics lean towards the Flames here. The only real negative is the Wilds HDGA/60 of 1.49 which is solid, but the Flames don't just rely on HDGF.
Flames in Regulation if Markstrom in net
Ontario: 1.86 Odds at Bet365 (Americans: We recommend http://www.bovada.lv
Canada: 1.86 Odds at Bet365 (Americans: We recommend http://www.bovada.lv
USA: -130 Odds at Bovada
Everyone Else: 1.86 Odds at Bet365 (Americans: We recommend http://www.bovada.lv
(Odds correct as of 2022/11/03 9:46:00 AM EST but are subject to change.)
Oilers vs Devils:
On paper, Devils are like one of the best teams in the NHL right now.
Oilers however are on a tear. In saying that, this is a BIG step up in opposition. Now granted their best opposition by the metrics was the Hurricanes, and they were able to handle them.
Oilers offensively are no slouch here. Talk about an understatement. Defensively of course they are a bit more of a concern. Offensively they generate a lot of chances and they take advantage of them. However the Devils are similar in that regard.
One concern is if it becomes a shootout (as in end to end action and goals) if the Devils can hang with them. And while I am very impressed with the Devils defense at the moment – so many of their metrics are similar to the Canes, and we saw what happened there.
I would stay away from this one. Even if Devils limit their chances, Oilers are too damn good at capitalizing on the chances they do get, with the top SCGF/60 in the league. There'll be better spots to back the Devils.
Canucks vs Ducks:
After two wins in a row, the Canucks lost to the Devils. No shame in that. Both teams metrics are pretty trash. Nothing here.
Coyotes vs Stars:
Coyotes with that surprise win over the Panthers. Stars are stumbling a wee bit at the moment. Vejmelka really stepped up in that Coyotes win.
Stars PP finally clicked against the Kings. It was good to see Heiskanen back and he is a good factor there.
Oettinger out isn't great news for Dallas. He's been a big factor in that team this year.
I don't trust Wedgewood enough right now to back the Stars here. Stars have solid goals against metrics but it's all pretty much down to Oettinger right now. See how that changes with Wedgewood in net.
Sharks vs Panthers:
It'd have to be Panthers -1.5 and not going to take that on the road. Sharks have also shown a lot of fight lately, and yeah the Panthers results at the moment are pretty dismal. No bet.
Follow @BetNHL
BetNHL.ca » Tonights Tips »