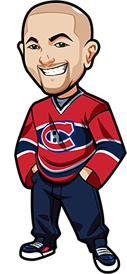 Written by Graeme on Friday, November 4th, 2022
Follow @BetNHL
Hi guys,
It was a 1-1 night yesterday with the NHL Tips for a minuscule profit.
Had the Islanders to beat the Blues. I felt they were the better team, and they proved that and got the job done. 'nuff said.
Also had the Flames and they were an absolute disaster. Early on I was feeling good with the "if Markstrom in net" pick as he was proving why exactly I said that. However he couldn't do it all, and the Preds had a quick burst of three goals that killed the Flames.
Absolutely terrible performance from the Flames. Their xG at the end of the 1st period was 0.05, with just 3 shots on net. That is beyond shocking. At home too! I do not know what is going in with them, but that was one of the worst periods I've ever seen by a team.
Bruins got the win. That was one I was close to yesterday, and I mentioned in the comments I felt it was an +EV bet. How about those Devils? Just continue to impress. Funny though as my immediate thought after that is "next game is a let down spot".
They're on the road in Calgary tomorrow and man – after that Flames performance, that game just has let down spot written all over it. I'm legitimately hoping the odds are stupid in favour of the Devils so I don't get tempted.
Today is basically a vacation day. Avs vs Blue Jackets in Finland. I'm fine generally passing on those games. Sabres / Canes with Canes on a back to back I dunno I just feel like I'm fine skipping that one.
But hey let's give them a bit of analysis anyway:
Avalanche vs Blue Jackets:
I'm not even going to bother with the "in Europe" factor as I don't really know best how to apply that.
Avs big favourites at about 1.40, Jackets 3.10. Avs been very disappointing to start the season, and come in with a few losses in a row. Jackets have been pretty terrible although to be fair to them, they've lost to some top teams. and the Arizona Coyotes.
Metrics let's see….no real surprises here. Avs should be scoring slightly more, Jackets on track. Jackets goaltending letting them down, Avs goaltending helping them slightly. SCGF & SCGA suggest Avs will be able to take their chances here.
Yeah Avs likely win this one although I wouldn't be confident in the handicap.
Hurricanes vs Sabres:
Carolina come in having won just one game in regulation in their last seven. That was against the Canucks.
Buffalo on the back of big wins over Pittsburgh and Detroit, but have also had some bad results. Buffalo still scoring more than expected. Hurricanes conceding more than expected though. Sabres goals against is generally on point.
Buffalo where they impress is SCGF/60 which is exactly 3. Taking advantage of their scoring chances. Canes limit those at SCGA/60.
Here's the big no no for me. Canes have 7th best SCGA/60 right now, which is where Buffalo have been solid against. They have not played one of the top 10 teams in that category. Now in fairness they did play against the #14 and #15 teams Detroit and Pittsburgh and put the goals past them.
Anderson projected for Sabres who has been solid this season. Raanta projected for Canes who has also been solid.
The big issue is that the Sabres haven't played a team as defensively sound as the Hurricanes and came out glowing. The closest team is the Kraken (I've mentioned it's their goaltending that's the issue) and we all saw what happened there. Oh and the Panthers. You can probably include Calgary loosely in that category as well.
It's a big test for this Sabres offense. With Canes on a B2B? I could see it. The price is definitely nice.
When it comes to betting, I'm cautious. I think there is enough merit to a play on the Sabres, but I'd prefer to wait to see how they handle this type of opposition. Similar to the Devils yesterday.
Follow @BetNHL
BetNHL.ca » Tonights Tips »