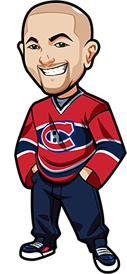 Written by Graeme on Saturday, November 4th, 2023
Follow @BetNHL
No plays yesterday.
That Sabres low xGF was a key stat yesterday, as they could only rustle up 1 goal against the Flyers in a 5-1 drubbing. Looking around the forums, lot of people lost money with that "obvious" Sabres pick and are losing their minds.
Devils on the B2B lost to the Blues.
15 games today. Yikes. Some games will have pretty much no write-up. If nothing jumps out at me for it I'll just move on.
Let's get to it:
Oilers vs Predators:
Oilers continue to be mediocre. Heavily favoured against the Preds. Neither team worth backing here. Over isn't either. Won't surprise me if Preds win but an easy skip.
Coyotes vs Jets:
Very slight lean on Coyotes looking at the metrics, and the bookies have them as dogs. Hmmm. It's not like the Jets are beating teams of note. But then Coyotes either. I think there is value on the Coyotes here, but not enough for me to back. But if you're betting it I would say it's the right mathematical play.
Red Wings vs Bruins:
The Bruins come in off that tight Leafs game. After a solid start, the Wings are really starting to struggle.
Bookies odds seem about right here. Wings have a few solid metrics related to conceding goals. Bruins their goaltending has been a massive factor for them, but the Wings offense overall this season have been generally solid.
Lean on the Bruins, but not enough to advise.
Leafs vs Sabres:
Leafs should win, but they're unbackable to me at the moment. No grit. No fight. They just look so soft. Looking at the metrics, there's not enough to separate the two teams to warrant a Leafs bet anyway.
Capitals vs Jackets:
Caps creating the chances with an xGF/60 of 3.44 but cannot get it in the net. Jackets have the defensive metrics that suggest it could be a good game for the Caps.
I actually really want to take the Caps here, but with the loss of Backstrom, and Lindgren confirmed in net….actually, I wonder if the over has merit.
Let's see. It's set at 6. Both CF/60s are good and the Caps metrics recently looking better. But can the Jackets get going? Just 2.66 GF/60 and their xGF is barely over 3.11. But they did get the goals against Tampa and DAllas.
The SCG stats are the only things holding me back here. All extremely low and I have to pass. One of those where my gut says it goes over though.
Blues vs Canadiens:
Nothing here.
Senators vs Lightning:
Nothing for this one. Slight lean towards the Sens winning, but the bookies have it exactly as I would price it.
Islanders vs Hurricanes:
Nada for this one as well.
Flyers vs Kings:
Like the Kings here, but would have to take them in regulation. They've been playing well so far although a few key losses against top teams which is concerning. The good thing is that the Flyers aren't a top team.
Flyers score the goals but the Kings score more and a much higher xGF/60. Concern is the Flyers have a better xGA but then their goaltending situation probably negates that. And they have a higher SCGA/60.
This ticks the boxes for me. Kings in Regulation if Talbot in net
Ontario: 1.86 Odds at Bet365 (Americans: We recommend http://www.bovada.lv
Canada: 1.86 Odds at Bet365 (Americans: We recommend http://www.bovada.lv
USA: -115 Odds at Bovada
Everyone Else: 1.86 Odds at Bet365 (Americans: We recommend http://www.bovada.lv
(Odds correct as of 2023/11/04 12:29:05 PM EST but are subject to change.)
Blackhawks vs Panthers:
Blackhawks having a bad run of it at the moment altho tbf they have had a crap schedule to open the season for the most part. Panthers performing well at the moment.
By all accounts, Panthers should get the win and Panthesr inr egulations hould be teh play. Just a bit concerned about their overall goalscring at the moment, plus after that drubbing a few days ago, how the Blackhawks will perform.
Panthers are kind of on my wary list at the moment. Not exactly sure why but I just don't feel confident backing them here – although most metrics point to Panthers in regulation being a good play.
Wild vs Rangers:
No play here. Rangers I think can squeak out the win, but the Wilds scoring ability is concerning.
Kraken vs Flames:
Nothing for this one. By the metrics it's a slight Kraken play but the odds have it right.
Knights vs Avalanche:
Knights slight dogs here. That is interesting. Avs are a bit tough to figure out at the moment. I'd lean the Knights but the metrics are very close with the Avs a much higher xGF/60 and with their GA/60, it could be tough for the Knights offense. Pass.
Canucks vs Stars:
Dallas will be pumped they got that win over the Oilers with Wedgewood in net. They play the Canucks who are crushing it. At the price, I lean slightly for the Canucks but this will be probably the toughest goaltending they have faced this season.
Sharks vs Penguins:
And nothing for this one.
Just the one play on such a big slate. Unfortunate, but it is what it is. Enjoy the hockey.
Follow @BetNHL
BetNHL.ca » Tonights Tips »