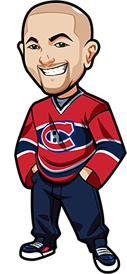 Written by Graeme on Thursday, November 5th, 2015
Follow @BetNHL
We went 3-0 last night for a perfect night.
Variance was on our side in the Jets vs Leafs game. With 2 minutes left on the clock it was 2-2. Thankfully Jets scored not once but twice to win us both the Jets in regulation bet, and the Over 5.5 goals. That was very nice.
We also had the Pittsburgh Penguins to win and they were 3-0 with just 9 minutes to go. They ended up getting complacement and the Canucks scored twice but the Penguins won to make it a perfect night.
Did you see Babcock going on about bigger nets again? Has anyone ever looked at a Reimer performance and thought "Yeah there needs to be a bigger net behind this guy". Just amazing.
We're going to be changing something over the next couple of days at BetNHL.ca.
For the last few years when we give the odds – we go with the most widely available line. For example – Jets 2.05 was what you'd find at the majority of books yesteday, even though some books had it for 2.20 or above(we actually locked it in at 2.25).
Doing it with the most widely available line actually reflects badly on our record. Last season, our public record was +49.66 units. In reality with line shopping, it was about 60 units.
We did it this way initially because when we set up the site it was initially targeted towards Canadians who bet at their local convenience store and were getting the crappy odds. We felt it was only fair to them to do that.
However we didn't realize how popular we'd become – we get over 30,000 unique visitors on a daily basis – and Canada isn't even our #1 country anymore. Feel free to guess in the comments who our most popular country is.
We feel it is in everyones best interests to list the best available line. Not just ours – but you should be betting at the sportsbook with the best odds. I mean imagine you are flipping a coin and you can get $20 if it comes up heads, or you can get $22. No-one in their right minds would ever pick $20. Hopefully if we keep doing it, we'll drum it into your heads just how important line shopping can be. We won't be going back retroactively and adjusting our record or anything – it'll just be from here on out.
We'll be starting that as of tomorrow – just wanted to give everyone a heads up.
Let's get to todays tips:
Panthers vs Sharks Betting Tips:
We're going to take the Florida Panthers to win.
This is a bet just dripping in value. Sharks haven't looked great for the last week or so, while the Panthers have had a solid start to the season. Panthers are coming into this riding a 3 game losing streak – but that was 3 tough fought games against the Ducks, Capitals and Bruins. 2 of which they took to OT – and they were extremely unlucky not to beat the Ducks last night.
Panthers are currently 2.70 to win and I just think that's huge value. Personally I would set this line at maybe Panthers 2.20. Sharks could have a good bounce back game – but I'd much rather be on the Panthers.
Flyers vs Flames Betting Tips:
Betting Over 5.5 in Flames games is something you almost want to do blindly – especially lately with them able to find the net while also conceding at an alarming rate.
It doesn't feel as good here with the Flyers offense and how weak they are at the moment. I mean only 2 goals against the Edmonton Oilers? Is this an AHL team or something?
However Flyers do have the offensive talent and we've seen them in action this season already. After 4 games of them struggling we're hoping they can explode tonight in a nice competitive game.
Take Over 5.5 goals.
Place your bets at Bovada for Americans and http://www.Bet365.com for everyone else..
Only the two picks tonight. Despite a lot of games it's a bloody hard night. Good luck out there!
Follow @BetNHL
BetNHL.ca » Tonights Tips »