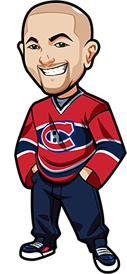 Written by Graeme on Friday, November 5th, 2021
Follow @BetNHL
Well last night was just a hell of a night of hockey.
Lots of great games and action, with four games going to overtime. That Capitals vs Panthers game was an absolute banger. Stars got the big OT win over the Flames too.
We had the one play which was the value pick of the Sabres to defeat the Kraken. Unfortunately Kraken were hungry throughout that entire game. Often when we do a value play, even if it doesn't come in it still looks like a solid play in retrospect.
Not so with that one – Kraken fully deserved that win. Tokarski was thrown in which surprised us and was frustrating, as we wouldn't have backed it with him getting his first start of the season.
In saying that we can't blame him – he did very well last night against a very pumped Kraken team.
Let's get into todays games:
Jets vs Blackhawks:
Jets come in on a nice run with no losses in regulation since those openers. Blackhawks have been performing a bit better lately.
Honestly Jets are probably a good play here in regulation. However I just backed them last week against the Sharks and that pitiful performance is fresh in my mind. Scheifele is back for the Jets and that fire should help them get the win. Probably a good play but after last weeks performance I can't quite back them yet.
Oilers vs Rangers:
Oilers are playing the type of hockey everyone in Edmonton has been hoping for. Racking up the wins, looking dominant when doing it. Other than xGF they aren't doing much in the way of the advanced metrics though. Rangers have the 9th best xGA and other than the Flames, this is the first time Edmonton are playing a top 10 team in xGA.
That could be a warning sign and the Rangers have played very well this season so far. Big test, but with this Oilers offense doing so well at the moment I'm happy to back them. On the flip side, this is only the 2nd time the Rangers are playing a current top 10 xGF team and that was the Leafs so they don't really count.
However I am seeing Stuart Skinner is projected tonight so it will be conditional.
Oilers win incl OT/SO if Koskinen in net
Canada: 1.75 Odds at BetOnline..
USA: -133 Odds at BetOnline..
Everyone Else: 1.75 Odds at BetOnline..
(Odds correct as of 2021/11/05 10:45:21 AM EST but are subject to change.)
Ducks vs Coyotes:
Ducks come in on a nice winning run. Coyotes…don't.
Coyotes however have been concerning me as of late. Their last three games have been tighter results wise. Despite the result, their game against the Flyers was one of their best performances of the season.
It'd have to be Ducks in regulation and honestly I don't have the confidence in them. I think Coyotes pick up a win either tonight or tomorrow against the Kraken and end the streak. No bet here.
Canucks vs Predators:
Canucks got the OT win over the Rangers to end their 3 game losing streak. They still haven't won in regulation at home. They're at home for another few days with games against the Stars and Ducks.
Demko was a game changer in that one legitimately with those saves against Panarin.
Neither team is even remotely notable in the advanced metrics. This is a real 50/50 type of game. Probably a good one to bet OT at about 3.75 odds. Or based on my analysis, slight value on the Preds to win. I'm not feeling it though.
Kings vs Devils:
Devils come stumbling in after getting outclassed by the Ducks. They have had a bit of a tough schedule so far this season. Kings come in on a 3 win streak over the Habs, Sabres and Blues.
Devils have called up Alex Holtz who is looking to wake things up for them. Kings have Petersen projected tonight. Not sure what to think about that. Not like Quick has really been the deciding factor for them. Looking at the advanced metrics for Quick vs Petersen though – Quick is certainly better so far. But a lot of that is that Blues 7-3 game.
I feel like Kings get the win tonight. I'm going to wait and see who is in goal for sure and how I feel about it. Might post in the comments later so be sure to check before gametime.
---
NHL First Period Betting Tips:
So I've been posting in the comments occasionally with NHL first period plays. Here's the problem: I keep forgetting to post them! We had a winning night on Wednesday with Preds/Oilers over. Yesterday I had Bruins 3-way win which I wrote up early at 5am. But then Scott posts the tips at 9-10am and I just completely forgot to post it.
So starting from now I'm going to include them in the tips here and we'll start afresh with stat tracking (despite the wining record).
A note that last Saturday I forgot to post and that was a good thing as the system had 5 over 1.5 plays and all 5 lost. I took Sunday to really tweak things and change the confidence level on these and I'm happy with the results over the last week.
Disclaimer: This is an experimental system and 1st periods are high variance. Follow at your own risk.
Today: Preds to win, tie = push. 2.00 odds. Blackhawks/Jets Over 1.5 at 1.80 odds. I'm still finding the sweet spots for the over 1.5s and what odds to back them at etc. I thiiink this one is a play and will go with it but it's marginal.
Follow @BetNHL
BetNHL.ca » Tonights Tips »