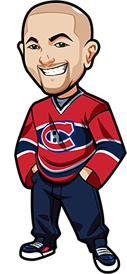 Written by Graeme on Sunday, November 5th, 2023
Follow @BetNHL
A 1-0 day yesterday.
I took the LA Kings to get the job done, and they duly delivered with ease with a solid victory over the Philadelphia Flyers.
Not sure which of the Oilers or the Leafs is more hilarious – but man, what is going on with those teams. Some serious, serious isses. I think I'd rather be a Sharks fan than support one of those teams.
It was a solid day of hockey. Blackhawks got the nice win. Avs shut out again. Rangers blew that 3 goal lead which was impressive.
Two games today.
Blackhawks vs Devils
Eh – I'd like to think Devils get the W here. Would have to be in regulation. Hawks on a B2B after that big win, the Devils are not.
Honestly, this one probably ticks enough boxes to take the Devils. My only concern is with how the Blues shut them down the other night. They have had piss poor goaltending all season. The offense has been doing the job. Is that an anomaly? Or are we going to see their offense go through a cold streak?
By the metrics at least, they are scoring right around their xG so that is a good sign.
But we have seen a few times this season already a hot offense stumble one night, and then they struggle again immediately following that. At 1.76 odds, I won't take the gamble based primarily on that. But it's probably an okay play.
Ducks vs Knights
Would be the Knights and with them on the B2B I'll pass. They likely get the job done but the metrics are a bit close.
So yeah nothing tonight although I do like the Devils in reg. Just that thing where I have seen the offenses crap out a few times this season and it's putting me off.
Follow @BetNHL
BetNHL.ca » Tonights Tips »