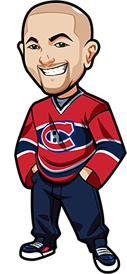 Written by Graeme on Friday, November 6th, 2015
Follow @BetNHL
Sorry about the delay with tips today – I was too busy trying to buy tickets for Wrestlemania. Man does the Ticketmaster site ever suck – really wish a more viable competitor would come in there.
An unfortunate losing night last night. I don't mind losing the Panthers bet – that was for value and watching the game I think they gave as good as they got. The final score didn't really reflect their performance and now they've got a day off – it'll be interesting to see how they perform in LA on Saturday.
We lost with the Flyers/Flames going over. The joys of betting two poor teams to go over – sometimes they really struggle to hit the net. Clearly they need to replay that game with some Babcock style nets. The Flames defense showed up out of nowhere.
As mentioned yesterday we'll be listing the best odds for where to bet each betting tip from here on out. Looking at the people who follow us – we'll have 3 separate links. One for Americans, one for Canadians and one for everyone else. Unfortunately the everyone else rule won't cover everyone due to specific country restrictions – but we'll do our best.
Home Goals vs Away Goals:
A lot of solid teams on the road tonight and while all of them can't win – we're going to go with the Away Teams -1.5.
5 of the 6 games tonight have road favourites with the only one not being a favourite is the Blue Jackets who are going up against the Ducks. And if the Ducks have another bad offensive night it could be a long night for them.
Canada: 2.05 Odds at Bet365 (Americans: We recommend http://www.bovada.lv.
USA: 2.05 Odds at 5Dimes.
Everyone Else: 2.05 Odds at Bet365 (Americans: We recommend http://www.bovada.lv.
Colorado Avalanche vs New York Rangers:
Both these teams had really fun games last season with a 7 goal thriller and a 9 goal thriller and split the wins.
The Avs have had 3 straight games go over 5 and a push before that with a lot of out and out hockey. The only concern is after a night of back to back hockey, if the Avs have it in them to keep up with the rested and on fire Rangers.
Being at home we think they have what it takes. Over 5 goals.
Canada: 1.71 Odds at Pinnacle Sports..
USA: 1.71 Odds at BetOnline..
Everyone Else: 1.71 Odds at Pinnacle Sports..
Leafs vs Red Wings:
These two teams just can't have exciting games together. Maybe if the nets were bigger?
We made a lot of money betting the under on them last season. We held off in their game earlier this season because we thought the Leafs would be fired up under Babcock. That did not happen.
Take Under 5 .
Canada: 2.27 Odds at Pinnacle Sports.
USA: 2.25 Odds at BetOnline..
Everyone Else: 2.27 Odds at Pinnacle Sports.
OHL Betting Tips:
Tonight we're going to take Sarnia Sting -1.5 against the Flint Firebirds at +140 odds.
The Sting really struggled on their recent road trip – but they perform much better at home. Flint meanwhile have went off the rails with 5 straight losses. Sarnia will be out for revenge after losing 3-2 in Flint. Watched the Stings OT win over Owen Sound Attack and that was huge – think they're going to come back with a lot of momentum for this divisional rivalry game.
You can bet the OHL at Canadians: Bodog and 888 Sports.
Americans: Bovada.
Everyone Else: 888 Sports..
Follow @BetNHL
BetNHL.ca » Tonights Tips »