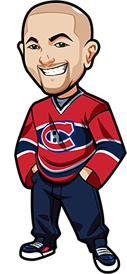 Written by Graeme on Saturday, November 6th, 2021
Follow @BetNHL
Whew – it was a close one yesterday, but the Oilers were just able to pick up the win. That was a nerve-wracking one and a much-needed big third period from the Oilers there. Luck was on our side there which was nice.
The Jets got the win. I expected that but as I said – that Sharks performance was still too fresh in my mind. Ducks also got a solid win. Preds/Canucks was the tight one as expected. Couldn't pull the trigger on the Kings with Petersen in net but they were able to get the win.
The first-period system got off to a 1-0 start which was nice.
Tis the usual busy Saturday. Let's get to it and with so many games I will list our plays at the top:
Senators vs Lightning:
Tampa are decent favourites at about 1.57 odds. They probably wrap this one up in regulation right? Sens have 4 losses at home and were just dominated by the Knights. They usually perform much better here.
Tampa coming off that Leafs loss in OT. Hedman made a couple of mistakes that cost him.
Not writing off Senators here. I give them a lot of credit. This will be a tricky one. But I think the price is good enough here to back Lightning in Regulation if Vasilevskiy is in net. I think they will be frustrated after that Leafs loss and will come out properly motivated here.
Canada: 1.92 Odds at Sports Interaction (SIA).
USA: -122 Odds at Bovada.
Everyone Else: 1.87 Odds at Casumo
(Odds correct as of 2021/11/06 10:10:53 AM EST but are subject to change.)
Sabres vs Red Wings:
Sabres come in off a few tough losses. Red Wings come in after a few tough ones as well and some nice beatings.
I was disappointed in that Sabres performance against the Kraken. They were overrun. Now at home, they will look to get back on track.
The odds are very tempting at coinflip odds. The question is were all the Sabres accomplishments at the beginning of the season just a fluke? Are they going to roll back to the mediocrity we know and love?
Wings may be without Larkin too.
The advanced metrics are really starting to balance out for the Sabres. One of the worst teams offensively now. The thing is on all those metrics, Red Wings are worse.
This is one where I don't feel super confident in the outcome, but I do feel the Sabres are worth the shot. Whether its' Tokarski or Anderson – I guess it doesn't matter based on Tokarski's performance against the Kraken.
Sabres win incl OT/SO
Canada: 1.95 Odds at BetOnline..
USA: -106 Odds at BetOnline..
Everyone Else: 1.95 Odds at BetOnline..
(Odds correct as of 2021/11/06 10:10:53 AM EST but are subject to change.)
Coyotes vs Kraken:
I said yesterday I felt the Coyotes would get a win this weekend. It wasn't against the Ducks so will it be the Kraken? Seattle coming in off that big win over Buffalo. They looked awesome in that one.
The advanced metrics do not agree. Defensively Kraken are excellent in Corsi and Fenwick. Offensively, Coyotes are horrendous in both. That suggests the type of game where Kraken wins like 2-0.
I could sit here for 5 hours and not find a reason to justify this play to you guys. It's probably the most "gut feeling" play I've ever posted on here. It's up to you guys if you want to follow it or not. By the metrics, I don't even think this is an +EV play. Would prefer something above 3.00. It's just one of those things where from betting and watching hockey all these years, I look at it and think this is a good spot for them. If I'm wrong – and the metrics suggest I am – then so be it.
Coyotes win incl OT/SO
Canada: 2.73 Odds at BetOnline..
USA: +173 Odds at BetOnline..
Everyone Else: 2.73 Odds at BetOnline..
(Odds correct as of 2021/11/06 10:10:53 AM EST but are subject to change.)
Panthers vs Hurricanes:
On Saturdays with such a big schedule, my eyes light up at ones like this because I know it's an easy skip and I don't have to do any extra analysis. When there's a potential play I have to spend that much longer digging into the metrics of it all etc.
If you're curious by the advanced metrics, this one is very tight. The biggest difference is the Canes 5 vs 5 have a much higher xGF 60 and if we factor in PPs/PKs, their xGA is better too.
Basically by the overall metrics, Canes are slightly better. But when you look at the home/road split – not as much. Odds seem right on the money. Maaaybe razor thin value on Canes at 2.25 and above.
Maple Leafs vs Bruins:
I'm still quite happy to skip Maple Leafs games, to be honest, unless something huge jumps out at me. I could see Bruins winning this one but the odds don't justify it.
Capitals vs Flyers:
Tough one. I like the Flyers this season. They have shown a lot. They did get that big 5-3 win over the Oilers. But that loss to the Penguins sucked.
I do think some value on the Flyers but I can't confidently back them here. This is one of those games I am going to have another look at later though and might post in comments if I like it enough as there is a part of me feeling there is value.
Canadiens vs Knights:
Feels like so long ago when these two teams were battling in the playoffs. Habs with the great news that Carey Price returns on Monday. Would love it if that motivates them tonight.
Habs are not really a backable team at the moment though. Knights either with the injuries. I think that Knights loss to the Leafs was a big one that will motivate them – we saw that against the Sens – and they take it here. They're just not a team I'm very confident in backing at the moment.
Jets vs Islanders:
Jets are slight underdogs here. Come in after smashing the Blackhawks on a back-to-back. Islanders come in playing very well. They'll be happy when they finally get to play at home.
I was going to take Islanders but a lot of their defensive metrics concern me, and this extended road trip as well. I do think Jets on their first back to back of the season will struggle. But when I look back at their back to back stats in previous seasons they often thrive on it. Strong lean of Islanders but all the data is telling me to skip it so I will.
Blue Jackets vs Avalanche:
Feel like if Jackets roll with Elvis tonight and that could help them. But then you have Laine out, Avs potentially getting Rantanen, Burakovsky and also Devon Towes in tonight. Easy enough to skip although at 2.60 odds I don't hate a play on Jackets. Laine is certainly a loss but when you look at the advanced metrics he's not irreplaceable. Teams often respond big after an injury to a top player too. Another one I may dive into later as I feel there is slight value on Jackets.
$25 risk free bets on player prop, in-game bet and $50 risk free mobile bet. Available for NEW customers only at BetOnline.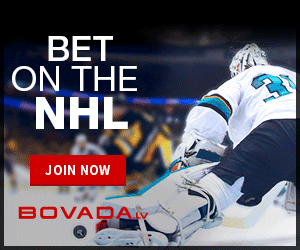 Penguins vs Wild:
An easy pass with me. Both teams not performing well – looks to be a real coinflip and that's what the bookies have it at.
Flames vs Rangers:
Flames not looking like the team they were just a couple of weeks ago. They did beat the Rangers on October 25th – one of only two regulation losses Rangers have suffered this season.
Rangers on a back to back. I would have to take Flames in regulation and I don't have enough confidence in that. Watching them these last two games I'm starting to see issues. Shesterkin in I believe, looking to avenge that loss.
Sharks vs Devils:
Even though I'll be up late watching UFC, I don't think I can bring myself to throw this one on! With the Sharks current lineup due to COVID, an easy enough skip. I did enjoy Blackwoods performance for the Devils in last nights game though.
NHL First Period Betting Tips:
Win Record (Tie=Push) 0-0-1. (0u)
Over 1.5 Record: 1-0 (+0.8u)
No plays today. Like I said I got a lot stricter with the system so it is a lot more picky in regard to what it tips.
Follow @BetNHL
BetNHL.ca » Tonights Tips »