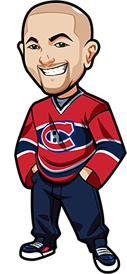 Written by Graeme on Sunday, November 6th, 2022
Follow @BetNHL
It was a 4-0 day yesterday with the NHL Tips.
Had the Oilers/Stars over. That was goalie dependent and Jack Campbell came through for us. Stars scored 6 there to help put the game over 6.5, with a total of 8 goals.
We had the Knights to win in regulation. That was a spicy one! The Habs fought well in that one, but Vegas were able to overcome them.
We had the mathematically sound play in the New Jersey Devils, and they were able to take that one in OT. It was another excellent and well deserved win from the Devils.
Finally we had the Ducks/Sharks to go over and those two put up 9 goals.
My biggest win though was seeing the Penguins lose, having not backed it. I was incredibly close to backing that one but the data just did not back it up at all, and the odds were gross enough to keep me at bay.
Three games today. A rather quiet Sunday. Let's see what we got:
Hurricanes vs Leafs:
Canes on rest after that win over Buffalo. Leafs coming in on a little winning streak.
Many will be looking to take the Canes today. Their odds are decent. We already know how things look in the metrics. Kallgren in net for the Leafs. Leafs on a B2B.
Despite their metrics, I've had a lot of concerns about the Hurricanes lately. Yeah they come in with a winning streak but man they aren't making it easy. Just two wins in regulation in their last 8 games with a boatload of goals conceded.
Leafs offense is starting to find its way these last two games, outperforming their xG.
I'm going to skip this one. I don't think Canes in regulation is a bad play at all – it's just not one I want to advise.
Rangers vs Red Wings:
The consistent Rangers host the Red Wings who are on a B2B, but also a solid two game winning streak. In saying that they are also rather inconsistent especially in regards to conceding goals.
Rangers are hefty favourites and the play would have to be Rangers -1.5 if taking them. They will have Chytil back which is nice at least, although without Lindgren.
It's a bit difficult analyzing this one with the advanced metrics due to the lack of consistency. If we look at the last 10 thogh – by the Corsi, Fenwick and shots stats it indicates Rangers cover the handicap. Rangers issues are converting the chances they are creating. Low SCGF/60 and the Red Wings SCGA/60 isn't bad.
Rangers -1.5 has merit. They're going to get the chances. The question is if they are able to finish them or not.
Honestly, I'd set the line at exactly 50/50 as to whether they cover the -1.5 or not. And as the line is exactly 2.00 – yep, no bet for me.
Ducks vs Panthers:
Ducks coming in off that hard fought win over the Sharks. I liked the part early in that game when they were up 2-0 with like 5 shots on net or something and had conceded like 100 shots on net.
Stolarz was thrown to the wolves (well, Sharks) last night with 52 shots against. Mental. 22 HDCF in regulation.
No surprise, offensive metrics all in favour of the Panthers. Scoring less than they deserve while Ducks scoring more than they deserve. Panthers get the high danger chances although their conversion rate isn't the greatest on them.
Funny as I've found it pretty easy to stay off the Panthers lately due to their dismal results, and with a back to back for both teams this should be an easy no play. Yet there's something about this one that is sticking out to me as a good spot for Florida.
So one of the biggest issues for the Panthers right now is goals conceded. However while Spencer Knight has a 3-1-0 record and the quantity of goals he has conceded isn't too bad at 2.53 – the save percentage is brutal. I dived into the advanced metrics for the 4 games he played but the results are pretty inconclusive.
I think there is just enough negative data to turn me off the Panthers here. I mean the Ducks metrics are bad, but then so are the Flyers, Blackhawks, Coyotes metrics etc and we saw how things went there. I do think I will make a personal play on the Panthers here, but I can't take that extra step and advise it.
If we had more data on Knight beyond just those 4 games – maybe I'd advise it. But the responsible play here is not to.
Follow @BetNHL
BetNHL.ca » Tonights Tips »