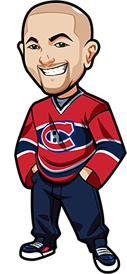 Written by Graeme on Saturday, November 7th, 2015
Follow @BetNHL
A winning night last night in the NHL as we went 2-1.
We had the Red Wings/Leafs under 5 and that was a nice easy one with Detroit winning 2-1 in overtime.
We had Away Teams -1.5 and that one came down to the wire. 4 of the 6 road teams won but most were in tight games, and the Blackhawks struggled hard. That Tanner Kero goal was a lifesaver, and then when Scott Hartnell locked it in with his goal for the Jackets – well I woke the wife up I was cheering that hard.
Seriously one of my favourite bets to make as it means all 6 games I was glued to it cheering on the road teams, going back and counting the goals etc multiple times to make sure.
Our one loss was with the Rangers/Avalanche over. Just a disappointing game with 5 vs 5 hockey in particular being weak and having to reply on 2 PPGs. Lunqdvist and Berra both stepped up last night and it was the night of the goalies.
Stacked day of hockey with 11 games. Kicks off at 1pm EST with Canucks vs Sabres, then a 4pm game with Florida vs LA. Love those early games.
Canucks vs Sabres Betting Tips:
A big game for Ryan Miller who will be returning to Buffalo and will be in net here. We'll be hoping that he can turn it up.
I said this earlier in the season – I like the Buffalo Sabres. I think they've got a lot of solid offensive players and have the potential to be really explosive and dangerous. They're yet to really show that and you can see they're still trying to sort out their lines.
Canucks have looked exceptional on the road so far with a 4-0-1 record with wins over the likes of the Coyotes and Kings. With an extra day off, and this being such a huge game for Ryan Miller – I like the Canucks to get the W today.
Canada: 1.64 at most other places, but 1.70 Odds at 888 Sports.
USA: 1.68 Odds at BetOnline..
Everyone Else: 1.64 at most other places, but 1.70 Odds at 888 Sports.
Habs vs Bruins Betting Tips:
Always good rivalry games regardless of who is in net. The Habs have been a strong offensive team this season. They can really tighten up a game but Boston, coming in on 2 back to back losses against the Habs – you gotta expect them to be fired up and looking to win this game.
Of course Boston have no defense this season which is a nice bonus. To his credit Condon has been a beast so far with just a 1.50 GAA which is concerning but have to expect a lot of penalties in this one and both teams fired up. I'm fired up just writing about it!
We'll take Over 5 in this game.
Canada: 1.74 Odds at Pinnacle Sports.
USA: 1.74 Odds at BetOnline..
Everyone Else: 1.74 Odds at Pinnacle Sports.
Penguins vs Flames Betting Tips:
The Calgary Flames have had a tough time of it against the Penguins. They're going up against them tonight looking to put a stop to the Pens who are on a 9-1-0 run and have really turned things around.
Pens barely beat the Oilers last night so you do have to wonder if this Western Canada trip is starting to wear on them. It's tough for teams to do this journey and not drop at least one game. Flames have showed a bit of fight in them in their last few games and their defense stepped up against the Flyers.
This is one we don't feel fully confident on but the price is on our favour as are the statistics. Flames will have a confident defense and we have to back the Penguins to get an early goal and shatter that confidence.
I mean go back and look at their games just a week ago. It's just hard to bet against the Penguins and bet for the Flames and we have to take Penguins win.
Canada: 1.78 Odds at Pinnacle Sports.
USA: 1.77 Odds at 5Dimes.
Everyone Else: 1.78 Odds at Pinnacle Sports.
Follow @BetNHL
BetNHL.ca » Tonights Tips »