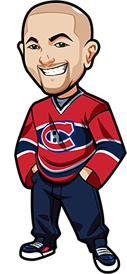 Written by Graeme on Sunday, November 7th, 2021
Follow @BetNHL
COYOTES WIN! COYOTES WIN! COYOTES WIN!
Like I said yesterday – there was no mathematical justification for it. No secret advanced metrics analytics data that could explain it. You just watch and bet on a lot of hockey and those situations appear at times. Gotta love it.
It was a 1-1 night for a profit. We lost with Sabres vs Wings in OT. We had a play of Lightning in regulation but only if Vasilevskiy was in net. He was not. Elliott was, and I was not surprised that he conceded 3 goals hence why I went with the only if Vasilevskiy was in net rule.
Great night of hockey. Price can't come back soon enough. Jackets – like I said yesterday, when a big player goes out sometimes the team steps up. If they had a game in the next 2-3 days I'd blindly bet against them as they usually fizzle out after that. But they don't play till next Friday now! Lot of time to adjust.
Five games on the board today, let's look at them. Man I am pumped about that Coyotes call.
Red Wings vs Knights:
Both teams on a back to back. Knights come in off two big wins – but it was against the Habs and Senators. This is one of those spots where I feel it's a good one for the Wings to get a win. 2.15 odds just isn't enough for me though. As even with their injuries, Knights have been getting the results.
Blackhawks vs Predators:
Blackhawks had been putting in some pretty good performances but then they got absolutely blasted by the Winnipeg Jets.
Taking on the Preds now who had a fairly successful Western Canada road trip. Two wins and no shame in losing to the Edmonton Oilers at the moment.
Blackhawks in disarray and fired Collition, Mitell and Brookbank. Saros playing big for the Preds right now.
Maybe Hawks get some of that "new coach syndrome" and pick up the win here. But I feel it is a decent price on Nashville. One of those plays where the more I look at it, the more I don't want to back it oddly enough. I'd almost be relieved if Saros isn't in net.
Preds win incl OT/SO if Saros in net
Canada: 1.95 Odds at BetOnline..
USA: -110 Odds at Bovada.
Everyone Else: 1.95 Odds at BetOnline..
(Odds correct as of 2021/11/07 8:17:55 AM EST but are subject to change.)
Wild vs Islanders:
Not a bad price on the Islanders at all. 2.00 and above considering the run they are on right now.
On a back to back but so are the Wild who had that exhausting Penguins game.
Very, very tempted to go with the Islanders here but with Varlamov with his first start of the season, I'm going to stay away. He might feel a fair bit of pressure with some great performances by Sorokin. Will be a big game for Parise.
One of those where I'm happy to bet it myself but I can't bring myself to advise it.
Ducks vs Blues:
Ducks got that 3-1 win over the Arizona Coyotes on Friday. Look to keep the streak of wins and home performances going. Much tougher opposition though as they host the St. Louis Blues.
Odds seem about right for this one. Not enough value on the Blues incl OT/SO and I don't have enough confidence to take them in regulation, even if O'Reilly is back which is expected.
Canucks vs Stars:
Stars yet to win in regulation. Could be a good little spot for them against a struggling Vancouver Canucks side.
Coinflip odds seem about right. My gut says Canucks get the win here – feels like they are all going to put in a big effort tonight just from what they are saying etc. But it would be a very marginal play and not enough for me.
NHL First Period Betting Tips:
Win Record (Tie=Push) 0-0-1. (0u)
Over 1.5 Record: 1-0 (+0.8u)
Islanders/Wild Over 1.5 at 2.00 odds. Interesting to note Islanders won the last 5 1st periods 1-0.
Follow @BetNHL
BetNHL.ca » Tonights Tips »