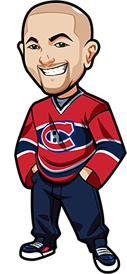 Written by Graeme on Tuesday, November 8th, 2016
Follow @BetNHL
After two great nights it was an unfortunate 0-2 last night.
We had Over 5 goals in the Bruins/Sabres game and things picked up in the 2nd, with the Bruins scoring 3 goals. Early in the third it was looking good – Rask was pulling saves out of his ass, but the Sabres had a real rush going and it just looked a matter of time until they made it 3-1 and we had a game on our hands.
Unfortunately Derek Grant recorded a stupid penalty by basically diving head first onto Rask. That killed the momentum and after ANOTHER penalty caused by Grant, the Bruins wrapped the game up 4-0 in the PP. That's the variance in hockey for you.
I also had the Canucks to beat the Islanders. After that Leafs game I knew they would have some fight in them. It was a risky play but I felt generally happy with the Canucks performance. They were more than a match during the first two periods and it was just an unlucky third period for them.
So it was a disappointing night – but they were two picks I was really feeling and I've always felt to be a winning bettor you have to make a mix of bets based on stats, and bets based on feeling, momentum etc. Despite the losses I'm happy enough with the plays.
We move onto Tuesday night with 10 games on the board tonight – a busy night for the NHL.
Canucks vs Rangers Betting Tips:
First let me repeat what I said above – I was happy with the Canucks performance last night. I felt they matched up well with the Islanders and they were unlucky that things just didn't go their way in that third period. Of course that may say more about the Islanders than it does the Canucks.
One thing I didn't like though is a lot of the Canucks players responses to that game. Yeah they had a couple of good periods but they were acting like they were robbed in that third period. It just seems such a horrible mindset to have – while the Islanders may have had the bounce of the puck there are a lot of issues with the Canucks and it's like they are blind to them.
And now they visit the high flying New York Rangers. You know – the Canucks will win again at some point. For sure they will – these last two games have been a strong indication of it. The're 3.50 tonight which is an incredible price in hockey and one where I believe you can blindly bet it and it's +EV. (Has a positive expected value)
But I'm going to make a stats-based pick of Rangers -1.5 at 2.00 odds. On this losing run the Canucks have only kept a game within 1 goal once. Rangers have had some leaky goaltending but only one of their wins have been by less than 2 goals this season. They've had quite a few empty net goals which can be a bit of concern – the variance on them is crazy. But despite all that the stats just dictate this play tonight.
Capitals vs Sharks Betting Tips:
Capitals really should beat the San Jose Sharks tonight but I'm a bit concerned there. After that thumping from the Penguins where they were held goalless, I feel like this is a bounce back game tonight. In saying that – Washington are the better team with a solid 4-1-0 home record while Sharks have stuttered on the road.
I'm going to take Over 5 Goals in this one. Sharks are averaging 3.70 goals per game while I feel the Capitals play to their opponents. They do what's required and I like the Sharks to get a few goals here and the Capitals to match them. To be honest I had this one expected to be 5.5 so I'm very happy with the Over 5 at 1.90.
Follow @BetNHL
BetNHL.ca » Tonights Tips »