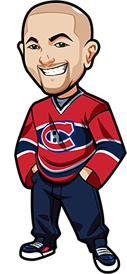 Written by Graeme on Thursday, November 8th, 2018
Follow @BetNHL
Welcome to the NHL Tips for November 8th, 2018.
We took the night off from tips yesterday.
The Penguins woes continued. They forced Holtby to make 41 saves but only got one by him as the Capitals bounced back from 1-0 down to take the game 2-1.
The Colorado Avalanches bad run continued as they made it 4 losses in a row. We wanted the Preds there but were wary of the rest for the Avs. As it is maybe they were a bit rusty as the Preds got off to an early winning start and held onto their lead.
Ducks continued their excellent run against the Flames as they won 3-2. The Ducks might just be turning things around. You can see a little bit of confidence returning.
Let's get to the tips for today:
Canadiens vs Sabres Betting Tips:
The Sabres and Canadiens met just a couple of weeks ago in Buffalo where the Sabres beat them 4-3 in a 7 goal thriller.
I think we'll see more of the same tonight.
Over the course of the season both teams aren't ranking super high on any of the meaningful offensive charts. Defensive stats are generally on average except the Habs D is pretty good at limiting shots.
Buffalo are one of those offenses that seem to go hot and cold. To be honest their whole team seems to be that way. They've only won 1 of their last 5 games however they've fought hard in most of them. They're a battling team. Habs at the Bell Centre we can usually expect a strong performance and they have had some battles at home.
I like the Sabres to match them here and for Domi and Skinner to try and outdo each other here in a high scoring game.
1u on Over 5.5 Goals incl OT/SO
Canada: 1.92 Odds at BetOnline..
USA: -115 Odds at GT Bets..
Everyone Else: 1.92 Odds at BetOnline..
(Odds correct as of 2018/11/08 3:18:10 PM EST but are subject to change.)
Lightning vs Islanders Betting Tips:
The Tampa Bay Lightning are one of those teams I almost feel like their record has snuck up on me. They're 11-3-1 but it just doesn't feel like it. Not sure why that is.
However they're on a good run and want to keep that going. They're without Hedman but they're scoring the goals and generally doing the business. We're starting to know what to expect from them.
Islanders are an interesting bunch. They had their 5 game streak stopped at the hands of the Habs. I'm hoping they still have a lot of fight in them however. They'll feel a bit hard done by with that loss against the Habs and should come here fighting. Offensively on the road they've been good at scoring and I want to see that continue tonight.
A large part of the Islanders surge is their defense but the Tampa offense is good enough they should be able to get the goals in. Honestly my main concern is that the Islanders collapse but I think they'll battle enough here.
0.5u on Over 6 Goals incl OT/SO
Canada: 1.91 Odds at Sports Interaction.
USA: -110 Odds at GT Bets..
Everyone Else: 1.90 Odds at Bet365.
(Odds correct as of 2018/11/08 3:18:10 PM EST but are subject to change.)
Oilers vs Panthers Betting Tips:
I think there's a chance here for a sneaky Edmonton Oilers victory.
Panthers are returning from overseas and I think they might be a bit slow. They're a team I generally rate very highly and someone who we made a lot of money on last year. I was pretty good at picking when they'd perform and when they wouldn't and I think this might be one of those times.
They've struggled at home this season and think they will be rusty going up against a very fast Edmonton Oilers offense. Luongo had a decent enough return to the squad but I feel that was more on the Jets than anything else. One of those games where I just felt the Jets wouldn't cut the mustard. This will be a much bigger test for him.
Oilers of course have their issues and I'm always wary of backing them. We'll go with 0.5u on Oilers to win incl OT/SO
Canada: 2.35 Odds at Bet365.
USA: +135 Odds at GT Bets..
Everyone Else: 2.35 Odds at Bet365.
(Odds correct as of 2018/11/08 3:18:10 PM EST but are subject to change.)
Stars vs Sharks Betting Tips:
Stars have a good set of results over the Sharks and I hope that continues tonight.
I'm a big fan of Dallas at home and after a long road trip that spanned 6 games they're back here. Being at home they normally have fight in them.
Sharks are that team that are yet to really fully convince. They're getting there for sure. That victory over the Wild on Tuesday was a big convincing point especially with the third line producing. But then we saw them produce a similar performance against the Predators and couldn't follow up on it. This is another big test however and I'm happy to go against San Jose until they start really proving themselves especially with them being a big public team.
0.5u on Stars to win incl OT/SO
Canada: 2.05 Odds at Mr. Green
USA: +110 Odds at GT Bets..
Everyone Else: 2.05 Odds at Mr. Green
(Odds correct as of 2018/11/08 3:18:10 PM EST but are subject to change.)
Follow @BetNHL
BetNHL.ca » Tonights Tips » November 8th, 2018 NHL Betting Tips