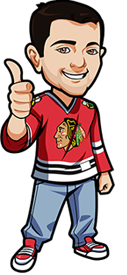 Written by Scott on Tuesday, November 8th, 2022
Follow @BetNHL
3 games yesterday and we had 1 tip.
Had the Bruins to win in regulation against the Blues and they did 3-1.  It was tied  halfway through the 3rd when Bergeron scored to give them the lead.
The Isles beat the Flames 4-3 in overtime.  The Flames were up 3-1 after the 2nd but the Isles scored the next 3 including the OT winner.
The Capitals beat the Oilers 5-4.  This was a close game and credit goes to the Oilers for staying in it after being down 4-2 after 2. Ovechkin scored his 8th of the season, Kuznetsov scored 2 and had 2 assists for the Caps and Nugent-Hopkins scored twice for the Oilers .
A busy night of hockey with 11 games scheduled.
Canucks vs Senators
The Canucks dropped their first 7 games to start the season but ended the month winning 2.  So far in November they have gone 1-1-1.
The Sens are struggling at the moment losing 5 in a row.  They are at home where they have gone 4-3.
I want to take the Sens here but it seems as though the Canucks have sort of turned their game around and with Ottawa on 5 game skid its tough to back them with any confidence.
Knights vs Leafs
Two teams on winning streaks here.   The Knights have won 7 in a row and the Leafs 3.
The Knights road record, like their home record, has been great where they have gone 6-1.  The Leafs home record is also good where they have gone 5-1 in Toronto.
Kallgren picked up his first win of the season on Sunday and he is expected to get the start in this one with Samsonov and Murray both out. 
This should be a good game and one I feel better just watching and enjoying instead of making a tip for.
Flames vs Devils
The Flames have lost 5 straight and the Devils have won their last 6 in a row.
Based on the streaks this should be the Devils game to win.  Their numbers have been impressive too with them ranked 2nd in shots per game, 1st in shots allowed, 5th in GPG and 7th in GAPG.  They are 9-1 over their last 10.
The Flames are playing in the 2nd half of their back to back too so another reason to back the Devils.
The Devils have been a big surprise for me this season and I have no problem backing them here.
Devils win incl OT/SO if Vanecek in net
Ontario: 1.74 Odds at Bet365 (Americans: We recommend http://www.bovada.lv
Rest of Canada: 1.74 Odds at Bet365 (Americans: We recommend http://www.bovada.lv
USA: -135 Odds at BetOnline.
Everyone Else: 1.74 Odds at Bet365 (Americans: We recommend http://www.bovada.lv
(Odds correct as of 2022/11/08 9:11:25 AM EST but are subject to change.)
Islanders vs Rangers
Usually a good game when these teams square off.
The Isles played, and won, last night and the Rangers are riding a 2 game losing skid.  They played each other last month and it was the Isles winning 3-0.
To get any value here on the Rangers I would need to take them to win in regulation and after their last meeting I can't back that.
Coyotes vs Sabres
Ya this game is tough to call thanks to the odds.
The Coyotes for some reason have beaten some strong teams.   They have 4 wins and they came against the Blue Jackets,  Leafs,  Panthers and Capitals.
The Sabres are 7-5 and 3 of those wins came in row when they were in Western Canada.
I like the Sabres chances here but to get any value on them I would have to take them -1.5 and I can't do that.
Blues vs Flyers
The Blues lost last night and are now riding a 7 game losing streak. The Flyers beat the Sens in their last game which snapped their losing steak at 3 games.
With both teams on or coming off of losing skids it's tough to have any confidence in either team for this game.
Canadiens vs Wings
The Habs have lost 3 straight and the Wings have won 3 in a row.  The Wings are at home for this game and they have played well there this season going 5-1-1.  The three wins came against some strong teams the Caps, Isles and Rangers.
These teams played each other on October 14th and it was the Wings winning 3-0.  With the way the season has gone for each team I like the Wings chances
Wings win in regulation
Ontario: 2.00 Odds at Bet365 (Americans: We recommend http://www.bovada.lv
Rest of Canada: 2.00 Odds at Bet365 (Americans: We recommend http://www.bovada.lv
USA: -110 Odds at Bovada
Everyone Else: 2.00 Odds at Bet365 (Americans: We recommend http://www.bovada.lv
(Odds correct as of 2022/11/08 9:11:25 AM EST but are subject to change.)
Oilers vs Lightning
The Oilers have dropped their last 3 which is getting to some of their players.  "It's getting old, battling back," Draisaitl said, according to Sportsnet. "It's exhausting. It's tiring. We just give up too many goals."
The Lightning are at home for this game and they have gone 3-1-1 in Tampa.
I wanted to take the Over here but it's set at 7 which has me put off of that.  With Draisaitl's comments maybe the team will respond and start playing defense.  Either team has been impressive to me so I'm skipping this one.
Stars vs Jets
This should be a great game between the top 2 teams from the Central.  The Stars are 8-3-1 and on the road where they have gone 4-2-1, the Jets are 7-3-1 and at home where they have gone 4-1-0.
The Stars have won their last 3 and the Jets their last 2.  In division play the Stars are 4-0 and the Jets are 4-1.  There's no real advantage that I can see.  If anything I guess it's the Stars going with Wedgwood as Oettinger is out but still not enough to push me to take the Jets.
Predators vs Kraken
The Preds have won 2 in a row and the Kraken have won their last 4.
It's nice to see the Kraken in 2nd place in the Pacific.  The are at home here but they have been a better road team they have gone 2-3-1 in Seattle.
The Preds have gone 3-3 on the road this season so I really have no idea who wins this game.  One things for sure though and that's that a win streak will be stopped tonight.
Wild vs Kings
The Wild are 5-5-1 and, thankfully for them, they have stopped leaking so many goals.  The allowed 20 goals over their first 3 games, 27 over their first 5.
The Kings have had an ok start to the season going 7-6-1.  They have some big wins against the Panthers,  Leafs and Lightning.
These teams played once already this season and that was back on October 15th and the Kings won 7-6.  Defensively both teams have been bad with the Wild in 25th in GAPG allowing 3.64 and the Kings 27th with 3.79.
I have nothing for this game.
Follow @BetNHL
BetNHL.ca » Tonights Tips »