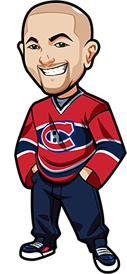 Written by Graeme on Friday, November 9th, 2018
Follow @BetNHL
A 2-1 night last night with a push as well. Speaking of a push – boy I'd love to push Chiarelli off a cliff. So frustrating seeing what a disaster that team is.
Oilers were our only loss last night and they are such an incredibly frustrating team to watch. From the general management all the way down to the players themselves. They're actually the only NHL team I can't even watch at this point. Just so many mistakes on the ice. I rarely back them and last night was a reminder of why I don't. The sooner McDavid asks for a trade, the better.
Thankfully it was just a 0.5u play and we had a much better result in our 1u play if the over in the Havs vs Sabres game. Of course one of those where I am wishing I had bet maximum units. Reason I didn't funnily enough was because the line was set at 5.5. If it had been 6 I would have went with max units. However you've got to respect the sportsbooks and so seeing that one at 5.5 threw me off. Felt like they knew something I didn't.
We also won with the slight underdog pick of the Dallas Stars over the Sharks. That was a tight one but good to see the Stars continue to perform at home.
And as much as I complain about the Oilers – big props to Tampa for thoes two late goals to hit us that push. Really thought that one was lost. Got very, very lucky there.
Ticked I didn't take the Wild yesterday. They're starting to become a team I feel I can confidently back and I'm not sure why I didn't. In saying that tonight it's expected to be Stalock vs Gibson so despite their underdog status – that goalie battle is enough to give me nightmares. I'll abstain.
Let's get on with the tips for November 9th, 2018:
Avalanche vs Jets Betting Tips:
Last season I was pretty good at betting on the Jets – figuring out when they'd take a bounce back win and when they wouldn't etc. Been pretty good so far this season at that and I'm hoping it continues today as I'm taking the Avs.
Avs are one of those teams that are really hard to bet on simply because it's all about their top line and so little depth. They've lost 4 in a row but you're talking about 3 real fighting performances and a loss to the Preds with two disallowed goals.
I think they're going to come out motivated. As for the Jets – Finland trip aside, this is a team whose performances this season have been lacklustre. I mentioned that I struggle to watch the Oilers play this year well honestly the Jets are the same at times. There's been portions of games where I've just got up and left as I feel they aren't performing to their ability.
They're a solid bounce back team however I think the Avs have enough of a chance today. I'm backing the Jets to come out slow and the Avs strong and fast. Honestly Avs to win the 1st period is probably a better bet with the way the Jets fight back but I just don't like the variance on 1st period betting. 60 minutes generally balances things out. So Avs To Win incl OT/SO: 0.5u.
Canada: 2.55 Odds at Bovada.
Everyone Else: 2.50 Odds at Bet365 (Americans: We recommend http://www.bovada.lv.
(Odds correct as of 2018/11/09 12:48:35 PM EST but are subject to change.)
Blues vs Sharks Betting Tips:
Sharks are on a B2B and will be itching to get back on track. Last time they were on the 2nd leg of a B2B it was after a loss and they came back and beat Philly 8-2.
The Blues offense has also been ticking and even though they've lost Schenn that didn't stop them putting the goals past the Hurricanes. This should be a fast game and with both teams goalscoring ability as well as their abiltiy to concede, gotta go with Over 6 Goals incl OT/SO: 1u.
Canada: 1.99 Odds at BetOnline..
USA: -105 Odds at Bovada.
Everyone Else: 1.99 Odds at BetOnline..
(Odds correct as of 2018/11/09 12:48:35 PM EST but are subject to change.)
OHL / WHL / AHL / KHL / Czech Extraliga Betting Tips:
(All below systems are based mainly on mathematics and statistics with very little human input and are deemed experimental. )
WHL Betting Tips (8-4, +2.13u): 2u on Prince Albert Raiders -2 at 1.62 odds(so tempted to do a rare 3u play there system loves PA so much for good reason). 0.5u on Tri-City in reg at 1.65 odds. 0.5u on Edmonton Oil Kings incl OT/SO at 1.66 odds. 0.5u on Lethbridge in reg at 1.75 odds.
AHL Betting Tips (5-2, +1.48u): 0.5u on Charlotte Checkers in reg at 1.95 odds. 0.5u on San Jose Barracuda incl OT/SO 1.95 odds.
Where To Bet the Non-NHL Leagues:
Canadians: Bodog and 888 Sports.
Americans: Bovada.
Everyone Else: 888 Sports.
Follow @BetNHL
BetNHL.ca » Tonights Tips »