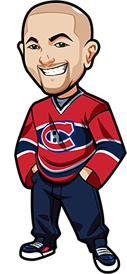 Written by Graeme on Saturday, November 9th, 2019
Follow @BetNHL
An 0-1 night last night as the Boston Bruins let me down.
That was a tricky one to bet as I wasn't sold on the Bruins in that spot at all – however when you look at everything involving the Red Wings this year I felt it was worth betting against them. However it wasn't to be – and who would think that Robby Fabbri would be a difference maker? Made his debut and scored twice. Wonder if that is going to spark the Wings for the next little bit.
The Oilers got back to their winning ways with a 4-0 win over the Devils. Props to you guys again when it comes to OT. The majority of you voted "None go to OT" and that was correct.
I was disappointed in the Sabres yesterday. I thought the Swedes would bring it for them but they looked lethargic. I saw one theory that all of the women were falling over them and taking them to bed and they were all tired after their late night trysts. I like to believe that's true.
I think I'll back the Sabres today at 2.55 purely because "meh it evens it out". No real reason other than that one. Not an official tip.
Y'all know that I've got to ask the OT question again right? You guys were wizards two days ago let's see if you can do it again.
[poll id="34″]
If you're looking to parlay the OT games, Bet365 (Americans: We recommend http://www.bovada.lv generally have better accumulator odds than other sportsbooks. For hockey they add 5-50% to the winnings based on number of selections – one of their big promotions.
I really want to take the Islanders/Panthers Over 6 today. Matinee game overs always turn me off though. I don't have the stats handy to back that up. If anyone has stats or a list of results for matinee games just from the 2018/2019 season I'd love to see it. Been meaning to do something up like that for awhile but I haven't been tracking the times of games so it'd be a lot of extra work.
I hope the Canes can bounce back tonight but I'm concerned with them and their finishing right now. Hard to back the Sens though.
Wanted to back the Pens/Blackhawks over as I think the Hawks are getting in that "let's score goal for fun" mode that we saw in the 2nd half of last season. Very close to that one but I think I just need to see more consistency from them (as they completely turned off in the Sharks & Preds games).
Coyotes are a good price but the way their last two games have gone – have to wonder if that is going to affect their confidence.
Preds/Sharks is a solid contender to go over. After that thrashing though we might see some tightening up from the Preds. Very close to being a bet though.
Canadiens vs Kings Betting Tips:
LA wrap up their Eastern Canada trip with a visit to Montreal. They lost to the Leafs and the Senators thus far. They had bad endings last year on their Canadian road trips, although the year before in a similar situation they beat the Habs 4-0. They were a much better team then though.
Montreal are on an 8-5-3 record but are just 5th in the Atlantic right now. The Atlantic is a hell of a tough division this season with 6 viable teams fighting for those 3 spots.
Even at the Bell Centre you can't really count on the Habs who only have a 4-3-0 record here including a loss to Detroit.
Honestly this one is similar to yesterdays tip of the Bruins where it's not so much about the favourite but their opponent. The LA Kings are not looking good at all and after tieing the game up late against the Sens, they'll be demotiavted at losing in OT. Drew Doughty is also struggling with injury.
I am seeing positives from the Habs. The defence know they need to play better. The penalty kill looks like it has come together more.Kotkaniemi back too.
Not one of those games I am completely sold on, but Habs really should be taking this.
0.5u on Habs in Regulation.
Canada: 1.81 Odds at Casumo
USA: -140 Odds at Bovada.
Everyone Else: 1.81 Odds at Casumo
(Odds correct as of 2019/11/09 11:43:07 AM EST but are subject to change.)
Capitals vs Knights Betting Tips:
This is one of those games where the bookies seem to be overvaluing the Knights based on their name. I mean don't get me wrong – they're playing better at the moment. They've went 5 games without losing in regulation since that 6-1 thrashing by the Avs. But they look extremely inconsistent this season and they're on a tough road trip.
Capitals are just absolutely crushing it. First in the NHL. 12-2-3 record. 10 of those games on the road too.
Tempted to take the Caps in regulation but with the Knights struggling in OT at the moment, I've got to factor that in.
Caps ARE a weird team of course. There's spots like this where I feel it's a solid bet then they just don't show up. And I swear there is some games where they need to give the opposition a head start before actually showing up. They've had a pretty relaxed schedule over the past 10 days and hopefully that is a positive for them.
1u on Capitals to win incl OT/SO
Canada: 1.88 Odds at BetOnline..
USA: -120 Odds at Bovada.
Everyone Else: 1.88 Odds at BetOnline..
(Odds correct as of 2019/11/09 11:43:07 AM EST but are subject to change.)
Non-NHL Betting Tips:
Written by Graeme
(All below systems are based mainly on mathematics and statistics with very little human input and are deemed experimental. Use at your own risk.)
OHL Betting Tips (5-6, -0.88u): 1u on Flint Firebirds in reg 1.70. 2u on a Guelph/Windsor in reg double at 1.66 odds.
Where To Bet the Non-NHL Leagues:
Canadians: Bodog and 888 Sports.
Americans: Bovada.
Everyone Else: 888 Sports.
Follow @BetNHL
BetNHL.ca » Tonights Tips »