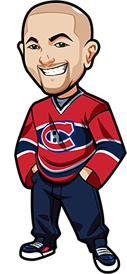 Written by Graeme on Thursday, November 9th, 2023
Follow @BetNHL
The Battle of Ontario went over with ease which was nice to see. Even nicer that the winners were the Sens by quite the margin.
My god I enjoy when the Leafs lose.
Panthers vs Capitals was quite the scrappy game, and the Kings got a nice and easy win over the Knights. I called that one on my Patreon as a pure metrics play, so was nice to see it come in that simple.
Let's get into Thursday tips.
Lightning vs Blackhawks:
Tampa come in fresh off their Eastern Canada trip where there were some mental games. Lot of factors point to the over here in the metrics although I'd prefer to see higher CF & FF on Tampas end. The biggest concern is the Blackhawks who overall this season have struggled to score, and also aren't creating chances.
This is one where by the metrics, it looks like a 4-2 Tampa kind of game. Regulation play is barely above our threshold.
I like Lightning in regulation here, but I'm concerned with how erratic their last few games are. After a trip like that, it could be a let-down spot. If they were 1.80 I'd take them in regulation, but 1.71 is a bit too low for me.
Rangers vs Wild:
We just saw these two play in a banger on the 4th. Wild came out on top there. I mentioned that the Wilds scoring ability was concerning in that one and they showed it again.
I really want to play the Wild here but the metrics just aren't there for me to do so. They've proven they can get past Quick, and he may not be in net tonight anyway.
The Wilds road form – hell all their form – is so inconsistent. This is one where I think I gotta bet the Wild, but the metrics and just general form mean I can't advise it. The data just isn't there to back it up.
Red Wings vs Canadiens:
Corsi and Fenwick have these teams very close. Shots stats the same. Wings scoring more but also scoring more than they should, and vise versa for Habs. Both teams conceding at similar rates etc. Maaaan it is hard to separate these teams. I'd give the edge to the Wings, but not as high as the bookies have it.
But when you look at the Habs recent results they're just not really backable. If the over was 6 I'd consider it maybe but the SCG stats keep me well away from 6.5.
Bruins vs Islanders:
Bruins back on the winning track with the tight one over the Stars. Metrics go the way of the Bruins, but maaaan i is tight in spots. Bruins are scoring as expected. Islanders scoring a fair bit less than they should be but also should be conceding more. Goaltending has helped them a ton.
Varlamov did get his clock cleaned by the Wild but he's still a factor as they are a hot offense.
Bruins in Regulation if Varlamov NOT in net
Ontario: 2.10 Odds at Sports Interaction (SIA) - Non-Ontario bet $10 get $200
Canada: 2.10 Odds at Bovada
USA: 2.16 Odds at Bovada
Everyone Else: 2.10 Odds at Bet365 (Americans: We recommend http://www.bovada.lv
(Odds correct as of 2023/11/09 8:16:17 AM EST but are subject to change.)
Senators vs Canucks:
Sens on a B2B after that Leafs win. Their last B2B they beat Tampa 5-2 on second lef after a FLyers win so could be a momentum carrying team.
Canucks continue to impress results wise.
This is quite an easy pass for me as really the only difference between these teams is the Canucks goaltending. Their xGA/60 is worse than the Sens as is their FA and SA. If the Sens offense is hot, it could be a big night for Ottawa.
I assume Demko in net but hey a conditional play if he isnt.
Over 6.5 Goals incl OT/SO if Demko NOT in net
Ontario: 1.74 Odds at Bet365 (Americans: We recommend http://www.bovada.lv
Canada: 1.74 Odds at Bet365 (Americans: We recommend http://www.bovada.lv
USA: -135 Odds at BetOnline.
Everyone Else: 1.74 Odds at Bet365 (Americans: We recommend http://www.bovada.lv
(Odds correct as of 2023/11/09 8:16:17 AM EST but are subject to change.)
Jackets vs Stars:
Both teams are bleh. Underperforming offenses. Stars goaltending been a big factor. Stars probably get the W but on the road meh. Not one I'm too invested in betting.
Blues vs Coyotes:
Blues last game was a big 5-2 loss to the Jets at home. Now they host the Coyotes who are coming off that Kraken win. That game was interesting as I dfid some analysis on it and on paper, it was a confident win for the Coyotes. But when you start to use weighted metrics (which is a bit of guesswork this early) it was a lot closer. Of course I didn't look at the weighted metrics until I had backed the Coyotes, so got a bit fortunate there.
Anyway this game – Coyotes have the easy edge in the metrics. Like ticks every single checkbox. Buuuut you look at those schedules, and the Blues have had the trickier games by far. And at 1.95, Coyotes are a pass.
Jets vs Predators:
Jets at home after a few road games where they host Nashville. The Preds just lost to the Flames 4-2. I was a bit surprised at that considering some of the Preds metrics. This looks quite close and nothing is jumping out.
Avalanche vs Kraken:
Avs are not a team I am ready to back at all when you look at the Knights, Sabres and Penguins results. By the metrics I'd give them the edge, but it's not overwhelming. Kraken probably have value, but it's one of those value bets where you would go into it expecting to lose. No play here.
Sharks vs Oilers:
Sharks got the win over the Flyers in an odd game. Now they host the horrible Edmonton Oilers. Two pitiful offenses when it comes to scoring, and I'm happy to pass on this one.
LA Kings vs Penguins:
Not sur why I wrote LA there. Not like it's going to be the Sacramento Kings taking on the Penguins or something.
Anyway with the Kings big result last night plus a B2B I'm fine to pass. Especially assuming we get Copley tonight.
Follow @BetNHL
BetNHL.ca » Tonights Tips »