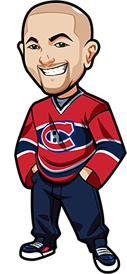 Written by Graeme on Monday, October 10th, 2022
Follow @BetNHL
Well although they weren't official tips, I feel good about the start of the NHL season.
I said that I liked the Pred in regulation in the first game, and then after watching it, added in the comments that I liked them to repeat that – especially with even better odds. They were able to do so, so a nice little bankroll boost to kickstart the season! Hopefully some of you followed me on those.
If you're new here – all our betting tips are free. We run through every game and give our analysis. Sometimes we'll have bets. Sometimes we won't. All bets are 1u bets to win. So if it is 1.95 odds, we're betting 1u to profit 0.95u. While we personally do different unit bets we feel for record keeping, it's best to do it this way.
We also generally stick to 1.70 odds or above. Math done a long time ago by me – christ over 10 years ago now – where that was the general threshold I set.
We will list the best odds for sportsbooks within your region and we only list sportsbooks that we've personally used and trust.
Bankroll management is key, as is using the best odds. The difference between 1.85 and 1.90 might not seem much as a one-off but you do that enough times during the season and it can make a huge difference. Stats tracking is based off the best odds because this is what we bet. Multiple accounts also allow you to take advantage of multiple bonuses etc.
We have a comments system and feel free to use that for any questions, or to post your own bets. Always encourage people to post reasoning for their own bets. It's one reason why we started this website. Writing out our own bets really helps us decide whether or not we actually want to bet it or not. It's one thing to say "Oh I feel like the Leafs win tonight" but then when you actually sit down to try and reason that pick and back it up – you may find you don't like that play as much as you thought. OR you like it so much you want to bet multiple units on it.
I also tend to prattle on and on as well – so if you're new, get used to it. What can I say? I do this because it's my passion, and I freaking love betting on hockey and getting lost in the advanced metrics. We factor in many, many things when it comes to making bets – way too many to list.
We ease into the NHL season with two more games on Tuesday. The sportsbooks have these ones as practically coinflips. Let's have a look:
Rangers vs Lightning:
My mind immediately goes back to last year, when the Lightning opened with an absolutely horrific performance as they got thumped by the Penguins. They really struggled to start the season, and it took 7 games for them to actually get a win in regulation.
Two decent offenses last year. Rangers averages 3.10 goals per game and Tampa 3.50. Opening game the line is over 5.5. However a lot of recent games between the two have been low scoring. In the regular season last year we had that Rangers 4-3 win and that was the only one that went over 5.5. The playoffs went 6 games and only one went over that line as well.
But man – my gut does say this one goes over. A few losses for Tampa defensively and it will take time for them to adjust. Rangers though were very good defensively last year.
Despite the goaltending that will likely be on display tomorrow, I'm going with Over 5.5 Goals incl OT in this one. Feel both teams wanting to start off strong and that should mean a more offensive game. Rangers I lean towards winning.
Ontario: 1.97 Odds at Sports Interaction (SIA) - Non-Ontario bet $10 get $200
Canada: 2.00 Odds at Bovada
USA: +100 Odds at Bovada
Everyone Else: 1.95 Odds at Bet365 (Americans: We recommend http://www.bovada.lv
(Odds correct as of 2022/10/10 3:53:40 PM EST but are subject to change.)
Kings vs Knights:
Over 6 for this one. Knights had a lot of injury problems last year. Depth looks to be a concern for them, and Lehner out is a tough start. The Kings will look to build on last year, and I feel like they should have a good season.
These two played on Thursday and the Knights won 6-4. Based on preseason at least, the Knights offense looks ready to go.
Honestly between the two teams and their long term prospects – I think the Kings have the better chance this year. But I'm a bit hesitant about this Knights offense rolling in. Preseason isn't something that will make me want to make bets – but it will make me want to avoid them, if that makes sense. With their offense ticking and looking confident, I'll hold off on any plays here.
Team total goals for the Knights is 1.62 for Over 2.5 which is too low for us.
Follow @BetNHL
BetNHL.ca » Tonights Tips »