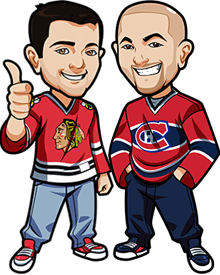 Written by Graeme & Scott on Friday, October 11th, 2013
Follow @BetNHL
Hi all,
Graeme here – that's me back from Mexico as well.
An important note about the timing of tips: we've recieved a lot of e-mails from our European friends about the tips being too late for them to actually make the bets. That was purely because we were in Mexico and honestly it was hard enough just to find the time to sit down and do the tips at some points.
If we had the choice we'd be putting up tips the day BEFORE the games take place. Unfortunately most sportsbooks don't put up lines until around 10am EST / 3pm GMT.
So we'll strive to have the tips out before 12pm EST / 5pm GMT. That'll be our ultimate deadline. It'll take us both a few days to get back in a routine here – it's Thanksgiving in Canada this weekend so that's going to throw us off – but we'll get sorted next week. Promise!
Alright so we're both back from Mexico and we've just had a depressing phone call talking about how much it sucks to be back – let's get on with the NHL tips for October 11th, 2013.
Flyers vs Coyotes: Under 5.5
We're surprised this one wasn't at the 5 goal line. Both teams have been very poor on the offense this season so far. What's really telling is Claude Giroux – he needs to be leading the Flyers and he has been anything but this season. Even worse was the game against the Panthers. While the Flyers scraped the win he again failed to rack up any points and just looked completely off his game.
Coyotes have Derek Morris back in defense which is big for them. And Stevie Mason has been racking up the saves for the Flyers as well.
We like this being a low-scoring game, which you can bet at 1.83 odds at Bovada for Americans and http://www.Bet365.com for everyone else..
Flames vs Devils: Over 5.5
Another one where we were surprised by the line – we expected it to be 6 goals. It's 5.5 and we love the over.
Calgary this season have shown that they'll score a lot of goals and they'll concede a lot of goals. They'll play very strong offensively and let the goals come in as well. The Devils offense is starting to heat up with Jagr and Elias looking good, while their defense is leaking goals left right and center at the moment.
This looks to be one of those crazy 8 goal games. We're tipping over 5.5 at http://www.5Dimes.eu for Americans(Need to register to see lines) and and http://www.Bet365.com for everyone else. for 2.05 odds but if you feel brave, you can bet the over 6.5 at 2.60 odds at http://www.Bovada.lv for Americans and http://www.Bodog.eu for everyone else..
Kings vs Hurricanes: Hurricanes to Win
There's nothing we love more than to beat someone when they're down, and that's the case at the moment with LA and their goalie Jonathan Quick. He's been poor in their 4 games all season, while the Hurricanes offensive line is getting a lot more familiar with each other and is looking good. Gerbe especially looked very good against the Capitals and he's going to be carrying that momentum against LA.
We like Carolina to cause an upset here. 2.15 odds at http://www.5Dimes.eu for Americans(Need to register to see lines) and and http://www.Bet365.com for everyone else. are a huge price.
Follow @BetNHL
BetNHL.ca » Tonights Tips »