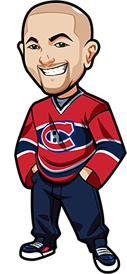 Written by Graeme on Friday, October 11th, 2019
Follow @BetNHL
Welcome to Friday, October 11th.
Hopefully you followed my Swedish Hockey League picks and SM Liiga picks that took place yesterday. Both were nice and easy wins for a nice little profitable day. Those are two new leagues this season and I was pretty pumped to get two wins off the bat in that fashion. Hopefully that continues.
It was a 1-1 night with the NHL Tips last night. The Leafs/Lightning over was the easiest bet we'll win all season long. 40% of you voted that one was the game most likely to be the highest scoring game of the night. However that one went to the Preds vs Caps (6% of the votes) in an 11 goal thriller.
Props to the 4 people who voted Blues/Senators to be the highest scoring game as that was joint 2nd.
We lost with the Knights over Coyotes in a disappointing one. It's only three games but this Coyotes defense is looking pretty legit this season. Even the lone Knights goal I thought the Coyotes had a good shout for goalie interference. In a league that is more and more about offensive firepower and goals it's refreshing to see a solid defensive unit and I hope they keep it up.
Some fight from the Devils last night. Nice to see! Sharks offense finally came to life and a game I was surprised about. I thought that'd be a kinda quiet game and it ended being a super fun one.
Three games tonight.
Despite no wins in regulation, I've seen some positives from the Jackets and think they can get the win tonight. The odds just aren't there though.
I'd love to back the Hurricanes but I'd have to take regulation. Three of their games have went to overtime and the Islanders also may enjoy being on the road for the first time this season.
Only the one play then:
Sabres vs Panthers Betting Tips:
Buffalo have got off to a good start with no losses in regulation in their four games this season. They've had two great offensive performances at home.
It's been a tricky start for Joel Q at the Panthers. To be fair it's a tough schedule to open the season against Tampa twice, and then the Carolina Hurricanes who are looking good this season. It's still a bit early to judge, but the Sabres are looking pretty darn solid so far so it may be another tough game.
Bobrovsky has had a bad start to the season but we know he's better than that.
Florida have shown a lot of fight in games and while Buffalo have been great offensively this season, they're still conceding the goals.
This is one of those games where I swayed back and forth on what to back. Initially I was going to go with the Sabres. Looking into it a bit more I went I decided on the over. However when I dived deeper into the analytics, I was swayed again by the Sabres. They're just looking the more complete unit right now and have been fighting harder in games. If they get a decent lead I'm not sure the Panthers have what it takes to keep up.
Panthers defense is not looking good.
In saying that, one thing Q brings to the table is line adjustments. Those on the fly adjustments will be big for the Panthers this season. However with the Sabres offense and Panthers defense, I've got to take the underdogs at home here.
0.5u on Sabres to win incl OT/SO
Canada: 2.05 Odds at BetOnline..
USA: +105 Odds at BetOnline..
Everyone Else: 2.05 Odds at BetOnline..
(Odds correct as of 2019/10/11 10:11:08 AM EST but are subject to change.)
And while we tend to stay away from picks involving the Grand Salami due to variance, I dig Home Goals -0.5 today at 1.77 odds. You can bet the Grand Salami at BetOnline.. Let's make that our poll today:
[poll id="7″]
Non-NHL Betting Tips:
Written by Graeme
(All below systems are based mainly on mathematics and statistics with very little human input and are deemed experimental. Use at your own risk.)
KHL Betting Tips (1-1, +0.25u): It's personally too many goals for me but the system thinks Avangard -2.5 tomorrow is worth a play.
Swedish Hockey League Betting Tips (1-0, +0.8u): 1u on Skelleftea AIK to win. 1.65 odds. 0.5u on Orebro HK -1.5. 1.90 odds.
OHL Betting Tips: 0.5u on a double of Erie & Peterborough both in reg. 1.98 odds.
WHL Betting Tips (1-0, +0.8u): 1u on Moose Jaw Warriors in reg. 1.92 odds.
Where To Bet the Non-NHL Leagues:
Canadians: Bodog and 888 Sports.
Americans: Bovada.
Everyone Else: 888 Sports.
Follow @BetNHL
BetNHL.ca » Tonights Tips »