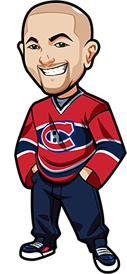 Written by Graeme on Monday, October 12th, 2015
Follow @BetNHL
We decided to skip last night with just the one game. It seemed everyone and their mother was screaming "2 rookie goaltenders – over 5.5 goals!!!!" – but hopefully last night is a reminder that there's more to betting than just that!
What a crazy night of hockey Saturday was. Can you imagine ever being able to tell someone "Florida won 7-1 tonight"? Holy crap Philly what is going on there?
The Coyotes go 2-0 with another huge win – this time over the Penguins. And holy crap was that deserved – they were excellent, and they are getting so good at blocking shots. A really tight defensive unit. Unfortunately it doesn't get easier for them as they play the Ducks on Wednesday. And that break will hurt their momentum.
The "Battle of Ontario" was an interesting one with the Sens taking a 3-0 lead early in the 2nd period. It looked over but the Leafs fought back and it was forced to a shootout. Hell of a game.
Tonight is Monday, October 12th and we've got 5 games on board. Florida vs Philly in a rematch – this time in Philly. The battle of the 0-2-0 teams as the Blue Jackets visit Buffalo. And Boston look to get off the board at home to Tampa.
For those wondering – Scott is on vacation at the moment. We're still keeping in touch in regard to the games and he'll be back writing tips from the 14th-20th. I'm then on the 21st-25th then he wraps up the month and we go back to our usual alternating schedule.
Islanders vs Jets Betting Tips:
Islanders go into this after 2 losses against the Blackhawks. Jets go into this after a 6-2 win over the Bruins and a 3-1 win over the Devils. Both games have been on the road.
The 3rd game on the road can always be a tricky one – but the Jets have been looking excellent thus far. Halak is still out and Greiss is in net for the Islanders.
Islanders offense haven't looked too solid, while the Jets have looked excellent. They're going with the same lineup apparently. Pavelec isn't confirmed yet – but assuming he is, I'll take the underdog Jets to win. 2.10 at http://www.5Dimes.eu for Americans(Need to register to see lines) and and http://www.Bet365.com for everyone else..
Panthers vs Flyers Betting Tips:
Going to take Over 5.5 goals in this one.
You have the Florida offense on fire after that lats game and you're going to have the Flyers come out pissed. The first game had it's fair share of penalties and there were 11 power plays and 4 goals during them. We're looking more of that and the price of 2.15 odds at Bovada for Americans and http://www.Bet365.com for everyone else. is the way to go.
Other Game Thoughts:
Lightning vs Bruins: So very close to betting Tampa. They've looked solid all through and every line looks lethal. Boston don't look good at all so far. There were just a few red flags such as strength of opposition that has put me off. I'd say if Chara is out, go with a value bet of Lightning in regulation. Available at Bovada for Americans and http://www.Bet365.com for everyone else..
Blue Jackets vs Sabres: I mentioned it a couple of days ago – but I have an early season bias for the Sabres. I can't really explain it – it's one of those things where I just look at their offense and think "Man these guys could score a ton". Yet they're huge underdogs at 2.50 odds against the Blue Jackets who are also 0-2. Due to my weird bias I'm refusing to make it an official tip – but I'll be betting the Sabres. Over 5.5 is probably also good if you have faith in the Sabres offense but not their defense.
Canucks vs Ducks: Amazing to see the Ducks and their insanely stacked offense shut out on Saturday. I'd probably go over 5.5 on this one as these two teams have the ability to have it over 5.5 in just a period.
.
Follow @BetNHL
BetNHL.ca » Tonights Tips »