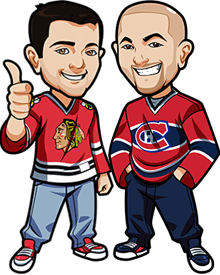 Written by Graeme & Scott on Tuesday, October 11th, 2016
Follow @BetNHL
We hit up the local coffee shop today and the chalk board outside said "74 days until Christmas". We shook our heads and laughed. Maybe for the kids it's 74 days till Christmas but for us adults our Christmas is in just ONE DAY as the NHL returns tomorrow, October 12th 2016. (Or for all our European friends – welcome to Christmas morning!!!)
Welcome to BetNHL.ca and yet another season of our free NHL Betting Tips. If you're new here, we're Graeme(Habs fan) and Scott(Blackhawks fan). Our lives revolve around hockey and betting on it and we spend about countless hours every day and night going over everything and watching the games so we can provide the best betting tips possible.
We started doing these tips 4 years ago, and we have provided 4 profitable seasons in a row and hoping to make it 5.
To start the season off we will be providing alternating opinions on the tips. Sometimes they'll be the same, sometimes they'll cover different aspects and sometimes they'll be polar opposites. The first week or two of the season can be tricky which is why we're doing that. After that, we'll settle in to the usual schedule of both of us discussing the tips, and then one of us writing them on alternating days. In terms of stat tracking we'll only be counting tips where we both agree and make the same pick. Anything else is just analysis to help you with your bets.
As always feel free to post your own tips/opinions in the comments or ask us any questions in there. Always happy to chat with you guys!
What the hell are we waiting for? Let's get on with NHL Betting Tips for October 12th, 2016:
Best America Sportsbooks for NHL
Leafs vs Senators Betting Tips:
Graeme: It was a big off season for the Leafs with some big changes such as bringing in Frederik Andersen, and of course picking up Auston Matthews in the NHL Draft. There were a lot of expectations that Stamkos would end up in Toronto but that didn't happen.
An easy bet to make in these games is generally the Over however the last 2 games went Under 5.5. Andersen is going to be playing out of his skin and having Matthews in there could be the breath of fresh air the Leafs need. I've never really felt there is much home advantage in these games so with the nice odds, I'm taking Leafs win.
Scott: What a great way to start off the season. The Battle of Ontario. Both teams are expected to have rough seasons but with the play of Matthews in the World Cup he is ready to have an immediate impact for the Leafs. I like them to win this one and there is some good value in that too. Leafs win.
Canada: 2.25 Odds at Sports Interaction.
USA: +127 Odds at BetOnline..
Everyone Else: 2.25 Odds at Bet365 (Americans: We recommend http://www.bovada.lv.
Flames vs Oilers Betting Tips:
Graeme: It's that time of the year – where everyone in Edmonton looks at the Oilers and their potential and gets excited only to get disappointed fairly bloody quickly. However in their brand new stadium, with quite a few key changes that might be for the better(like cutting ties with Yak) against their bitter rivals – they're going to be playing till the very end here and I'm fine with taking Oilers to win.
Scott: Battle of Alberta in this one. 2 teams with plenty of upside. A healthy McDavid is ready to continue his career and he now wears the C for Edmonton becoming the youngest captain in NHL history. I like the Oilers team this year. They probably won't make the playoffs but will improve. Oilers win
Canada: 1.78 Odds at BetOnline..
USA: -128 Odds at BetOnline..
Everyone Else: 1.78 Odds at BetOnline..
Blues vs Blackhawks Preview:
Graeme: I mentioned it in the season previews but I feel there are quite a few questions over the Blues. With the Blackhawks you generally know what to expect. These are usually 50/50 games and I like the Blues here – just not enough to bet on them. But that's who I'd lean towards.
Scott: Another great game between 2 rivals. Both teams are icing teams that look a lot different than they did last season. It will take a couple games to see how these teams are going to be this year and I'm also staying away.
King vs Sharks Preview:
Graeme: Much like the Blues vs Blackhawks game I don't have a lot of confidence in making a pick here. I could easily argue for either team. Kings might want it more and with them being slight underdogs they might be the play but I'm not committing to anything.
Scott: The last game of the night is going to be another good one. The Kings are still a deep team looking to get back into the top team discussions. The Sharks finally had some success in the playoffs. I'm having a tough time predicting the winner of this game and am not tipping this one either.
Mathematical/Experimental Betting Systems:
Over the last couple of years, we have expanded from just NHL games to covering the OHL, as well as the NHL 1st Periods using purely mathematical systems.
We're happy to announce that not only will the OHL and NHL 1st Period Betting Tips come back – but we'll be expanding to hopefully cover the WHL and AHL this season.
We'll start tipping them soon – still harvesting data.
As always feel free to post your own tips/opinions in the comments or ask us any questions in there. Always happy to chat with you guys!
Follow @BetNHL
BetNHL.ca » Tonights Tips »