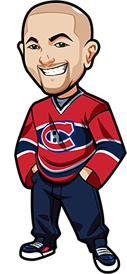 Written by Graeme on Saturday, October 12th, 2019
Follow @BetNHL
It was a close one last night but we won our lone NHL tip of the Buffalo Sabres to beat the Florida Panthers.
Sabres blew a 2 goal lead against the Panthers, then the Panthers came out strong in OT and practically dominated the first half of it. The tables turned and the Sabres dominated the rest but couldn't get the win. They were able to wrap it up in the shootout with a beautiful backhander by Mittelstadt.
72% of you voted that Home Teams -0.5 would cover in the Grand Salami and that was the correct call as thanks to the Carolina Hurricanes, the home teams covered the spread with ease.
OHL & WHL Lines aren't out as of this writing but I may have some tips for those. If so I will add them in the comments below.
It's a busy Saturday with the first game at 1pm EST as Oilers go to Rangers. 14 games on the board today. Let's see what we got tonight.
Still feel the need to proceed with caution. I mean Preds looking pretty great to start the season and Kings struggling – but first road / home game for either team. Still a lot of teams with big question marks on them that I'll be paying attention to closely today (ie: The Coyotes defense).
Also is it me or is this the most bizarre set of NHL scheduling yet? You've got the Flyers playing their third game in as many countries. We're over a week into the season and we have the Preds on their first road game, Kings on their first home. Rangers played two games then had a WEEK off. Jackets have three days off then three games in four nights. I could go on. Just seems very weird.
Bets that just didn't make the cut today: Leafs/Wings Over, Panthers to win.
Lightning vs Senators Betting Tips:
Other than that New York Rangers game, the Senators offense has looked good. They're conceding the goals but managed to score 3 against the Leafs and 4 against the Blues.
Tampa have kept that offensive consistency going through all four games thus far. However they are also conceding goals.
Sens are one of those teams that often play to their opponents level. Especially early in the season when they aren't too depleted. We saw that last year early in the season with 7 and 10 goal thrillers against Tampa. Hell they even won one of those!
Brayden Point looked solid against the Leafs and that line will want to continue that.
Honestly this would be a 1u play or potentially a 2u play. What's stopping me (other than it's early in the season still and I need full confidence) is just bad memories of these early games and not seeing the goals. I expect that is just selective memory and confirmation bias and I don't have time to look through the stats so we'll just go with the smaller play.
0.5u on Over 6.5 Goals incl OT/SO.
Canada: 1.80 Odds at BetOnline..
USA: -125 Odds at Bovada.
Everyone Else: 1.80 Odds at BetOnline..
(Odds correct as of 2019/10/12 9:25:27 AM EST but are subject to change.)
Bruins vs Devils Betting Tips:
This is one of those games where if the Devils pull it off then welp – that's hockey.
The Bruins had a 4 game road trip to open the season and did a good job. They beat the Knights in a 4-3 thriller but also beat the Coyotes 1-0 in a tight game. Good to see they can win at both ends of it. They lost to the Avs which isn't a bad thing – they won't be coming in overconfident. Plus video review hurt them there.
Devils are the Devils. I had high hopes for them this season. I'm not sure I still do. Just so many issues there. Wouldn't surprise me though if they are this seasons "turn it around in second half of the season" team though.
Just seems a nice spot for the Bruins. Very close to a 2u play but I'll break the cherry on the 1u instead for this season.
1u on Bruins in Regulation – Canada this is your day to sign up at Sports Interaction check out these odds
Canada: 1.91 Odds at Sports Interaction (SIA) + free $20 bet.
USA: -135 Odds at Bovada.
Everyone Else: 1.79 Odds at 888 Sports.
B365 are just 1.68 for that at this time of writing! This is why we always advise multiple accounts. Plays like this especially.
(Odds correct as of 2019/10/12 9:25:27 AM EST but are subject to change.)
As someone who plays daily fantasy hockey a fair bit, I was curious how many others do or are interested. May do some articles on that topic in the near future.
[poll id="8″]
Follow @BetNHL
BetNHL.ca » Tonights Tips »