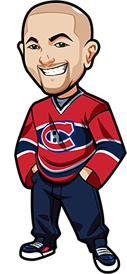 Written by Graeme on Wednesday, October 12th, 2022
Follow @BetNHL
Rangers got off to a great start yesterday with the win over Tampa, which unfortunately didn't hit the over. Knights vs Kings went over in a game that had a heck of a third period. Actually had these written last night and meant to post to get ahead of things but was so into that game I completely forgot.
Today really feels like the true return of the NHL season, as we have a whole host of games.
Six games to be exact, which is my favourite number. Any less and I tend to overanalyze them too much. Any more and man it becomes a pain in the arse. Not looking forward to those Saturday mornings where I have to go through this, NFL AND F1. (As a quick sidenote: NFL & F1 bets in full can be found at the Patreon I work on with Vin from SportsBettingTips.org). Just banged an 11.00 winner in the F1 too on Sunday. Quite proud of that.
Let's get to todays games and I'll tell you straight up – a quick glance at the lines had me saying "ugh". As I dive into them let's see if there is anything I like.
Capitals vs Bruins:
Capitals at home are favourites here. Couple of big injuries to start the year. Bruins still have a hell of a top line although are missing some depth. If the Bruins were healthy enough I'd back them but they're missing a few key players too like Marchand and McAvoy. A strong lean for Bruins to pull off the upset here and I'm curious to see what Zacha brings to the team. Bruins were a bit hit and miss in pre season. Just very hesitant to back right now feels like too much of a gamble.
Hurricanes vs Jackets:
Canes very heavy favourites here. As they should be. They have to be coming in confident especially with Freddie between the pipes. Jackets do have Laine and Gaudreau which is going to be interesting.
Schedule can be a factor and the Canes go on the road until the end of the month after this. At above coinflip odds, I'm going to go with Canes -1.5 if Freddie in net.
Ontario: 2.12 Odds at Sports Interaction (SIA) - Non-Ontario bet $10 get $200
Canada: 2.12 Odds at Sports Interaction (SIA) - Non-Ontario bet $10 get $200
USA: +110 Odds at Bovada
Everyone Else: 2.10 Odds at Bet365 (Americans: We recommend http://www.bovada.lv
(Odds correct as of 11:30pm EST October 11 but are subject to change.)
Canadiens vs Leafs:
I mean ugh. Leafs are just ridiculous favourites here – as they probably should be. And over/under 6.5. Almost seems tempting to bet the under with this expected to be a one sided affair. Habs already are piling up the injuries.
The problem with the under is the Leafs can come out firing and not stop. And this would be a big statement game to do so.
But the one problem is you know that when these two face up, the form books and metrics generally go out the window. Leafs wouldn't cover this spread once last year. So on paper yeah Leafs rock them 8-0 or something like that but history tells me to avoid.
Avalanche vs Blackhawks:
Avs very heavy favourites to the point that -1.5 isn't even worth betting. I expect they probably tear this defense apart even without Landeskog. Hawks though man they sometimes play to the level of their opponents and cause some real problems and goaltending will be interesting this season for the Avs. I expect they probably blow them out but not going to do -2.5. Very rarely do that. Especially not this early in the season.
Ducks vs Kraken:
Losing Getzlaf is tough for the Ducks and it'll be interesting seeing how they perform without him. Kraken have made some decent pickups. No bet on this one. My gut says the Kraken can actually pull off an upset here as the Ducks get settled but not feeling confident enough.
Oilers vs Canucks:
Looking forward to seeing Jack Campbell perform for the Oilers and I hope he returns to that form he had in the early season last year for the Leafs. He's a good dude.
I just feel the Canucks didn't do the strengthening in defense that they really should. But Boudreau may have a big effect at the start.
Crap – I really want to take Oilers in regulation here but I feel like I have to have enough confidence behind it. I just keep wondering if it's a gamble, if I'm pushing myself to take it just because it's early in the season and I want action. Oilers started off tight last year with the 3-2 win over the Canucks in a shootout at home. Slow starters the last couple years – yeah I am going to stay away from this one.
Follow @BetNHL
BetNHL.ca » Tonights Tips »