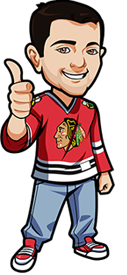 Written by Scott on Thursday, October 12th, 2023
Follow @BetNHL
A decent night last night with 6 games.  I had one tip and it came through for us.
I had the Canes to beat the Sens in regulation.   This was much closer than I thought it would be as the Sens tied it up 3-3 at about 6 minutes into the 3rd but the Canes got a couple more and held on for the 5-3 win.
I'm glad I stayed away from the Leafs game.  I said I liked them to win but we would have needed to take them -1.5.  The Leafs won 6-5 in a shootout  Matthews scored a hat trick and Tavares had 3 helpers.
Bedard scored his first goal of his NHL career but the Hawks came up short to the Bruins losing 3-1 with Pasta scoring twice including an empty net at the end.  The Canucks pounded the Oilers 8-1 with Boeser scoring 4 goals.
7 games tonight and I'm still reluctant to pull the trigger on many games.
Flyers vs Blue Jackets Betting Tips:
A game where both teams are going to struggle to make the postseason.
The Flyers lost Provorov,  Braun,  van Riemsdyk and others and added Hathaway and Marc Staal.  So Flyers fans might be in for a long season.
The Jackets, on paper at least, should be a better team than their record will show. They have Gaudreau,  Laine, Werenski and brought in Provorov  and Severson on defense and drafted Fantilli. And with the Babcock drama in the past it will only help them.
These teams look to be fighting not to be in last place in the Metro.   I have no idea who wins but would lean towards the Jackets
Rangers vs Sabres Betting Tips:
The Rangers lost Kane, Tarasenko and Halak and brought in Wheeler, Bonino, Nash and Quick.  They already are a strong team with Panarin, Zibanejad, Shesterkin and Fox plus have some guys with potential in Kakko and Lafreniere.
The Sabres were a surprise team last year missing the playoffs by a single point.  They can score goals but they need their defense to continue improving.  Power and Dahlin are young and should be their top 2 defensemen for years.
The last 4 games between these teams saw both win 2 and all 4 needed extra time.
Would say the Rangers "should" win but the Sabres are heading in the right direction and are at home so I'm skipping.
Red Wings vs Devils Betting Tips:
The Wings improved in the off-season bringing in DeBrincat, Compher, Gostisbehere, Holl and Reimer.   But they still are a few pieces away from being a good team who can challenge for the postseason.
The Devils are going to be one of the better teams in the league this season.  Jack Hughes is amazing and will only get better, Hischier reminds me off Bergeron in that he plays a great two-way game and will challenge for the Selke each year.  They have Meier and brought in Toffoli so they'll be able to score.
With them at home I do like the Devils to win here.  But it's another game where we would need to take them -1.5 to get odds over our minimum.
Blues vs Stars Betting Tips:
The Blues didn't do much in the off-season. They need to get better defensively with Parayko leading the way.  The have Krug, Leddy and Faulk but they are all getting older.
The Stars continue to be a strong team. They have a good mix of youngsters and veterans.  They brought in Duchene which will make the 2nd line better and having Benn come back to life gives them 3 lines who can produce.
With Oettinger the Stars have a chance to win each night.  They are at home here so I'll back them to win.
Stars in regulation
Ontario: 1.76 Odds at Bet365 (Americans: We recommend http://www.bovada.lv
Rest of Canada: 1.76 Odds at Bet365 (Americans: We recommend http://www.bovada.lv
USA: -150 Odds at BetOnline.
Everyone Else: 1.76 Odds at Bet365 (Americans: We recommend http://www.bovada.lv
(Odds correct as of 2023/10/12 8:54:29 AM EST but are subject to change.)
Panthers vs Wild Betting Tips:
The Panthers were a blast to watch during last years playoffs.  They do have a bunch of roster turnover to deal with. Duclair, Gudas, Hornqvist and the Staal Brothers are gone.  In comes Rodrigues, Ekman-Larsson, Kulikov and Stolarz.
The Wild didn't make any huge additions, having Suter and Parise still on the books for $15 million kind of handcuffed them. The still have Kaprizov, Hartman, Eriksson-Ek and Zuccarello there to carry the offense.  Only 5 teams gave up fewer goals then them last season and they group is mostly still there with Klingberg gone but Faber in.
I have too many questions about these teams at the moment.
Kraken vs Predators Betting Tips:
Both teams have one game played so far and both were losses.
The Kraken lost to the Knights 4-1 and the Preds lost to the Lightning 5-3. 
Either team showed me anything in their first game to give me reasons to back them in this one.
Knights vs Sharks Betting Tips:
The Knights looked good in their season opener beating the Kraken 4-1.
The Sharks have so much work to do before they can be considered a strong team.  The did add some help offensively bringing in Duclair, Zadina, Hoffman and Granlund joining Hertl and Couture as their point getters.
Karlsson is gone and that leaves a huge hole on defense.  In goal the brought in Blackwood but he has had problems staying healthy.
I like the Knights here but it would have to be in regulation.   At home last season the Sharks won just 8 of the 41 games played in San Jose.  With that being said I feel like the Knights can do it.
Knights in regulation
Ontario: 1.71 Odds at Bet365 (Americans: We recommend http://www.bovada.lv
Rest of Canada: 1.71 Odds at Bet365 (Americans: We recommend http://www.bovada.lv
USA: -155 Odds at BetOnline.
Everyone Else: 1.71 Odds at Bet365 (Americans: We recommend http://www.bovada.lv
(Odds correct as of 2023/10/12 8:54:29 AM EST but are subject to change.)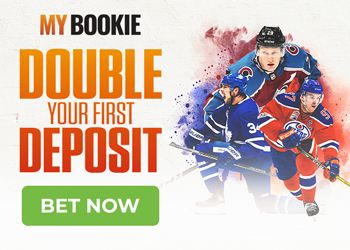 Follow @BetNHL
BetNHL.ca » Tonights Tips »