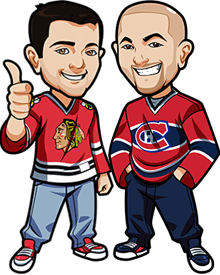 Written by Graeme & Scott on Thursday, October 13th, 2016
Follow @BetNHL
We went 1-1 for a slight losing night to begin the NHL season.
The Edmonton Oilers got us the win in a thrilling match against the Calgary Flames. In the new arena with Connor McDavid in his first game as captain and all those Oilers legends viewing the game, it would have been beyond embarassing for the Oilers to lose that won and thankfully they didn't.
The Leafs on the other hand….
Only the Toronto Maple Leafs could see their #1 draft pick make his debut, score four goals, and STILL FREAKING LOSE. You know – living in Ontario and neither of us being Leafs fans, we often chirp back and forth with our friends, the majority of whom are Leafs fans. But we couldn't even do that last night. That was absolutely embarassing and we had to feel sorry for poor Auston Matthews. If he's going to continue to play like that then hopefully the Leafs get their act together.
Either way it was awesome to have hockey back as we move onto tonights games with a nice busy schedule of 9 games. Let's analyze each one and see what tips we've got tonight:
$25 risk free bets on player prop, in-game bet and $50 risk free mobile bet. Available for NEW customers only at BetOnline.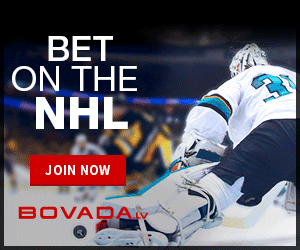 Bruins vs Jackets Betting Tips:
Graeme: The Bruins are slight underdogs in this one. Neither team has high expectations this year. Bergeron is out for the Bruins which is a big reason this game isn't a pickem. There's a few defensive injuries which concern me, and we know how unreliable Bobrovsky can be – but I'd be going with Under 5.5 Goals.
Canada: 1.74 Odds at Sports Interaction.
USA: -135 Odds at Bovada.
Everyone Else: 1.74 Odds at Bet365 (Americans: We recommend http://www.bovada.lv.
Scott: Both teams aren't expected to be very good this year. The Bruins are without Bergeron which is huge loss for them but if Marchand can continue his play from the World Cup then he will ease the pain. No bet.
Canadiens vs Sabres Betting Tips:
Graeme: Carey Price is missing this one due to injury and Montoya is in net. You'd think that'd make the Sabres the play here – but Eichel is out injured which is brutal for them. Okposo also isn't playing and O'Reilly is banged up. The Habs SHOULD win this one – but we saw how bad the Price injury affected them last season so I'm staying away from it. Ah screw it – I'm taking the Canadiens to win against my better judgment.
Scott: Interesting game here. Price is back and healthy but has the flu so he will be sitting out this game. But the Sabres have their own injuries to deal with. Eichel will be missing 4-6 weeks, Okposo and O'Reilly are also gone. So many injuries between these teams that it makes it difficult to call. But after last season and they way things turned out for them I expect a different Habs team this year. Canadiens win.
Canada: 1.78 Odds at BetOnline..
USA: -130 Odds at Bovada.
Everyone Else: 1.78 Odds at BetOnline..
Islanders vs Rangers Betting Tips:
Graeme: The Battle of New York. The Islanders sweeped the Rangers last season winning all 4 games. There's already a lot of questions about the Ladd/Tavares chemistry as they haven't had a lot of time to practise. Halak is also questionable for this game. I just don't feel confident picking anyone. Islanders probably have the value here.
Scott: A great rivalry game here. And both teams brought in new players so this will be a fun game to watch. Not sure who has the advantage in this game.
Red Wings vs Lightning Betting Tips:
Graeme: The Wings are expected to get pounded here. The Lightning have planned for the future with the contract signings of Stamkos, Hedman and Kucherov. Datsyuk meanwhile has of course left the Wings. The Wings made quite a few interesting moves during the off season. I almost don't want to go with an in regulation bet this early in the season – but I feel the Wings are going to have a lot of questions over their team while the Lightning chemistry is already there. I'm taking Lightning in regulation.
Scott: The Lightning enter the year as one of the favorites to challenge for the Cup. The Red Wings are in for a long season and will be fighting to extend their playoff appearance streak to 26 years. With the Lightning having virtually the same team returning from last season, like them to win this game. Lightning Win In Regulation.
Canada: 1.98 Odds at 888 Sports.
USA: -110 Odds at Bovada.
Everyone Else: 1.98 Odds at 888 Sports.
Devils vs Panthers Betting Tips:
Graeme: This will be an interesting one to watch with many expecting Taylor Hall to have his best season yet. The Devils were extremely poor last year at scoring so Hall and Parenteau will be expected to help them in that regard. The Panthers have been hit with two big injuries in Huberdeau and Bjugstad. I actually think there's value in the Devils here. The odds are convincing me to go with Devils win hoping they'll be on a high, while the Panthers due to the injuries will be on a low.
Canada: 2.35 Odds at Sports Interaction.
USA: +135 Odds at Bovada.
Everyone Else: 2.35 Odds at Bet365 (Americans: We recommend http://www.bovada.lv.
Scott: Hall makes his regular season debut for the Devils. The Panthers were just hit hard by injuries as Huberdeau is out for 4 months and Bjugstad for a month. I would say the Panthers for the win but with the injuries I'm avoiding this game.
Hurricanes vs Jets Betting Tips:
Graeme: The Hurricanes beat the Jets in both games last season. Will Patrik Laine turn things around? We heard a lot during the off-season that HE was the better pick but after last nights game – well, those people already have egg on their faces. Laine is also sitting on the 3rd line and didn't make a dent in the World Cup of Hockey. I'm tempted by the Hurricanes here to be honest but I just can't pull the trigger. Hard to bet against a team playing at home for the first game of the season and I just can't quite convince myself on Carolina.
Scott: So Matthews, if you didnt hear about it, had a pretty big game last night. Ok he had a massive game scoring 4 goals in his NHL debut only to have the Sens win it in OT. But the 2nd overall pick of the draft Patrick Laine gets his NHL career started tonight. I don't see the Hurricanes having much success this season. Long time captain Eric Stall is gone and they have no captain to start the season.. Jets Win
Canada: 1.71 Odds at BetOnline..
Everyone Else: 1.71 Odds at Bet365 (Americans: We recommend http://www.bovada.lv.
Wild vs Blues Betting Tips:
Graeme: The Blues looked good in their victory over the Blackhawks last night and now they come home to take on the Wild. I like the Blues to get the W tonight but not happy with the odds plus this early in the season you have to be wary of back to back games. I'm staying away.
Scott: The Wild start their season tonight with Eric Stall as their number 1 center and Bruce Boudreau as head coach. The Blues played last night and beat the Blackhawks. I like the Blues to win but the Wild have a new coach so they are going to play a different style this year. I'm staying away from this game until we can see how the Wild will be this year.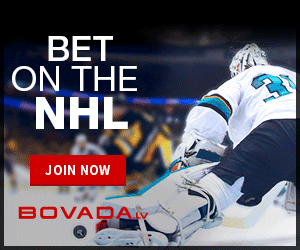 Capitals vs Penguins Betting Tips:
Graeme: The Capitals are a team I've always hated betting over the years. They always seem to lose the games where I feel most confident about them winning. For me though it all comes down to Crosby being out. Yeah – the Penguins obviously know how to play without Crosby. We've seen that before. The Capitals were incredible in the regular season last year however and with Crosby out I just feel obligated to bet the Capitals to win.
Canada: 2.02 Odds at BetOnline..
USA: +102 Odds at BetOnline..
Everyone Else: 2.02 Odds at BetOnline..
Scott: Always a great game. The Caps are looking to continue their regular season success after winning the Presidents Trophy last season and the Pens are coming off of winning the Cup. Crosby is out with a concussion but Pittsburgh has had success without him. Tough to call a winner but, like I did when they played last year, I like there to be goals. Over 5
Canada: 1.77 Odds at BetOnline..
USA: -128 Odds at BetOnline..
Everyone Else: 1.77 Odds at BetOnline..
Ducks vs Stars Betting Tips:
Graeme: This is a tricky one between two very good teams. I like everything I've heard coming out of the Ducks camp – apparently it was a very tough training camp and they're all pumped from that. Stars meanwhile have had a few injuries and a few players missing in the pre-season. Ducks however have made quite a few changes. I'm not fully convinced but I'm taking Ducks to win as I just get the impression they are better prepared for this season and what I feel is close to a 50/50 game has nice odds for the Ducks.
Scott: This is going to be a great game and I won't be Betting on this one. The Ducks won the Pacific Division, the Stars won the Central. Both teams are going to be strong this year so its a good game to sit back and enjoy.
Canada: 2.34 Odds at BetOnline..
USA: +134 Odds at BetOnline..
Everyone Else: 2.34 Odds at BetOnline..
Follow @BetNHL
BetNHL.ca » Tonights Tips »