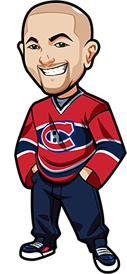 Written by Graeme on Friday, October 13th, 2017
Follow @BetNHL
Quick note that while we strive to get the NHL Tips out by 11am EST each day to accomodate our many European followers, unfortunately that's not always going to be the case.
The past two days in particular there was key lines we were waiting for which weren't posted till around noon EST. We'll try our best to get the tips out by 11am EST each day but if they are later – that's why.
It was a 1-1 night last night.
We went over 6 with ease in the Lightning vs Penguins game. Tampa finished this one 5-4 in a really fun offensive game to watch. With the Penguins at the moment it really seems like if you get shots on net you're going to score.
We lost with the Blackhawks beating the Wild. It was a disappointing performance from the Blackhawks although when they tied it up it seemed to wake them up. Unfortunately the new challenge rule was a game changer. The Hawks unsuccessfully challenged the Wilds 2nd goal which led to a power play and ultimately the Wilds 3rd goal.
I really did think that goal was offside but what can ya do? Personally I like the new challenge rules at least from an entertainment perspective. It makes challenges much more important and interesting. Of course it can end a game but it can also add a lot of intensity to it.
And really the Blackhawks should have had that one wrapped up long before then. They put in a very disappointing performance particularly in the 1st period.
If you follow our non-NHL tips, we rocked it last night going 2-0 in the OHL, 1-0 in the KHL and 1-0 in the WHL for a big 4-0 night.
Grand Salami:
I'm going to be placing a bet on the Grand Salami today. For those unaware, the Grand Salami is a prop bet which factors in all of todays games. It sets an over/under on the total of all of the games and then you can bet whether it will go over or under that.
The total set today is 28.5 and we are going to bet that there is Under 28.5 Goals today.
These are always risky bets played more for entertainment but I do see some value.
– Looking at todays games, there was no particular one that really stuck out to me as an over.
– It's early days but my betting system also predicts a low scoring day today. (26 goals and that's slightly skewed due to the Devils/Capitals high scoring games).
You can bet the Grand Salami at:
Canada: Available at Bet365 (Americans: We recommend http://www.bovada.lv.
USA:Available at BetOnline..
Everyone Else: Available at Bet365 (Americans: We recommend http://www.bovada.lv.
Other Game Thoughts:
No official tips just some musings:
Capitals vs Devils: I wanted to take the Capitals badly tonight. They've lost 2 in a row but last season they lost more than 2 on a row just once, and the season prior to that never lost 3 or more in a row. That's impressive. They also have a great record owning the Devils and are of course a quality team. They were a bit unlucky in that Penguins game really and I think they're going to come out firing and motivated tonight.
I really wish I could advise it and even as I'm typing this I'm sitting here thinking "Make it an official tip". But the Devils performances this season, Schneider having a solid record against the Capitals and very poor betting odds have me unwilling to take the chance.
Ducks vs Avalanche: It's early on but it wouldn't surprise me if you could make money on the Avs by betting depending on their goalie. Varlamov in net? Bet on them. Bernier? Bet against them. Bernier is in net tonight so the Ducks are tempting. Problem is we just have too low a sample size to really make a decision like that. On top of that you have a motivated Avs team and a Ducks team playing their first road game of the season. They didn't set the world on fire last season on the road at 17-15-9. I do like the Ducks but not enough for the bet here.
Knights vs Red Wings: I wanted to go with the Wings here as I feel they have good value as the underdogs. However Fleury in beast mode, the public money skewing towards Detroit but no line changes, and Howard not being in net has me thinking the odds just aren't good enough.
OHL / WHL / AHL / KHL Betting Tips:
(All below systems are based mainly on mathematics and statistics with very little human input and are deemed experimental. )
OHL Betting Tips (3-1, +1.25u): Sarnia Sting in regulation at 1.60 odds.
WHL Betting Tips (2-2, -0.48u): Double of Prince George Cougars & Swift Current Broncos for 1.76 odds. Lethbridge Hurricanes in regulation at 2.05 odds. Victoria Royals in regulation at 1.90 odds.
KHL Betting Tips (13-8, +3.70u):
OHL, WHL & AHL & KHL Betting:
Canadians: Bodog and 888 Sports.
Americans: Bovada.
Everyone Else: 888 Sports.
Follow @BetNHL
BetNHL.ca » Tonights Tips »