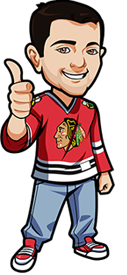 Written by Scott on Thursday, October 13th, 2022
Follow @BetNHL
We had one tip yesterday and we won it.   We had the Canes -1.5 against the Jackets if Andersen got the start.  Freddie got the start and the Canes won 4-1.
The Habs beat the Leafs 4-3.  They traded goals through the 1st 2 periods but in the 3rd the Habs outscored the Leafs 2-1 for the win.  Caulfield scored twice for Montreal.   The Habs only had 23 shots of goal.
The Bruins beat the Caps 5-2.  The Bruins looked great even without Marchand and McAvoy.   Pasta scored and had 3 assists, Bergeron scored his 401st career goal in his 19th season and Krejci had a goal and 2 assists in his first game back after playing last season in the Czech Republic.
The Oilers were down 3-0 but came back to beat the Canucks 5-3, McDavid had a hatty.  The Avs beat the Hawks 5-2 and the Ducks beat the Kraken 5-4 in overtime.
What a time to be a sports fan.  The CFL is getting close to the playoffs,  the MLB is in the playoffs,  the NBA is about to begin,  the NFL is into week 6 and of course the best sport in the world, the NHL, has just started.
A pile of games on today so let's see what we can come up with.
Coyotes vs Penguins
Of course the Pens are favored to win here.  They have all of their core pieces back and are ready to take another shot at a cup with Crosby,  Malkin and Letang.
But the odds are bad.  Even a play of Pens -1.5 is only around 1.68 which is below our minimum and this early in the season I can't take them -2.5 so it's a skip for me.
Devils vs Flyers
The Devils are still a few years away from being a contender.  They have some great pieces to build around and all are still young.  The Flyers have Tortorella as head coach this year and it might not be the best fit.   Torts is a great coach but his style is hard for some players to adapt to.
These are two teams that I need to see play a few games to get an idea of how they look before I bet on either of them.
Senators vs Sabres
The Sens have put together a team that might end up challenging for a playoff spot.  The Sabres will get a full season of Owen Power but their goalie situation is going to give them problems as Comrie has never been a starter and Craig Anderson is 41.
With the Sens adding so big pieces in the off-season and the continued improvement of their youngsters I think they will have a better year than the Sabres.
But Talbot is out and he was a big piece they brought in so will have to see how Forsberg does.  Am leaning towards a Sens win and personally will be betting it but I can't make it an official tip.
Capitals vs Leafs
Both teams coming into this game after taking losses last night.  Both are great teams and will have more wins then losses.
With the Leafs at home I would lean towards them winning here but the odds are good for them to win.  The Over/Under is 6.5 and both teams first games went over but that was thanks to the teams they were playing.  Plus Samsonov is expected to start and he was a Capital last year which makes it even tougher to predict.
Panthers vs Islanders
The Panthers made some big moves in the off-season and they are anxious to show the league that the moves were worth it.  The Isles didn't make any significant moves and are rolling with the same team that didn't have much success last season.
I feel like the Panthers will win this game.  Sure they lost Huberdeau but still have lots of strong offensive players and Tkachuk will be eager to show that he can fill Huberdeau's spot.
Panthers win incl OT/SO
Ontario: 1.78 Odds at Sports Interaction (SIA) - Non-Ontario bet $10 get $200
Rest of Canada: 1.78 Odds at Sports Interaction (SIA) - Non-Ontario bet $10 get $200
USA: -135 Odds at BetOnline.
Everyone Else: 1.74 Odds at Bet365 (Americans: We recommend http://www.bovada.lv
(Odds correct as of 2022/10/13 9:24:19 AM EST but are subject to change.)
Rangers vs Wild
Both teams have high expectations heading into the season.
The Rangers have to be optimistic heading into the season after taking the Lightning to 6 games in the Eastern Conference Finals.   The Wild got beat in the first round of the playoffs against the Blues.
They had similar records during the regular season last year.  One huge advantage the Rangers have is Shesterkin.
With the Wild favored to win I feel like this game could go either way so I feel like taking the Rangers to win is a decent play as they are a good team and have some decent odds worth the risk.
Rangers win incl OT/SO
Ontario: 2.27 Odds at Sports Interaction (SIA) - Non-Ontario bet $10 get $200
Rest of Canada: 2.27 Odds at Sports Interaction (SIA) - Non-Ontario bet $10 get $200
USA: +124 Odds at BetOnline.
Everyone Else: 2.24 Odds at BetOnline.
(Odds correct as of 2022/10/13 9:24:19 AM EST but are subject to change.)
Stats vs Predators
Both teams, on paper, aren't exactly powerhouses.
I do think the Preds can surprise some teams but will have to see how that goes as the season progresses.  They are 2-0 so far but that was against the Sharks in Europe.
The Stars are a team thats getting older and guys like Seguin,  Benn and Pavelski are past their best days.
Just a game where I have no idea who wins and feel it's best to skip.
Avalanche vs Flames
Both teams are at the top of the league and this should be a good game.
The Avalanche won last night at home in their banner raising game.  This is the Flames first game of the season.
Both teams won their respective divisions last season and the Flames at home gives them the edge here.
But with the moves they made to their roster I want to see how they do before jumping on their wagon.  The Avs played last night and then traveled to Calgary for tonight's game.
I'm skipping this game and instead will just enjoy watching two of the best teams play each other.
Blackhawks vs Knights
The Hawks are going to have a rough year.  They looked ok last night and it was nice to see Toews score and Domi scored too.  The Knights though are going to be going all out this season to get back into the playoffs.
The Hawks seem to find a way to keep games close despite not having the on ice talent.
I like the Knights to win but to get any value it would have to be at least -1.5 which is just barely over our minimum so I have to skip.
Kraken vs Kings
The Kraken took the Ducks to OT last night but lost.  The Kings lost their season opener to the Knights on Tuesday.
I would lean towards a Kings win but it would have to be in regulation to get any odds worth backing.   And after the Kraken took last night's game to OT I'm not comfortable taking them in regulation.
Follow @BetNHL
BetNHL.ca » Tonights Tips »