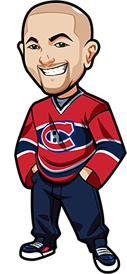 Written by Graeme on Tuesday, October 14th, 2014
Follow @BetNHL
I am officially banning myself from betting on any games involving the Tampa Bay Lightning until further notice.
That is 3 betting tips involving the bastards, all 3 of which have lost. 2 where we tipped them in regulation and they couldn't do the business – then last night we tip against them and they show up in ridiculous fashion.
I seriously hate Tampa Bay. Not Canucks-level hate but it's getting there.
It wasn't all bad yesterday as we hit the Over 5.5 in the Ducks vs Sabres game, thanks to an electric 3rd period by the Ducks. They won 5-1 there.
But that Tampa game…..man. It's bad enough getting destroyed by them as a Habs fan – but backing them twice and watching them fail, then going against them and having that happen? What a kick in the freaking teeth. 12 shots on goal and a hat trick by freaking Stamkos. I seriously will be getting my Stamkos voodoo doll out after that.
We've got a much busier schedule tonight with 9 games on the board. Battle of New York with Islanders vs the Rangers, and the Battle of Bizarro as the Avs and Leafs face each other. Both teams looked horrible in the first two games of the season then dominated playoff-calibre teams yesterday on the road to pick up their first wins. Staying the hell away from that one. And our enemies, the Tampa Bay Lightning take on New Jersey where I hope the Devils just destroy them 8 freaking 0.
Let's get to the tips.
Predators vs Flames Betting Tips:
We have to go with Nashville at the moment. They're playing very well, and looking very strong offensively. It's only been two games so far, but when you go back and watch that Dallas game you see a surging confidence throughout the team – that belief that they can score every time they get the puck in the opponents end.
I didn't think the Flames did too bad against the Canucks, and they beat the Oilers – but the Blues just dominated them. They got off to a fast start that Calgary never recovered from. Flames are also giving up a fair amount of penalties so far and their penalty kill unit is playing crap.
We're going with Predators -1.5 for 2.67 odds at Sports Interaction (Exclusive: $20 Free Bet for Canadians) or for Americans try out Bovada and everyone else Bet365.com..
Ducks vs Flyers Betting Tips:
Gotta like the Ducks here. Ducks in regulation is very tempting at 2.30 odds, although to win straight out it's 1.83 odds which is also a nice price.
Ducks offense as I said yesterday – looking electric. And against the Sabres we saw others step up offensively which is always a bonus. Flyers are coming off that big loss to the Habs which has to be crushing. You have to wonder if they're going to start conservatively or not.
The Over 5.5 is tempting too – but Lecavalier is out for the Flyers which is huge. That's going to hurt the top line. Granted Simmonds can bring it – but you have to wonder how that change will affect them.
We'll stick with the Ducks here. We'll personally bet them in regulation as we think with Lecavalier out, this is a great opportunity for the Ducks to get a good dominant win, but betting them including overtime is fine as well.
Sabres vs Hurricanes Betting Tips:
This is a bet we're placing purely for value.
Sabres so far have not looked good this season. They had just 12 shots against the Ducks yesterday and that was a tough result. The Hurricanes are also seeking their first win – they lost back to back against the Islanders, but it's tough to determine just how good/bad they are going to be this season.
However the Hurricanes are just plagued with injuries. Now Eric Staal is out, as is Patrick Dwyer. They're of course missing Jeff Skinner and Jordan Staal. Yet we're getting 2.70 odds on the Sabres to win. The two also traded wins in pre-season.
At 2.70 odds I think it's a bet we just have to make.
Place this bet at Sports Interaction (Exclusive: $20 Free Bet for Canadians) or for Americans try out Bovada and everyone else Bet365.com..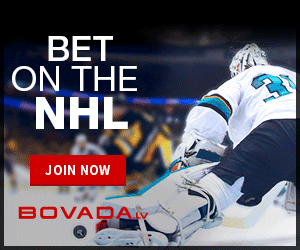 Follow @BetNHL
BetNHL.ca » Tonights Tips »