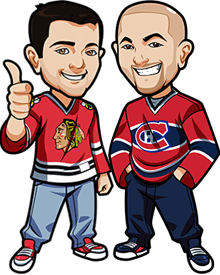 Written by Graeme & Scott on Friday, October 14th, 2016
Follow @BetNHL
It was a 2-0 night with our consensus picks in what was a wild night of hockey.
We had the Price-less Habs to defeat the Sabres and they managed to do that with relative ease, winning 4-1. we also had the Tampa Bay Lightning to beat the Detroit Red Wings. That one was NOT by relative ease – but holy crap what a game that was.
It was another night of some very high scoring games and some really good ones too. No big upsets although it was interesting to see the performance of the Bruins offense and cool to see Backes grab a double.
Going to be a very interesting year. We'll continue to provide our individual opinions on each game for the next week we expect until we feel we're on the same wavelength and will go back to the usual schedule of alternating days.
Quick note – whenever we provide betting tips, we're always telling you where the best odds are. There's a reason for that. To be profitable in hockey betting you really should be betting the best odds. Sometimes the differences are large and sometimes they are small but they really add up.
Look at it this way – if I said to you "I'll give you $100 a day if you pick my left hand, or $105 a day if you pick my right hand" – which hand would you pick? Always makes sense to take $105 a day right? That $5 might not seem like much on a daily basis, but that's an extra $150 per month you're making.
It's the same with the betting odds. It may not seem like much, but it all adds up. On top of that – the majority of these online sportsbooks offer bonuses for depositing, then reload bonuses. Hell some just give you free cash as a reward. So you can take advantage of all that and really add to your bankroll.
Here are the online sportsbooks we currenly bet at ourselves most frequently, and also recommend – we've also organized them based on where we would recommend you sign up at first(in terms of bonuses) – so if you want to build your bankroll via bonuses this is the best way to do it:
Obviously "Everyone Else" will really depend on your country – there are just so many different licenses in Europe that can make it tricky to list them all.
So take some time this weekend and sign up at a couple of sportsbooks. Take advantage of their deposit bonuses and bet at them when they have the best odds. We'll be sure to post the table again on quiet days NHL wise.
Let's get on with todays:
Blackhawks vs Predators Betting Tips:
Graeme: The Predators begin their season tonight, while the Blackhawks are hoping to bounce back after that big loss. There is a ton of hype for the Predators this season and I am absolutely pumped to see P.K. in action. I think the sportsbooks have the odds right on this one and I'm staying away.
Scott:
The Hawks lost their first game 5-2 to the Blues. This is the Preds season opener. This is the first game for PK Subban and he joins a deep Preds blueline with Josi, Ellis and Ekholm. The Preds have high hopes for this season.
I hope I'm wrong here but I like the Preds in this one. The Hawks have 4 rookies in their lineup so it will take some time to get them used to the NHL. Predators Win.
Canada: 1.76 Odds at BetOnline..
USA: -135 Odds at Bovada.
Everyone Else: 1.76 Odds at BetOnline..
Oilers vs Flames Betting Tips:
Graeme: It was a massive win for Edmonton on Wednesday but surely they HAD to do that right? Elliott had a brutal game in net for sure. I almost feel like I'm trying to force myself to make a bet for this one – and I'm not going to as it could go either way. As an example of something I look at though – I went through Elliotts stats for the last couple years to see if after a very low save percentage he comes back with a big game. That would have been a deciding factor for me. Unfortunately there's no consistent stat there.
Scott: Well game one between these teams was awesome a 7-4 Oilers Win. McDavid was amazing scoring twice and adding an assist.
With the venue changing to Calgary I expect them to have a better effort in this one. I'm not sure who comes away with the win though. The Oilers looked strong but the still gave up 4 goals so they'll need to tighten up. I would love to see another 11 goal game between these were but I'm also not sure on that so I'll be staying away from this game all together.
Flyers vs Kings Betting Tips:
Graeme: The Flyers also start off their season as they take on the 0-1 LA Kings. The LA Kings are without Quick. Zatkoff is starting which will be interesting. I wasn't impressed with Zatkoff last season but he looked solid against the Sharks. I'm very conflicted on this one – leaning towards both Flyers to win due to the odds, and the Under 5.5 as it seems like it would be a conservative game. But I'm not going to recommend anything today. Some of the high scoring games lately plus with Zatkoff in put me off the under and I can't back the Flyers defense just yet till I see them play.
Scott: The Flyers play their first game in this one. The Kings lost 2-1 to the Sharks in their first game but the big news from that game was that their starting goalie Jonathan Quick left the game with a lower body injury. Quick is one of the best goalies in the league so this is a huge blow to the Kings. Also missing from the Kings lineup are Gaborik with a broken foot and Tanner Pearson who is serving his final game of his suspension.
The Kings are a deep team but Zatkoff is a huge step down for them in goal. The Flyers have a good shot at taking this game so I have to back them. Flyers Win..
Canada: 2.20 Odds at Sports Interaction.
USA: +115 Odds at Bovada.
Everyone Else: 2.15 Odds at Bet365 (Americans: We recommend http://www.bovada.lv.
Mathematical/Experimental Betting Systems:
(All below systems are based mainly on mathematics and statistics with very little human input and are deemed experimental. Previous Records: OHL 28-15 (+17.15u)
So a quick heads-up that I, Graeme, am the one that does these betting systems. I would usually wait for more data(like 2 more weeks) before getting into these – but man, I'm being irresponsible and doing them a bit earlier in the season. I watched the OHL system go 2-0 last night without betting and just can't wait any longer.
So be wary of these and remember they're all experimental. As it's early I'm betting half what I usually bet and even then I feel it's a bit risky.
OHL Betting Tips: Double of Kitchener Rangers/Sarnia Sting to win. at 2.31 odds. System also likes Over 7 in the Kitcherner and Sudbury games but I'm not betting those or recommending them just yet.
WHL Betting Tips: Everett SilverTips at 1.85.
OHL, WHL & AHL Betting:
Canadians: Bodog and 888 Sports.
Americans: Bovada.
Everyone Else: 888 Sports.
Follow @BetNHL
BetNHL.ca » Tonights Tips »