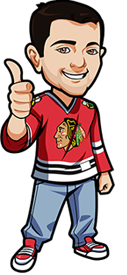 Written by Scott on Friday, October 16th, 2015
Follow @BetNHL
Great night last night for the NHL tips as we went 3-0.  And we also won our OHL tip for a perfect 4-0 night!!
The first tip was Over 5.5 in the Stars vs Lightning game and the Stars came away with the 5-3 win.  Even with the loss, Stamkos did his part scoring two goals and adding an assist.  For the season, Stamkos has 4 goals in 5 games.
We had the winless Penguins to beat the 3-1 Sens in regulation and the Pens came through with their 2-0 win.  I had mentioned that I was curious as to how much the Sens had left in the tank after having a monster night the night before and I was right.
Last we had the Islanders to beat the Predators and the Isles won 4-3.  The Preds scored the first 2 goals of the game but the Isles stormed back.  The Preds took a pile of shots, 47 of them, but Greiss was strong stopping 44 for the win.
For our OHL tip we had under 6.5 in the Owen Sound vs Barrie game and this came through with ease for us when the Barrie Colts came away with the 2-1 win.
Before we get to the tips for today it's time for our weekly sit-down
with the linesmakers at Sports Interaction
– Canadas #1 Sportsbook.  This is a weekly chat where we talk with
the people who set the odds for games.
BetNHL.ca: It's been quite the strange start to the season. 
Seeing the Pens/Bruins crumble early on, and the Coyotes starting off
strong.  We know people are usually impulsive and will bet strongly
based on results and streaks like this.  Where's the money going?
Sports
Interaction: The Habs are the team that everyone are
backing.  I mean 4 road game wins to kick start the season? 
Phenomenal.  Last year they were a team that mainly relied on Price but
we're not seeing that this year.  They're looking deeper and the defense
is helping out a lot more.
People are starting to believe in them for the cup already – and we've
had to adjust our odds on the Montreal Canadiens to win the Stanley Cup
to +900 due to all the action.
BetNHL.ca: How about those Penguins?  Everything talked about
the Kessel trade and so far not looking good!
Sports
Interaction: Yeah it's something we see a lot when a really
skilled player moves to a new team.  It's harder for them to mesh and it
actually doesn't help that the Penguins keep feeding him the puck and
aiming to get him involved.  They just need to let him be and let him
find his place.
Crosby is also guilty of this – he's focusing too hard on trying to mess
with Kessel.  No points yet and before last nights game he'd had just 4
shots on goal – barely better than 1 in a period.  People are still
following the Pens though as they know it's the Penguins and they'll adjust.
BetNHL.ca: This year Sports Interaction has became probably the
best online sportsbook for hockey player props.  We've never seen so
many props and it's relly cool to see.  What are people betting on at
the moment?
Sports
Interaction: It's interesting because with different
matchups every day it means there's no real consistent one to bet. 
However Pacioretty has been a popular one to bet to get a point and his
goalscoring abilities have helped out a lot of people.  We're also
seeing a lot of action on the youngsters such as Eichel, McDavid and
Larkin.  Betters are correctly assuming these guys want to make an
impression early and we're seeing more action on them as opposed to the
likes of Crosby and Ovechkin.
We advise everyone evaluate the matchups each day though rather than
blindly following a player – that's where you'll find value.
BetNHL.ca: Thanks as always guys and if you're Canadian, we
highly recommend betting there.  Check out their player props under NHL Props.>. 
Always a great way to spice up a game.
Ok let's have another good night with the NHL Betting Tips for Friday, October 16th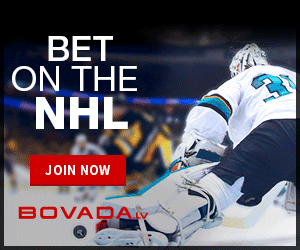 Maple Leafs vs Blue Jackets Betting Tips:
Both teams are winless.  Sure it was expected that the Leafs were going to struggle but not the Jackets. They have opened up the season 0-4 after having such promise heading into the season.  It's early though so they have plenty of time to fix this.
The Leafs are returning from a 5 day break after playing 3 games in 4 days so they'll be rested and ready for this one.
A rested Leafs vs a determined Jackets team, I like there to be lots of goals
Over 5.5 for 1.83 at http://www.5Dimes.eu for Americans(Need to register to see lines) and and http://www.Bet365.com for everyone else.
Avalanche vs Ducks Betting Tips:
It's the 1-2 Avalanche taking on the still winless Ducks.   The Ducks weren't supposed to be this bad, they have won the past 3 Pacific Division titles and came into this season a favorite to challenge for the Cup. It's only a matter of time before they snap out of this funk and why not tonight when they're at home against a Avs team thats getting scored on with ease.
Ducks in regulation for 1.83 at http://www.5Dimes.eu for Americans(Need to register to see lines) and and http://www.Bet365.com for everyone else.
$25 risk free bets on player prop, in-game bet and $50 risk free mobile bet. Available for NEW customers only at BetOnline.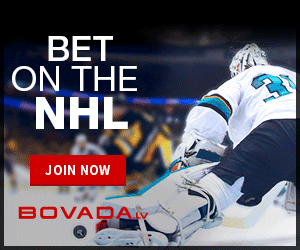 Blues vs Canucks Betting Tips:
Both of these teams are off to good starts.  The Canucks have won their first 3 road games which is their best start since 2007-2008.   The Blues look miserable in the 1st period of games this season getting outscored 5-2 but have came back in the 2nd and 3rd periods with a combined 11-4 score. If they can put together a strong 60 minutes each night then they're going to be a beast this season.
Both teams are averaging around 3 goals a game so there should be goals in this game and with the Over/Under at 5 we have to go with the over.
Over 5 for 1.80 at Bovada for Americans and http://www.Bet365.com for everyone else.
Daily Prop Bet
With the Ducks in desperate need of a win they need their best players to come through.  Ryan Getzlaf is pointless so far this season and so is Corey Perry.  Perry has never opened a season pointless over the first 4 games.  I like the Ducks to win tonight and I think both Perry and Getzlaf register their first points.
Corey Perry to score a point for 1.71 at Sports Interaction (Canada), Bovada (USA) and for everyone else 888 Sports
No OHL Betting Tip yet – if we see something we like we will post
on Facebook or Twitter.  You can Like us on Facebook at Facebook.com/BetNHL; or follow us on Twitter at Twitter.com/BetNHL;.
.
Follow @BetNHL
BetNHL.ca » Tonights Tips »