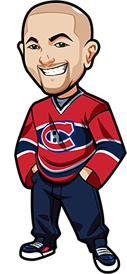 Written by Graeme on Saturday, October 16th, 2021
Follow @BetNHL
It was another great night of hockey yesterday, with three extremely tight games. One wrapped up in OT, one on a shootout, and one at the end of the 3rd period.
So nice having hockey back.
No tips yesterday as Gibson was out for the Ducks. Glad I was put off the unders considering they ended up being high scoring games.
I love NHL being back but man I will be honest I dread Saturdays at times. So many freaking games. Even when we don't have tips we still go through game analyzing it as if we do etc. Makes for a lotta work!
Let's get right into it:
Sabres vs Coyotes:
Never a fan of matinee games. Sabres still without Eichel. But they did blast last years Stanley Cup finalists 5-1. Coyotes on another road game after that Jackets thumping.
It's really hard to base bets off one game of course. If you look at the advanced metrics Coyotes had the better outing but that's misleading as most of it game after they were down.
I'm fine backing the home momentum. The price is giving a lot of respect to the Coyotes and if they take this one then so be it. But this is a team that had a lot of turnover, a lot of change, and it will take time to get going.
Sabres did rely heavily on the power play but the Coyotes PK didn't look great.
Yeah at these odds I'm happy to back Sabres win incl OT. One of those mentally where I'm almost tempted to go in regulation because I think that is more +EV here. But meh early in the season, already taking a risk might as well lessen it.
Note: In between writing this one, and going through the rest of the games, the odds dropped at most sportsbooks. Sabres were 1.86 and are now 1.80 at most books. I don't like those odds as much and would advise 1.86 or above. Best odds currently are 1.83 at BetOnline. which is very marginal. Your call – I bet 1.86. I would definitely pass at 1.80. At 1.83….I am honestly not sure. Think I would suck it up and take it.
(Odds correct as of 2021/10/16 11:19:40 AM EST but are subject to change.)
Panthers vs Islanders:
Panthers got the win against the Penguins in OT in a great game. On paper this should be a high scoring game but historically it doesn't work out that way between these teams. Just 1 of the last 8 games have went over 5.5. Tough to gauge the Panthers too as we are still figuring out the Pens. No bet.
Blue Jackets vs Kraken:
Kraken picked up their first win over the Preds. Jackets were expected to have a brutal season but of course got off to a great start. I'm already betting on one game involving those two teams, so happy to skip this one and not make judgements.
In saying that based on pre-season assessments, Kraken are some fine value here at about 1.86.
$25 risk free bets on player prop, in-game bet and $50 risk free mobile bet. Available for NEW customers only at BetOnline.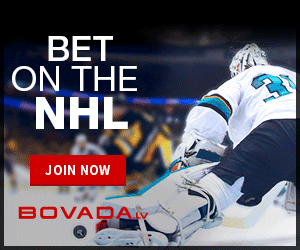 Capitals vs Lightning:
My god Tampa are something else this season so far. Two insane games.
Caps got off to a great start with a pounding of the New York Rangers. Underdogs coming in here. Caps beat Tampa in their last 4 regular season games all in 2019.
The way I see it here is you have two quality teams, so it's close to a coinflip. With home ice I think that balances that out.
On top of that you have a really weird Tampa team who got destroyed by the Pens, then almost lost to the Red Wings.
Now maybe they raise their game against the Caps. It happens. Caps may be complacent too after that easy Rangers game. If Caps were 2.00 or 1.90 I wouldn't bet them. But getting the better odds on what I feel is a coinflip? Good to go with Caps incl OT. Especially if Ovi is hot.
Best odds are 2.11 at BetOnline..
(Odds correct as of 2021/10/16 11:19:40 AM EST but are subject to change.)
Leafs vs Senators:
Obviously everyone expects Leafs to bounce back strong. They're not a great bounce back team honestly. Anyway no bet here but I will of course be rooting on the Sens.
Penguins vs Blackhawks:
Pens have been a surprise to start the season considering the injuries. They are pretty solid value today too. Very tempting but I still find it hard to back them with Crosby/Malkin out. Plus that Tampa game may have been an anomaly. Honestly this is one where I think I will look back and regret not taking the Pens. If we were still doing a confidence system this would be a half unit play. In saying that man you got Fleury. You know he is gonna be pumped up against the Pens and also on a new team.
Canadiens vs Rangers:
Would like to think Habs get the win here. Rangers already so much travel this early in the season would be a concern for them. Home opener for the Habs and that has been big for teams this season. With all the injuries for Habs, performances so far, power play etc etc I can't actively recommend it. I would be surprised if Habs don't do it here though.
Red Wings vs Canucks:
Considering the results so far I say just roll the dice on it going to OT at 3.70 odds. Probably +EV.
Bruins vs Stars:
I forgot Boston existed for a minute here. Bruins probably win. Home opener and all that. Would have to be in regulation and as Stars already have a game under their belt I'll say no to anything here.
Predators vs Hurricanes:
Random thing I never thought I'd hear while wearing my Carolina Hurricanes shirt here in Kingston: "I have the same shirt!". My fedex driver said that to me yesterday when he was dropping off a package. I only bought it to rile Scott too, who hates the Canes.
Preds will hope for a better result. Canes looked good against Islanders. No bet but it won't surprise me to see Canes win. Odds are too tight though.
Avalanche vs Blues:
With Landeskog out as well now – nothing here. Not enough value on a very risky play on the Blues.
$25 risk free bets on player prop, in-game bet and $50 risk free mobile bet. Available for NEW customers only at BetOnline.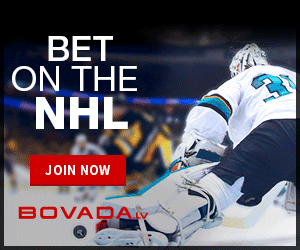 Sharks vs Jets:
At 2.25+ odds, I'd say just blindly bet based on the "home opener" deal we've been seeing this season. Nothing here but that's what I'll probably play just for the hell of it. Curious to see how Jets rebound.
Oilers vs Flames:
Hopefully this is a classic Battle of Alberta. Bookies expect it to be with an over 6.5. Nothing here although if I was to make a play it'd probably be Oilers in Regulation. I have a good feeling about them this season.
Kings vs Wild:
Coinflip in odds. Wild just pulled off that smash and grab last night. On a back to back I'd lean the King s here honestly after their excellent performance against the Knights.
Question is do the Wild come in with momentum after that late heroic goal? Looking at what they were saying afterwards they seem to be hyped up so yes will skip that one.
So that's it for me. I'd be curious everyone elses thoughts on Penguins
Follow @BetNHL
BetNHL.ca » Tonights Tips »