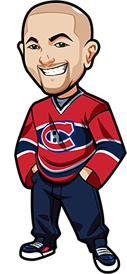 Written by Graeme on Wednesday, October 17th, 2018
Follow @BetNHL
Hi guys and welcome to the NHL Tips for October 17th, 2018. Sorry for the delay in posting them today. After being away for the last week I really wanted to take the time to get caught up on hockey. Then today I was deeply researching everything and spending a lot more time than normal looking through it all.
Although I caught hockey highlights while away and even attended the Stars vs Ducks game, it's amazing what a difference it makes in what you take in when casually watching stuff as opposed to sitting there with the intent of studying it.
Cannabis is legal in Canada as of today. What a time to be alive. Of course in Ontario it's online only and there's a bloody Canada Post strike coming up as of this Monday but at least the reservation is only a 25 minute drive away from Kingston!
I don't normally do this but my mum has entered her dog into some contest where the winner gets to be in a calendar and it's one of those things that are really important to her for whatever reason. So if you have a facebook account and have 10 seconds to spare, I'd really appreciate it if you could click this link then click Like on the picture. Cheers!
The NBA season is back and my buddy Vin did some great work over at his NBA Futures website. He's went through every team and analyzed them as well as a wide variety of futures. Just some incredible work and I'm looking forward to tipping the NBA Season with him again.
Onto the NHL. It was a 0-1 night last night and there was a mess up on our end. Scott incorrectly read that Murray was in net and went with that. That should have been a goalie dependent pick where we make a note that we only go with it when the goalie is confirmed. For the record I highly recommend Leftwinglock as they will only post when it's actually confirmed and will link to the source.
Anyway it goes down in the stats as a loss and honestly not sure if Murray could have lifted that team to the win over the Canucks. The Penguins offense just couldn't get anything going and it was a disappointing performance. Penguins seem to be in a bit of a funk at the moment where they've lifted themselves up against theoretically better opponents, but lost to inarguably much weaker ones. They now head out on a 4 game road trip to Canada which should be very interesting. Last years road trip there saw them go 1-3.
We had Canes/Lightning Over 6 goals and that was a push.
Tonight only 4 games on the board. For the record I wrote up a ton about Capitals vs Rangers Over 6 goals / Capitals TT over 3.5 but then pulled it. Just not seeing the stats to back it up and it's a pure gut play and one where I felt I was out there looking for data to try and back it up rather than let the data develop the play.
Bruins vs Flames Betting Tips:
Bruins are underdogs and I've got to take that. Discounting that Capitals disaster they've won their last 4 including a very solid road win against the Buffalo Sabres.
While their opponents haven't been the best quality during that run I still think the Senators are a feisty bunch so that was a good win, and putting 8 past the Red Wings was very impressive. It should give their offense confidence.
They've had a couple of days break and I think they start this 4 game road trip off with a W. The Flames right now are just inconsistent and still trying to figure things out and it's going to be a hell of a struggle for them every time the Bruins top line is on the ice.
This one is a great price that I've just got to take. Rask has a tremendous record against the Flames and I don't believe he has ever lost against them in regulation time. The Capitals result should still be fresh enough in their memories that inconsistency isn't an issue.
As I've been away for a week we'll just go with a small 0.5u play on Bruins to win incl OT/SO as despite their inconsistencies the Flames have a lot of talent and should really be fighting to beat the better opponents. I'm quite a fan of that third line.
Canada: 1.95 Odds at Bet365 (Americans: We recommend http://www.bovada.lv.
USA: -110 Odds at Bovada.
Everyone Else: 1.95 Odds at Bet365 (Americans: We recommend http://www.bovada.lv.
(Odds correct as of 2018/10/17 2:24:55 PM EST but are subject to change.)
OHL / WHL / AHL / KHL / Czech Extraliga Betting Tips:
(All below systems are based mainly on mathematics and statistics with very little human input and are deemed experimental. )
Czech Extraliga Betting Tips (1-1, +0.25u): Not too happy with the predictions for the last set of games. There was a couple of potential plays I didn't post and they lost. Could be sample size/variance but advise caution – 0.5u on PSG Bearani Zlin to win incl OT/SO at 1.72 odds.
WHL Betting Tips (3-2, +0.56u): 0.5u on Spokane Chiefs in reg at 2.10 odds.
Where To Bet the Non-NHL Leagues:
Canadians: Bodog and 888 Sports.
Americans: Bovada.
Everyone Else: 888 Sports.
Follow @BetNHL
BetNHL.ca » Tonights Tips »