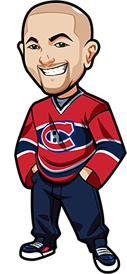 Written by Graeme on Wednesday, October 18th, 2017
Follow @BetNHL
What a night of sports action that was.
If you're a fan of the NBA you no doubt loved last night. That along with NHL and the MLB playoffs made for some great action.
The NBA started with an enormous low when Gordon Hayward, making his debut for the Celtics, fractured his ankle. And it was one of those nasty sports injuries that you absolutely hate to see – but can't stop watching it!
If you didn't see it then here it is. Both games on opening night and thrilling finishes including that Rockets/Warriors last split second shot that wasn't which cost the Warriors the victory.
NHL was also a thrilling night. The Flyers had a big win over the Panthers while the Penguins and Ranges put up a great game which saw the Rangers go 1-5-1. The Leafs put in an incredibly solid performance and recorded a shutout as they beat the Washington Capitals.
And the Knights win again! As someone who frequents Vegas a lot, I'm trying to adopt the Knights as my main team so I do a bet on them each night from my personal betting account to get me rooting for them. Just a small amount – $20 on them to win in OT/SO and $10 on them to win via regulation. Honestly I thought I'd be well in the hole by now but I'm up $126.95 so far! If this keeps up maybe it'll cover my next trip to Vegas.
Just 3 games tonight a much more quiet night in the NHL.
Blackhawks vs Blues Betting Tips:
I initially was thinking of staying away from this one, but after looking into it I think the Hawks are just enough value here for the win. It's an extremely close game especially with Steen back but I give them the edge enough to get the W here.
Hawks should have Schmaltz back and honestly that's a big boost for them – Kane was an absolute star in the two games he played with him so that will help matters.
The Hawks are just playing darn good hockey for the most part too. Of course we're seeing the issues we've seen from the Hawks before – there are some games where it looks like they just aren't showing up. While they got hurt by a referee decision and the new penalty in the Wild game, it was their own fault to begin with that they were in that situation. They just didn't look good.
I just feel the Hawks are the better team. Steen coming back is great for the Blues and that top line but will the other lines pick up? They've been quite disappointing so far.
Blackhawks to win incl OT/SO as despite everything I can see it being a tight game so would like that extra chance
Canada: 2.06 Odds at BetOnline..
USA: +100 Odds at Bovada.
Everyone Else: 2.06 Odds at BetOnline..
Kings vs Canadiens Betting Tips:
This is one of those tips that are hard to make. Despite their performances this season it's hard to discount the Habs – they're better than this.
However it's a tale of two performances and the other one is the Kings. They haven't lost a game in regulation yet and they're playing some damn good hockey. They just look like a solid team through and through who are determined to get to the playoffs.
I believe Price isn't in net tonight but honestly it probably doesn't matter with the Habs. Quick should be in tonight and that's probably not going to help their quantity of shots turn into goals.
I'm not loving it, but based on the performances this far I've got to go with the Kings here. I'd prefer OT/SO but we rarely go below 1.70 odds so I'm going to take that extra risk.
Kings in Regulation
Canada: 2.00 Odds at 888 Sports.
USA: -110 Odds at Bovada.
Everyone Else: 2.00 Odds at 888 Sports.
Follow @BetNHL
BetNHL.ca » Tonights Tips »