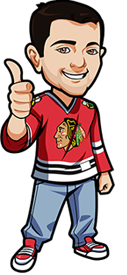 Written by Scott on Wednesday, October 18th, 2023
Follow @BetNHL
It was a busy night with 9 games.  I had two tips and went 1-1.
Had the Oilers to beat the Preds and they did 6-1.  Draisaitl scored a powerplay goal and is now the Oilers all time leader in that stat with 127 which is crazy when you see some of the players that have played for Edmonton.
Had the Jets to beat the Kings but the Kings won 5-1 .  Of course it was Dubois who opened the scoring for the Kings.  Overall they looked good in their first win of the season.
I'm glad I stayed away from the Canucks game.  After they beat the Oilers twice to open the season the Flyers took 42 shots and won 2-0.
The Wild beat the Habs 5-2 with Fleury picking up the win in what might be his last game in his home province, the Isles beat the Coyotes 1-0 and the Coyotes had only 14 shots, the Sabres were up 2-0 after the 1st but the Lightning were able to tie it and force OT but the Sabres picked up their first win.
The Avs beat the Kraken 4-1 to tie the NHL record with their 14th straight regular season road win, the Knights beat the Stars 3-2 to move to 4-0 on the year and the Hurricanes beat the Sharks 6-3 outshooting them 42-16.
Only 2 games tonight.  Nothing is jumping out at me for a tip.
Capitals vs Senators Betting Tips:
The Caps picked up their first win in a shootout against the Flames.  Was a nice come from behind win for them.
The Sens have won their last two games after beating the Flyers and the Lightning.   Both games were 5-2 wins.
The Sens have pulled off two solid wins but the Caps just got their first win so I wonder how they react.  The Caps have scored only 3 goals this season.  They still have the firepower with Ovechkin, Oshie and Kuznetsov but all 3 have been quiet so far and are due.
Penguins vs Red Wings Betting Tips:
Both teams have 2-1 records and both have won their last 2 games.
The Pens beat the Caps and the Flames but lost to the Hawks.  The Wings beat the Jackets and the Lightning but lost to the Devils.
Both seem to be picking up some steam after losing their first games. The Pens have won the only road game they have played this season, the Wings have won the only home game they played this season.
This game could go either way.  I would lean towards a Penguins win but can't make it a tip.
$25 risk free bets on player prop, in-game bet and $50 risk free mobile bet. Available for NEW customers only at BetOnline.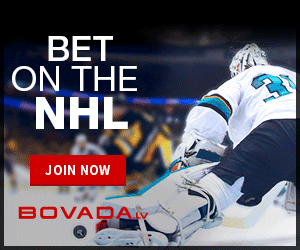 Follow @BetNHL
BetNHL.ca » Tonights Tips »