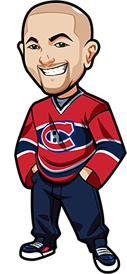 Written by Graeme on Friday, October 19th, 2018
Follow @BetNHL
Well it was a rather disappointing outing last night in the NHL as we lost 2 units. Makes me VERY happy that we introduced unit sizing last year that's for damn sure.
Our 1u play was on the New Jersey Devils to win. Like I said yesterday I just wasn't sold on them yet but I just couldn't ignore the numbers they were putting up. Both individual and team metrics were looking great.
Not sure what happened with the Leafs yesterday. That's one of those games I'm going to have to go back and rewatch and really study it as something like that is going to happen quite a few times for the Leafs and assuming the Over or a Leafs win is going to be a popular bet this season, it's important we figure out what those games are.
Oilers vs Bruins was one of those games that just never got going. Bruins are going to be a hard team to bet this season because you never know what their goaltending is going to bring, and they don't have the depth. Yet their top guys can beat most of the NHL so it's going to be interesting.
Still life could be worse – I could be a Blackhawks fan. Holy moley not a good outing with the return of Crawford. So many people were pumped about him. Will be interesting watching them going forward.
I hate to say it but no tips tonight and here's the reason – I've been working on an advanced metrics system based on combining an expected goals model, corsi, PDO & fenwick along with some other data I use. I've been basically harvesting data for the last couple of weeks and I spent all day today putting it all together.
However after doing that – it's made me a bit gun shy in regard to the tips. It's hard to get on the right mindset as I IMMEDIATELY want to base all of my picks on this system, when in reality I will be using it on the side and tweaking it and improving it as the season goes on. It won't have any impact on the actual tips for the time being – I just much prefer using a system like this with live data as opposed to historical.
So when I'm sitting here trying to do the tips tonight I just keep thinking back to the system results and it's putting me off and even contradicting my own thoughts so for my own safety, no tips tonight.
In saying that, here's thoughts on each game:
Capitals vs Panthers: I'd love to back the Capitals to get out of their funk but they have some issues at the moment especially with 5v5. Panthers are a hard working team who have had 4 very close games. Both their road games have went to OT and when a team isn't winning it can drive them to fight even harder. I'm leaning towards the Panthers but just can't pull the trigger. Would prefer a slightly better price.
Stars vs Wild: This is one of those games where my new system was leaning strongly towards the Stars. It still needs more data of course – but essentially it believes the Stars are performing even better at home than results indicate, while the Wild, 0-2 on the road with 4-1 and 4-2 thrashings have actually been overperforming slightly. This was one where it really tainted my thought process on the game. However if you want to make a risk on a new system with nowhere near enough data, go with Stars -1.5 at 3.00 odds. That's what I'm on because I'm an idiot and love building betting systems ha. I always bet real money and a decent amount on them at this stage as it encourages me to work harder on them.
Flames vs Predators: Coin flip of a game and a very tricky one to call. Honestly this is one where I'd love to take Nashville but Flames thumped Preds last time out in Nashville, are coming in hot after that Bruins performance and I'm not touching it.
OHL / WHL / AHL / KHL / Czech Extraliga Betting Tips:
(All below systems are based mainly on mathematics and statistics with very little human input and are deemed experimental. )
OHL Betting Tips (1-0, 0.77u): 0.5u on Sault Ste Marie Greyhound -1.5 at 1.92.
WHL Betting Tips (4-2, +1.11u): 0.5u on Seattle Thunderbirds incl OT/SO at 1.82.
Where To Bet the Non-NHL Leagues:
Canadians: Bodog and 888 Sports.
Americans: Bovada.
Everyone Else: 888 Sports.
Follow @BetNHL
BetNHL.ca » Tonights Tips »