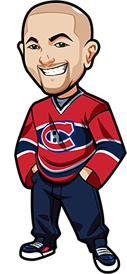 Written by Graeme on Saturday, October 19th, 2019
Follow @BetNHL
A 2-0 night last night.
Both games were a little bit closer than I'd like but that's okay – kept me on the edge of my seat through both games. Penguins were able to beat the Stars 4-2 to get the win there, and our 2u play of the Capitals to win came in. That was a tight one all the way through. When Capitals were up 3-1 they probably should have scored 2 or 3 more though and that was frustrating.
Ducks logged in another win and after a solid start the Wings are now on a 4 game losing streak after going down 2-1 to the Oilers. James Neal is a beast. McDavid missing that empty netter was great.
The Stars are now on their worst start in franchise history. Brutal.
It's Saturday, October 19th. Couple of early games with the Canucks at Devils at 1pm EST then the Habs at Blues at 3pm EST.
Habs/Blues is one of those games that has the solid potential to go over but neither team has me fully convinced.
I'd like to back Philly against the Stars but still such a disjointed opening to the season for them. With only their 2nd home game I think they'll be up for it though.
I thiiiink there's value in Sabres over Sharks. Feels more like a coinflip game. Sharks however have momentum going and with the Sabres start this season this will be a big one for them.
Bruins vs Leafs Analysis:
(I wrote this earlier today and was going to go with the over but after a look at it have decided against it. Decided to keep the analysis in).
Leafs are without Tavares for a couple of weeks. He is responsible for 3 goals and 4 assists so far this season.
A big loss, but I feel that teams losing a key player such as Tavares tend to respond well in the first game without them. So I think Leafs will be up with it and as they have shown already this season – they can bring the offense from a lot of places. Only one game this season have they scored less than 3 goals.
Bruins opened the season quite tight defensively but that's not the case anymore. After that loss to the Tampa Bay Lightning I like them to be motivated as well. Their offense is rolling and Pastrnak is killing it.
These two teams have a wee bit of a history that should add to that too. Halak is in net and he has had a solid start to the season. Bergeron has a lower body injury although is expected to play.
The Bergeron injury concerns me and then I looked back at last season and how the Leafs played initially without Matthews. They didn't perform and those two things are enough to think myself out of this pick.
Lightning vs Avalanche Betting Tips:
Tampa are a bit of a head scratcher to start the season so I am wary of them. I was surprised they were able to pull it out against Boston to be honest.
Now they're going up against an Avs team on a B2B, who have an injured Nathan MacKinnon.
On paper, Tampa should take this one. My main concern is that the Avs start fast and that Tampa go behind then can't mount the comeback. Like I said I am also quite wary of Tampa still.
However this just feels like a game they should be able to take.
0.5u on Tampa to win in Regulation.
Canada: 1.93 Odds at Casumo
USA: -130 Odds at Bovada.
Everyone Else: 1.93 Odds at Casumo
(Odds correct as of 2019/10/19 10:58:46 AM EST but are subject to change.)
Predators vs Panthers Betting Tips:
This is an interesting one for me. Long-time followers will know I can never really get a handle on the Preds to the point that each season I give up betting or tipping games involving them. I'd have to check but I believe my record in Preds games is something like 1-9 over the last couple season.
Hopefully it will be 2-9 here.
Panthers are on a roll and they are a team I've had a good handle on over the last couple years. They're always a fighting team and love to battle in games but I think they are going to fizzle out here. Yeah they only have two regulation losses and they are to two great teams in the Hurricanes and Lightning. However I just think they fizzle out in this game.
Preds have 3 solid home wins and will look to add to that. Rinne is expected to start and that will help give the team confidence.
0.5u on Preds in reg if Rinne starts – leftwinglock or dailyfaceoff are two resources to check that
Canada: 2.10 Odds at Sports Interaction (SIA) + free $20 bet.
USA: -110 Odds at Bovada.
Everyone Else: 1.90 Odds at Casumo
(Odds correct as of 2019/10/19 10:58:46 AM EST but are subject to change.)
Coyotes vs Senators Betting Tips:
Coyotes come into this one riding a nice little run. Hopefully they don't get complacent against the Senators.
Their power play is helping them and that's nice to see. Phil Kessel got the goals that should hopefully start seeing him pull in more. When you look at his xGF, HDCF etc individual stats he really should have scored more and I'm thinking he can start getting them on a regular basis now.
What's impressive is according to the math done by Power Rankings Guru, the Coyotes have had the 2nd toughest schedule of the season next to the Panthers. So it says a lot that they are performing well.
Upsets happen in the NHL but I like the Coyotes here. I'd go 1u except it's Raanta in net and we need to see more of him.
0.5u on the Coyotes to win in Regulation.
Canada: 1.77 Odds at Sports Interaction (SIA) + free $20 bet.
USA: -145 Odds at Bovada.
Everyone Else: 1.77 Odds at Casumo
(Odds correct as of 2019/10/19 10:58:46 AM EST but are subject to change.)
[poll id="15″]
Non-NHL Betting Tips:
Written by Graeme
(All below systems are based mainly on mathematics and statistics with very little human input and are deemed experimental. Use at your own risk.)
Czech Extraliga Betting Tips: HC Ocelari Trinec to win 1u 1.72 odds. HC Verva Litvinov to win 0.5u 1.75 odds.
WHL Betting Tips (1-1, -0.2u): 0.5u on Kamloops Blazers in reg. Likes Saskatoon and Vancouver for those parlay fans.
AHL Betting Tips: Was neat to see both Utica & Stockton win yesterday. Iowa are decent price and it likes them today but not official yet.
Where To Bet the Non-NHL Leagues:
Canadians: Bodog and 888 Sports.
Americans: Bovada.
Everyone Else: 888 Sports.
Follow @BetNHL
BetNHL.ca » Tonights Tips »